Morning Coffee: The Reality of Opportunities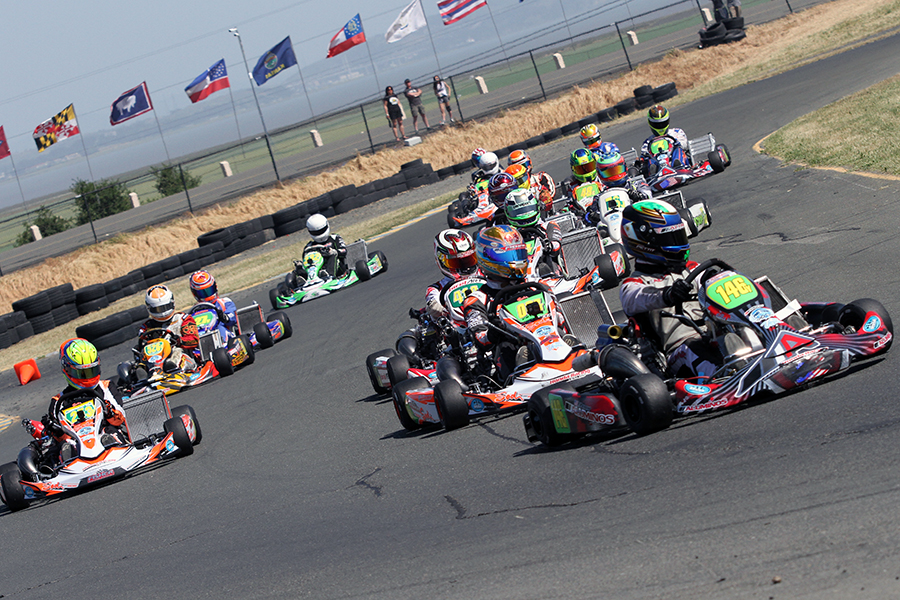 Racing karts is a rare opportunity that many in the country and around the world do not have the opportunity to do (Photo: EKN)
I'm often asked about running a company like eKartingNews.com, and what we do to fill our days at the desk. This isn't the time to list the endless work that keeps me in my office for 10-12 hours a day between races, but suffice it to say that motorsports journalism is perceived through the end product, not the massive amount of time that is put in behind the scenes. When you read an article, a tremendous amount of research has been done. Aside from pounding away at the laptop writing stories, and supporting our marketing partners (who are the fuel who make EKN possible), David Cole and I spend a lot of time just talking to people, whether it's on the phone, through email, or through Facebook messages or replying to comments on the many karting posts that can be found on the social media giant.
That said, I often find ideas for 'Morning Coffee' articles while scrolling through Facebook, taking in the comments, opinions and tone of karting enthusiasts around the country and around the world.
A recent Facebook post and its resultant discussion centered on the increase of promotion-oriented PR and the current state of the drivers in the development series that lead to IndyCar, NASCAR or IMSA in North America, the three primary career targets for young career-minded competitors.  Yes, the age of drivers who are moving from karting to cars is dropping to oddly-low levels, and truly, I'm not a big fan of it. We're seeing more and more 12-, 13-, and 14-year-olds jumping into Super Late Model stock cars and slicks-and-wings open wheel formula cars than every before.
I can't fully support it, firstly because the maturity level that is needed for this kind of competition just isn't there, in my opinion. The speeds are much higher than in karting and potential danger is higher as well.  Also, I know the odds of becoming a professional car driver are extremely slim, and I also know that getting to IndyCar or the Monster Energy Cup by the time you're 18 may seem like it would be a huge accomplishment, but it's not.  You need to buy your way there, 99% of the time, so it's not really that impressive.  First and foremost, it takes the right funding to get there and it doesn't matter if you're 18 or 28, if you can't fund the ride, you're not in the seat.  There are no paid rides for rookies in IndyCar, or NASCAR, or IMSA.  It's the reality.
But, this truth does not stop parents from fully supporting their children's dreams and aspirations, and kudos to them for that. Those who are living their own personal dreams vicariously through their children, shame on you.
One of the talking points is the fact that a great deal of money is spent to launch these kids up the ladder, and in many cases, the drivers who actually CAN afford to make the leap into the first steps of the development system do not arrive with much of a racing resume. To be honest, even I need to do some research to find out just how little experience some of these kids have in karting or other forms of junior motorsports. It's through their 'press releases', which I mentioned early, that the limited experience or questionable pedigree is touted. But hey, I'm all for promoting your driver and using releases for website content and sponsor connection, but when you're going on about how many national titles your child has won, know that the avid karters who are reading your release will call BS on anything that isn't truly national.
In a sport that struggles with likely 300+ 'national champions' being crowned each year, 90% of which are actually just regional titles or come from races with single-digit entries, it's true that a vast majority of the most talented karters will never receive the chance to advance. This is a tough pill to swallow for top-level drivers, as our sport does not work like baseball, football, hockey or basketball, where you can go to school or play minor league, perform and succeed, and then get signed to a career and contract.  It's the truth, and it's real life, and yes, it sucks, but you have to get over it OR work harder, aim lower to start, and prepare to put in countless hours sweeping floors, learning new skills and talking to everyone you can in an effort to meet your 'opportunity' in motorsports. You never know if the next guy who sits beside on a plane is your next major sponsor. It's simply the reality of motorsports. If you don't have the money to buy a ride at the first levels of the development ladder, but you're still truly 100% committed to the dream and nothing else, you have to get creative and work for it.
But this Morning Coffee is more about taking a 'big picture' look at racing and where we all fit in. It's a little life lesson, as well.
In racing, I believe that too many people look at those who have what they want, and what they dream for, but cannot afford.  They lament their lot in life and they lash out at kids who are given the 'silver spoon' opportunities to race in the development levels where budgets are 10x that of even a crazy healthy karting budget.  I've talked to top karters and I've obviously read their Facebook comments that center on someone they perceived as not worthy or truly talented enough getting opportunities instead of them, just because their parents can afford it.
See, this is where the lesson lies.  My contention is this: whatever you race, at whatever level, there is someone less fortunate than you who wishes their parents could have supported them to the level you've been afforded.  While your parents are funding your ride on the SKUSA Pro Tour, Challenge of the Americas, Florida Winter Tour, USPKS or WKA Manufacturers Cup circuit, there are 100s of kids who look at you and think how lucky you are, because their budget restricts them to club racing.  I've known and witnessed many extremely talented club racers who've won tons of races with much less than you, running a four-cycle Briggs or Honda, because that's all they can afford.
Are they any less talented than some of the best national level two-cycle sprint or shifterkart drivers who have access to $50,000 or more annual budgets?  I would, using my 20 years of experience, say that many are certainly just as good, but have just never been given that elusive opportunity.  The best national drivers in the country long to get the opportunity to race in the Cooper Tires USF2000 Championship Powered by Mazda or the Camping World Truck Series, and there are top regional and club drivers who would trade their brother or sister for a shot to race the SKUSA Pro Tour. It's a tough world, because in racing, you have to pay for your opportunity.  Yes, there is the Mazda Scholarship program, and that is certainly a portal to the path that every young racer could look to.
But….wherever you race, please remember, you're blessed to have been given the opportunity to compete in karting at all.  Because for every young man or women who laments not getting the chance to go Pro, there's 100s if not 1000s of kids who dream of simply racing anything….anytime….anywhere. They watch racing on TV but could either never afford to get into our great sport or their families simply are not primed to make the jump into our community.  For me, racing is a privilege and a unique opportunity that I am most fortunate to enjoy. Did I want to be a professional race car driver as a kid?  Hell, yes.  But as one of those kids who was never afforded the chance to even think about racing a kart, I count every chance I get, as an adult, to tighten up my helmet strap and hit the track as a rare gift indeed.