Race Recap: GoPro Motorplex Karting Challenge Round 5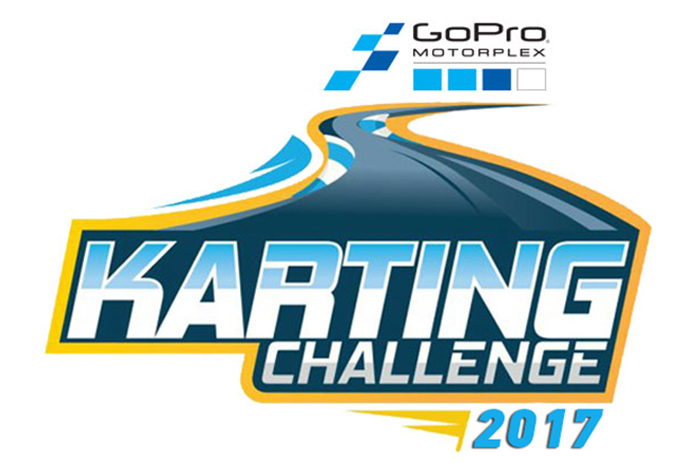 Round 5 of the GoPro Motorplex Karting Challenge on Saturday marked the second half of the Memorial Day weekend race event. Sunny skies and 80 degree temperatures heated up the action on track for qualifying and pre-finals. As the sun went down, it set the stage for final racing under the lights for 133 competitors across 10 divisions. Round Five continued GoPro Motorplex's 12-Round club championship series.
Congrats to all Round 5 winners: Brent Crews (Briggs LO206 Cadet), Jadyn Daniels (Briggs LO206 Junior), Brandon Jarsocrak (Briggs LO206 Senior), Talan Drake (IAME KA100 Junior), Luke Wallace (IAME KA100 Senior), Caleb Gafrarar (IAME Mini Swift), Brent Crews (IAME Swift), Brooke Nachtmann (IAME Junior), Ashley Rogero (IAME Senior), Luke Stroud (IAME Heavy).
IAME Swift Division:
In the IAME Swift Division final event, Jacob Graham led his first laps of the weekend to begin the final. Graham's lead was short-lived as the dominant driver and last night's Round 4 winner, Brent Crews, was on a tear to take away the top spot by lap two. Graham dropped to second with more competition knocking on his bumper from Tyler Wettengel in third place. With the rest of the field breathing down their necks, Wettengel capitalized on a strong run into Turn Four to pass Graham for second. However, William Robusto was on a charge after suffering a DNF in the pre-final and coming from the tail-end of the field. Robusto maneuvered around Wettengel for second, but Wettengel tucked in to hold onto third place. The top-three drivers rode out the final two laps, gapped too much to make any changes in position. Crews swept the weekend with back-to-back wins. Robusto notched a solid second place finish after starting last, while Wettengel earned his second top-three finish for the weekend. 
IAME Heavy Division Sponsored by Stitch 98:
In the IAME Heavy Division 14-lap final, Luke Stroud's domination continued, earning back-to-back wins this weekend. Stroud led flag-to-flag to earn his second win in the division in two rounds of racing. Steve Frank and John Wehrheim completed the podium.
IAME Junior Division:
In the IAME Junior Division 14-lap final, Brooke Nachtmann wasted no time, advancing herself into the top spot. Nachtmann proved to have the safest place on the track with a nose-to-tail pack of karts stretching all the way back to tenth behind her. The top-ten karts battled for position two and three-wide throughout the course. Surprisingly, the battle behind her did not allow Nachtmann enough time to pull away. By lap four, Tyler Maxson stole the lead from Nachtmann with a power-move into Turn One. Nachtmann answered back, sending Maxson back to third as Luca Mars followed Nachtmann to the front. With seven laps to go, Mars continued his charge to pass up Nachtmann in Turn Eight. Nachtmann slammed the door back on Mars on the following lap to regain the lead. On the final lap, Nachtmann worked hard to keep her kart-length lead over Maxson in second. Defending at each corner, Nachtmann held off Maxson to score a thrilling win. Maxson settled for second, followed by Mars in third. 
Briggs LO206 Senior Division Sponsored by Todd Shockman RV Sales
A long train of 22 entries took the green flag for the Briggs LO206 Senior division's 13-lap final. Alex Keadle settled into the lead by lap two with Brandon Jarsocrak and Daniel Koehler in tow. The top-four drivers broke away from the rest of the field by the halfway point with Keadle still out front. Just past halfway, Koehler made a pass for the lead, bringing Jarsocrak with him and knocking Keadle to third. With two laps to go, Jarsocrak wasn't showing his hand quite yet from the second position, allowing Koehler to continue to lead. On the final lap, Jarsocrak slammed the door into Turn Four to rob the lead from Koehler. Jarsocrak scored the win, with Keadle improving to second on the final lap and Koehler settled for third. 
IAME Senior Division Sponsored by CNC Performance Engineering:
A total of 18 drivers took the green for the IAME Senior 17-lap final. Ashley Rogero got a strong start to propel her to the early lead. Arguably her biggest competition and last night's Round 4 winner, Blake Hunt, suffered a mechanical failure on the opening lap, removing him from the race. Rogero continued to walk away from Phil Arscott nearly two seconds back in second and Devin Boutout in third. With five laps to go, Arscott was clocking some of the fastest laps of the race with a great drive and charge to catch Rogero. However, with three laps to go, Arscott's charge stalled out, allowing Rogero to run away with the win. Arscott finished in second and Michael Bovim in third. 
IAME Mini Swift Division:
In the IAME Mini Swift 11-lap final, Caleb Gafrarar and Sebastian NG were nose-to-tail with NG attempting to push Gafrarar away from the rest of the field to create a two-kart race. By halfway, NG made a slight mistake, allowing Gafrarar to pull away in the lead. With two laps to go, it wasn't over quite yet for NG, rallying to close back onto Gafrarar's bumper. Furthering his run, NG made the pass for the lead entering Turn One. In an all-out final-lap battle, Gafrarar made a cross-over move stick to complete the pass for the win in Turn Eight. NG settled for second, followed by Benjamin Maier in third.
Briggs LO206 Junior Division:
In the Briggs LO206 Junior division, Jadyn Daniels dominated from flag-to-flag to score a final win. Daniels, running double-duty, looked to take the momentum from her Briggs Junior win into her next final of the evening in the KA100 Junior final. Jon Seiler finished in second.
Briggs LO206 Cadet Division:
In the Briggs LO206 Cadet Division 11-lap final, Brent Crews was back in a familiar spot, leading the 15-kart field with a large gap back to second place of Bree Miller. However, after just two laps, Miller worked alone to track down Crews and close onto his rear bumper. Back in third and fourth, Carter Beegle and Benjamin Maier opted to not work together in the draft, allowing Crews and Miller to continue to build their gap back to third place. As laps dwindled, Crews and Miller paced the field by more than three seconds to create a two-kart battle for the win. Behind the leaders, a tangle in Turn Four advanced Grayson Upchurch to third place. On the final lap, Miller made the move she had waited patiently for the entire race in Turn Four over Crews to take the lead. However, Crews fought back in Turn Eight to best Miller for the win. With back-to-back wins for the weekend, Crews scored the victory, followed by Miller and Benjamin Maier. 
IAME KA100 Junior Division:
In the KA100 Junior Division 13-lap final, Taylor Stanford strolled out to an easy lead over the field. However, with just four laps to go, Talan Drake clocked the fastest laps of the race to trim Stanford's more than five-second lead down to just a half-second. With a large run into Turn Four, Drake saw the lead for the first time in the final, passing Stanford with just two laps to go. Drake went on to take the win, followed by Stanford in second and Daniel Whorton in third.
IAME KA100 Senior Division:
In the KA100 Senior Division, contact between the front-row starters, Dusty Davis and Ashley Rogero caused a Turn One debacle as the field stormed into lap one. After getting knocked back to fourth, Davis quickly regained his speed to begin his march back to the front of the pack led by Rogero. By lap three, Davis passed Rogero to take control of the top spot. The race was far from over with just five laps left. Rogero found speed down the backstretch and used it to throttle past Davis for first in Turn Four, dropping Davis to second and Luke Wallace continued to run in third. In arguably the most exciting final two laps of the evening, Davis and Rogero went to battle, swapping for the lead three times. Rogero had control of the lead when Davis made heavy contact with Rogero entering Turn Nine, causing both drivers to slow. In the catbird seat, Wallace strolled past both Rogero and Davis to score his first-ever KA100 Senior win. Rogero limped back to the line to finish second and Ashlyn Breuer rounded out the podium. 
UP NEXT: 
Up next is Round 6 of the GoPro Motorplex Karting Challenge on Saturday, June 10.
For more information on the Karting Challenge club series, CLICK HERE>>