Adams Goes 7 for 7 at First Battle at the Beach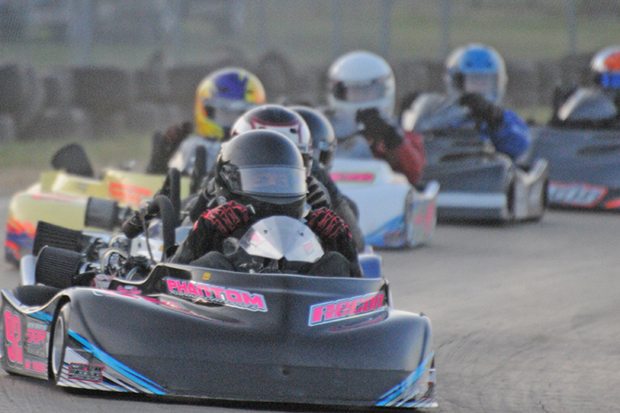 Stephen Adams leads the way (Photo: Susan Taylor-Walls/Action Sports Photos)
For Stephen Adams, the haul he made from his home in Four Oaks, NC to US-13 Kartway in Delmar, DE last Saturday was worth it.  Piloting a P&P Speed Shop powered Phantom Recon chassis, Adams made a personal and track record of seven-for-seven wins, from their poles, earning him a grand total payday of $3,000 during the track's hosting of round one of five in the Maxxis Tires 'Battle at the Beach.' Series.
Adams, who was among 150 regional entries that Saturday, began his seven-race sweep with three wins in the first of two segments starting with Flat Head Points.  After blistering the 3/16-mile dirt oval in 10.725 seconds for the pole, Adams beat outside pole winner Shane Forest (10.870) to the stripe by 0.864 seconds for his first $500.00 purse of the day.  Following Forrest in the top five were Austin Banker, Ashley Hayes and Jarod Maske.
Qualifying times were much closer in PRO Flat Head.  Adams dialed in the pole-winning lap in 10.705 seconds. Forrest's was again second fastest qualifier this time turning a 10.793 seconds lap that was 0.088 seconds slower than Adams's rounding.
Adams made the Feature race look like a Sunday drive.  Rocketing away from the field dicing for positions behind him, Adams rallied on building a 2.765 seconds cushion over Forrest at the finish line. This time Hayes, Austin Banker and Maske made the top five.
Earlier that afternoon Adams cruised comfortably under Animal Heavy Points' checkers with Banker behind him by 2.003 seconds. Rounding out the top five behind Banker were Corey Roberts, Nick Brobst and Bryan Potter.
Adams also won PRO Animal in the first segment.  Roberts ruled qualifying with a 10.467 lap. Banker turned the second fastest qualifying lap in 10.534 seconds. Adams spun a 10.615 seconds lap for third place on the starting grid.
After a short break racers began their second segment of competition.
Adams clocked Clone Heavy Points pole time with a 10.390 seconds trip that was just 0.027 seconds faster than Banker's 10.417 seconds run. Adams took the Feature race with a 1.689 seconds advantage over JP Gates.   One second later Virginian Jason 'Higgy' Higginbotham crossed in third trailed by Banker and Ashland, VA racer Kyle Ezzell for fourth and fifth.
"Man we've been good all day," Adams beamed after his fourth win. "I want to thank Phantom Racing Chassis and P&P Speed Shop, they've helped me a lot.  Bryan Bradford Racing he's given me an awesome opportunity to race. I also want to thank my brother, Pork Chops, Chip Shockley, Kyle Nester and the Nester family and everybody else that makes this possible and I want to thank the US-13 Kart Club for putting on this race, the race track's been awesome today."
With $2,000.00 in his pocket and that much remaining in the purse Adams still had two tough races to win-Clone Heavy Warm-Up and the evening's grand finally PRO Clone.
Topping out at 51.502 mph, Adams clocked Clone Heavy Warm-Up's pole time with a 10.485 seconds rounding on his third qualifying lap.  Ezzell would challenge him from the outside pole he earned in 10.506 seconds.  A difference of 0.021 seconds.
When the green flag flew so did Banker who blew by Ezzell trying desperately to run down Adams. Banker closed the gap between them in the final.  Battling nose-to-tail across the finish line, Adams held a 0.395 seconds advantage at the stripe.  Ezzell hung onto third, Corey Roberts followed in fourth and Higginbotham rounded out the top five.
Adams earned his sixth pole with a 10.441 seconds lap that was just 0.064 seconds faster than Roberts' 10.505 fast time lap.  Starting behind them in row two were Ezzell and Banker.
In two swift moves Banker rocketed by Ezzell and Roberts.  But by then Adams was in front with nearly a two second advantage.  Banker got closer on the final lap but still trailed Adams by 1.908 seconds.  Roberts, Ezzell and Salisbury, MD driver Kevin Colburn crossed third, fourth and fifth.
"It's very hard to go seven for seven here," Adams said. "It's hard to win a race anywhere now days everybody's so close.  There's good competition everywhere, doesn't matter where you go north, south, east or west it don't matter. I want to thank Harrill (sic) Wiggins from Phantom Racing Chassis, Jonathan Cash and P&P Speed Shop. Some days everything just clicks like it did today. I feel good, just feel like I can't do no wrong.  It just happened to be that kind of day."
Two of the 150 entries were double winners.  John Yancy was the event's first winner. He edged out Animal Super Heavy Points pole winner Dustin Pleasanton, of Dover, DE by just 0.119 seconds. Yancy started third and had to get by Milford, DE diver Mike Stratton before passing Pleasanton for the lead. Trailing in the top five were Brian Bruce, Mike Stratton and Brady Burdge.
Seven races later Yancy was starting on PRO Animal Super Heavy's outside pole sharing the front row with Bruce who was a mire 0.005 seconds faster.  Yancy grabbed the early lead from Bruce and built a comfortable 1.285 seconds finish line advantage over Bruce at the end. Further back Pleasanton was third across the stripe followed by Stratton and Burdge for the top five.
Snow Hill, MD racer Chubbs Shockley was the other double winner. Shockley beat Georgetown, DE native Racyn Hayes to Junior one Points and PRO Junior 1's checkered flags. Shockley earned the Point's pole in 11 seconds.  Hayes hustled by outside pole winner Austin Lanthrom, but couldn't catch Shockley who was at the stripe with a comfortable 4.564 seconds cushion.
Chase Carter, Jason Torlish and Austin Lanthrom completed the top five.
Shockley secured his second pole, this one in PRO Junior 1, with a 10.884 seconds run that was 0.150 seconds faster then Hayes' best lap time of 11.034 seconds.  Shockley shot into the early lead with Hayes slowly reeling him in.  Then after 13-laps of hard racing the caution flag waved for back markers spinning into the fence under the flag stand.
Racing resumed with Shockley's P&P Speed Shop powered Recon kart leading the way.  Hayes stayed glued to Shockley's bumper crossing just 0.410 seconds later.  Lanthrom was third, Carter was fourth and Jason Torlish completed the top five.
Single winners started with Kyle Nester who captured Junior 2 Points with Carter Langley chasing him across the stripe 0.734 seconds later.  Langley led qualifying with a10.762 seconds rounding that was 0.111 seconds faster than Nester's 10.873 seconds trip.  Nester's kart came in during the Feature and he was able to work past Langley for the lead. William McConi crossed third and was followed in the top five by Clay Peters and Colin James.
Denton, MD native Trent Reed, a 16-year-old Huffy powered Phantom Recon pilot, struggled in qualifying for Junior 3 Points and PRO Junior 3.  Then found the speed he needed to find second behind Hunter Heck in Junior Points 3 and win PRO Junior 3.
Heck dialed a 10.793 seconds lap for Junior 3 Points' pole. Jesse Rogers was second turning a 10.819 seconds lap.  Reed started eighth it a close field where his best lap of 11.028 was only 0.235 seconds off.
When the green flag flew Heck and Reed hit the gas.  Heck enjoyed a comfortable lead while Reed had to dig his way through the field to second.  Reed threatened Heck in the final laps, but Heck would persevere with a 0.349 seconds advantage over Reed.
Behind Reed in the top five were Rogers, Spencer Warren and Liam Garrison.
Garrison grabbed PRO Junior 3's pole with a fast time lap of 10.688 seconds.  Heck was second fastest at 10.715.  Reed's 10.760 seconds lap had him 0.027 seconds off the pole time starting in fourth. Garrison and Heck battled over the early lead while Reed and Spencer Warren scrapped over third.  Just after halfway Reed raced by Heck for second as the race's only caution flag waved with eight lap remaining.
When racing resumed Reed was quick on the throttle. He shot by Garrison and quickly opened the lead.  Further back Zach Fields, who started fifth, was working his way to the front.  But Reed was on a roll. Fields tried closing the gap between them.  But when the checkered flag waved Reed was there first with a comfortable 2.371 seconds advantage.  Following Fields across the stripe for the top five were Warren, Jayden Johnson and Rogers.
"He (Garrison) got a little loose in front of me so I took it." Reed described adding, "I wasn't going to at first, but after a couple of laps in I got faster and faster. After five laps the kart came in and drove really great and the Huffy motor was great I couldn't have asked for a better motor. I want to thank my mom and dad and all of my sponsors."
PRO Junior's top five finished in their qualifying order. Twelve-year-old Clayton Langley, of Clayton, NC, clocked the pole time in 10.709 seconds and took the checkered flag over Colin James with a very comfortable 4.016 seconds cushion.  Kyle Nester, McConi and Clay Peters finished third, fourth and fifth.
"I was fast.  I just had to hit my marks," said Langley a P&P Speed Shop powered Premier kart pilot. "I was worried if I didn't his my marks I might mess up, but the Premier Kart was good.   I couldn't do it with out Bubba, Wormy Philpott my momma and my sister."
Ashley Hayes, of Georgetown, DE earned two poles starting with Semi PRO where she dialed in a 10.547 seconds spin.  Dustin Pleasanton turned the second fastest qualifying time in 10.680 seconds. Maske was third behind Hayes on the start.  Maske led a drafting pack past Hayes bringing Bryan Porter and Zach Bullis behind him.  Hayes and Pleasanton finished fourth and fifth.
Hayes's second pole was in Semi-PRO Clone where her 10.545 seconds time was 0.114 seconds faster than Chris Stelljes 10.659 seconds lap. Bullis, of Millsboro, DE, a Premier factory pilot was third fastest qualifier.
Hayes was leading when a late race caution cut her lead.  Bullis got the jump on her on the restart and beat her to the finish line by just 0.600 seconds. Jordan Cropper, Pleasanton and Maske completed the top five.
"I didn't think we'd get the caution until I saw them wrecked over there in turn two.  Then on the restart I either got hit in the end or she slid up.  I didn't try to hit her or wreck her or anything.  We're teammates so I wouldn't try to do anything to wreck her I raced her clean. I went for the win, it was just racing, but we got the win and that's good," Bullis described. "We've been fighting the Premier chassis all day, it's been loose, loose, loose all day.  Finally at the end the kart finally settled down so I could drive it.  It was good then."
Nick Brobst notched the Clone Medium win.  After earning the pole with a 10.625 seconds effort.  Ricky Forbes was second fastest qualifier just 0.126 seconds slower then Brobst.  Forbes followed Brobst in the feature finishing 1.132 seconds late.
"My brother was over there giving me hand signals so I knew what was going on behind me.  I was just doing everything I could trying to hold on," said the 21-year-old Salisbury, MD racer who pilots a PEC powered Phantom Recon kart.  "I just did everything I could because the tires were going away real bad at the end and I was just trying to get to the finish line. The kart handled real good for about the first eight or nine laps and then all of a sudden the tires decided not to grip as hard as they should and it was sliding and I was just hanging on.  I want to thank my brother Robert, my dad, everybody that came here to help me and PEC for the great horsepower."