WKA Road Race Competitors Gearing Up for Summit Point National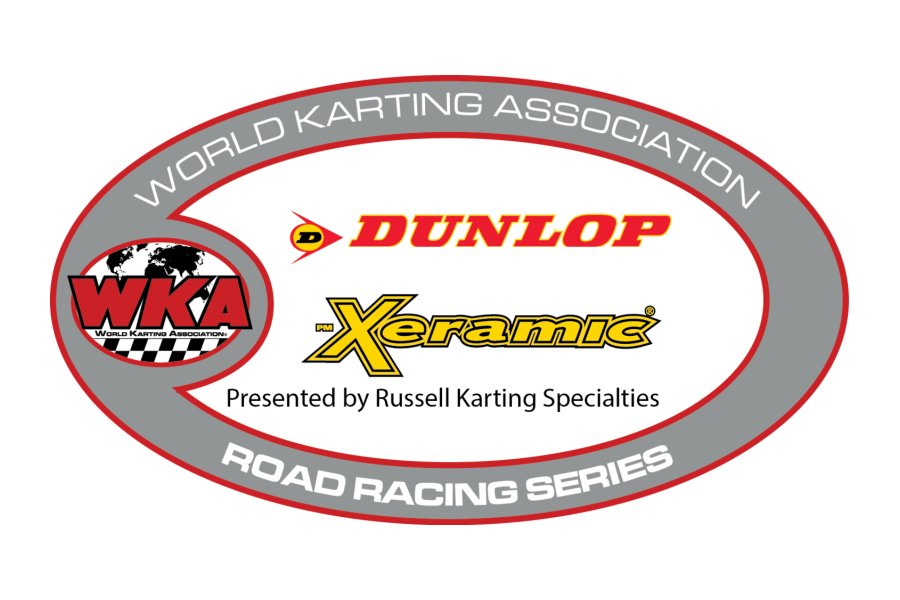 The nearly 3 month gap between races 2 and 3 on the Dunlop/Xeramic National Road Race Series presented by Russell Karting, has nearly evaporated, as Sprint and Laydown competitors gear up for the Summit Point Nationals, slated for June 3 and 4 at Summit Point Motorsports Park in West Virginia.
Following a most successful March event at Roebling Road Raceway in Savannah, Georgia, racers are set to renew their respective points battles, in quest of the 2017 national title.
Several tight points battles will continue next weekend, one of the closest being in the CKI Yamaha Sportsman Medium Class, where Michigan native Amanda Holewski holds a narrow 5 point edge over Georgia hotshoe Matt Michel. Still within striking distance are Bill Holder, David Lee, and Lyle Trudell, who make up the top 5.
The gap is also tight in the WT Racing IAME Sprint class, where Donald Nelson has a 15 point hold on Gary Sircy after two events, with Lee Curtis, Walter Troup, and AJ Ellis currently in the top 5.
In 4 Cycle competition, Rob Garland has just a 10 point edge over his Dad Robert, with the friendly family fued expected to carry over to Summit. Wesley Thomason, James Cartledge, and Steve Johnson are the next 3 in line, vying for the title in the Hoosier Racing Tire sponosred class.
Jason Lorang comes into the event holding down the lead in two national points classes, a 30 point edge over Michael Tracy in the KALL Racing/Millers Dynotime Racing Formula 100 class, while also leading Emmitt Rodriguez handily in the West Texas Outlaws TaG Heavy class.
Steven Rougeou heads into Summit as the leader over Stephen Flatt in the Fisher Racing Engines Stock Honda class, while Brian Wilhelm leads The Agile Group Unlimited class, with a slim 5 point lead over George Sunderland, as well as leading Kyle Stevens by just 4 tallies in the Formula 125 class.
Here's a look at some of the other respective class points leaders:
Animal Lite: Ben Thomason
Animal Medium: Quentin Hill
Junior Animal: Jordan Johnson
Yamaha Senior: Don Johnson
Yamaha Sportsman Heavy: Bill Holder
100cc Piston Port: George Lincoln
125 Sprint Shifter: Tracy Phillips
Yamaha Sprint: Mark Justice
Junior Sprint: Ella Brown
WKA Sprint: Louie Magiera
Yamaha Sportsman Sprint: Dan Febbroriello
Clone LO206 Lite: Rob Hindery
Clone LO206 Heavy: Joe Cuslidge
Junior Enduro: Logan Nedelka
X30 Laydown: JC Sanders
B Stock: Randy Fulks
In addition to these national classes in competition, several Local Option Classes will also be in action, including;
TaG Junior
Cadet LO206
Junior LO206
CIK LO206
Open Sprint
WKC Vintage Euro
WKC Vintage Piston Port
WKC Vintage Open
WKC Vintage USA
Competitors wishing to enter a class can visit the Woddbridge Kart Club website at woodbridgekartclub.com, or make checks payable and mail to:
Woodbridge Kart Club
462 Earle Road
Charles Town, West Virginia 25414
Activities for the Summit Point Nationals get underway with parking at 6pm Friday June 2. A full day of activities continue Saturday June 3, with gates opening at 6am, practice at 8:30, and the first race of the day getting underway at 11am. Gates open at 7 on Sunday, with practice at 8:30, and the first event of the day rolling off the line at 10:45am.
To view the Summit Point Entry Blank, CLICK HERE.