Trackside Karting Services Shows Speed in Texas Sprint Racing Series
Four podiums and five top-five results for Compkart team in Texas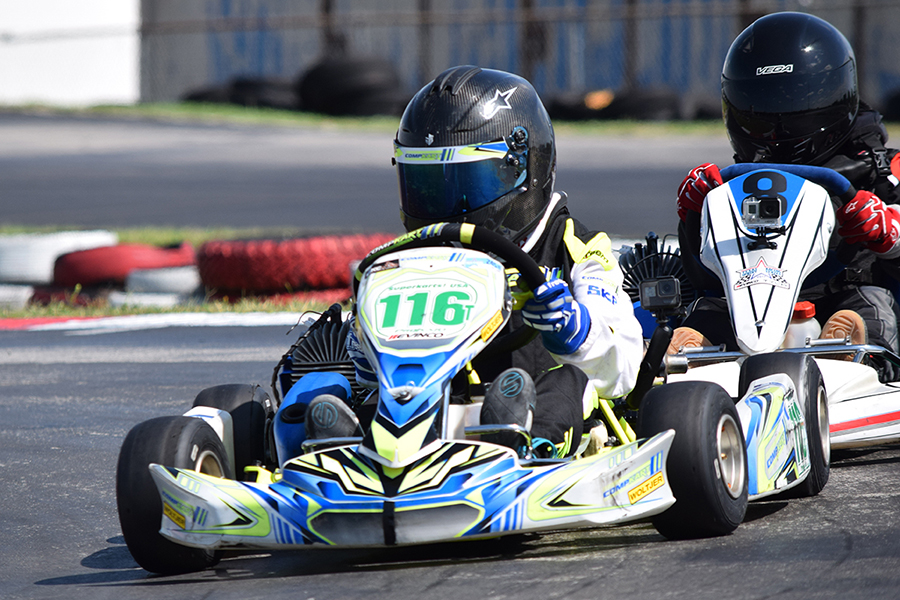 Trackside Karting Services drivers showed great speed in Texas (Photo: Carolyn Wiley)
Trackside Karting Services (TKS), the Texas Compkart team, hit the track again this past weekend in Denton, Texas for another weekend in the Texas Sprint Racing Series (TSRS). With a growing series and the competition level on the rise, Trackside Karting Services closed the weekend with three podium results and will now shift their focus to their next event in three week's time.
Ryan Shehan had another solid weekend piloting a TKS Compkart in the TaG Cadet class with a third place result in the day's main event. After leading the opening few laps, Shehan lost a little ground as he went from first to third in the fourth corner and could never close the gap before the checkered flag flew. Shehan won round one and is currently sitting in a good point situation heading to round three.
TaG Cadet driver McKenzy Cresswell missed round one in the TSRS program, but wasn't missing the speed to run up front in Denton. Following a few poor heat race results but with confidence of the Compkart's speed, the twenty lap final gave him plenty of time to race his way back up to a fifth place finish.
"If McKenzy could of placed a little better in the heats, he would have had a great shot of winning," explained Trackside Karting Services Tim Lobaugh. "He had the speed all weekend but some bad racing luck. Look for him to be a major threat at future events."
Mark Cresswell had a great weekend racing in the World Formula Heavy class. Competing in his first full race weekend, Mark showed very well and took the third and final step on the podium.
Rookie TaG Junior driver Travis Wiley had his breakout weekend in Denton with a third place finish.
Lobaugh continued, "This rookie has been putting in the time and effort and it shows in his results. I am super happy for Travis and his family. Starting the main in the seventh position, Travis knew he had to put together solid laps to advance his way forward and that is exactly what he did. After a long twenty lap main event, he was able to stand on the final podium spot with a third place finish. Travis will take this momentum to the next big race in three week's time."
Ethan Arndt had to miss TaG Junior qualifying and heat one due to prior obligations but thatdid not stop him from garnering a great result at the end of the day. Finishing fourth and second in heats two and three, Arndt would start the day's final inside row three and he chased down the leader, but couldn't complete the pass for the win.
"Setting fastest lap showed Ethan had the speed for the win, but with the lack of practice and one heat, we were slightly behind on what was needed to secure the win. But second place is still a great result," added Lobaugh.
The Texas Sprint Racing Series is one of the fastest growing regional programs across the country. With a family friendly environment, racers and their families are really enjoying all the competitive racing competition and the track time that they receive.
For more information on Trackside Karting Services, Compkart or to participate with the Texas based team, please contact Tim Lobaugh at 269.519.7593 or via e-mail to TracksideKartingServices@gmail.com.