Driver Profile: Ian Aguilera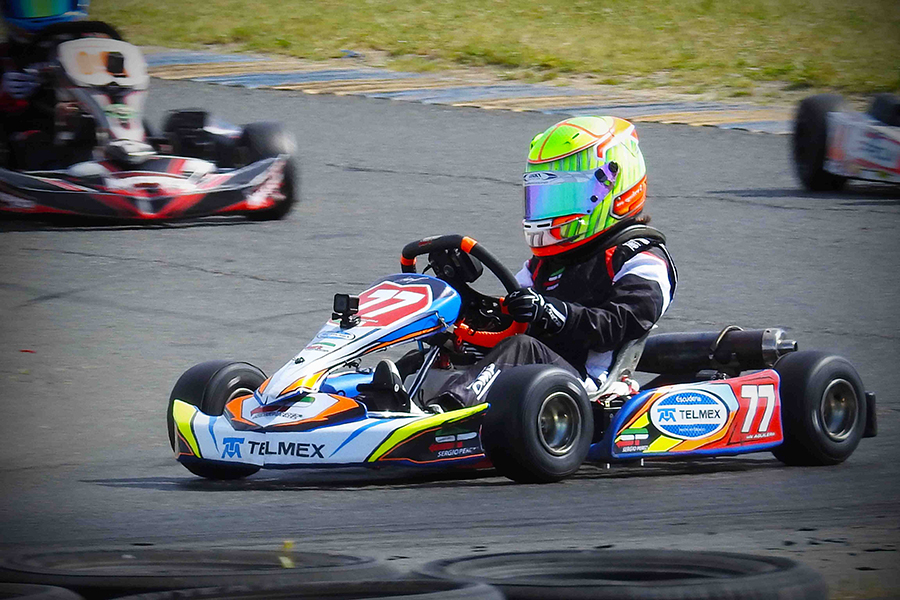 Driver Name: IAN AGUILERA
Place of Birth: GUADALAJARA, JALISCO, MEXICO
Date of Birth: MARCH 14 2007
Hometown:  GUADALAJARA
Race Number: 77
Chassis: PAROLIN
Sponsors: Escuderia TELMEX
Team: SP Karting TEAM
Engine Builder: HIGH REV Engineering
Series & Classes Participation:
Formula Karts Mexico, 2013-Present, Micro Swift IAME and Mini Swift IAME
GPI Mexico, 2015-Present, Micro Swift IAME, Rotax Mini
SKUSA Protour, 2015-Present, Micro Swift IAME
ROK Florida Winter Cup, 2015-Present, ROK Micro
SKUSA PKC, 2017, ROK Micro
A. Karting Championship, 2017, Micro Swift IAME
ROK Midwest Cup, 2017, ROK Micro
Ian´s first encounter with the world of Karting was at the age of 4 years old.
He comes from a family that has always been involved with karts, so attending races and cheering on his dad and uncle was second nature for him. He first started practicing in a kart baby going around the track with the help of his dad.
Shortly after, he began participating in local championships, and was able to quickly position himself in the top places in his category.
In 2013 he participated in a National Championship (Mexico) in the category Rotax Micro Max, finishing in third place at the end of the season. One year later he competed in the same championship and was able to win first place in the same category.
In 2015 he took on new challenges, one of the most important was participating in National Championships in the US, such as the Florida Winter Tour and Skusa Protour, the results were not what he and his team would have hoped for, and they son realized that competing in USA required a tougher preparation and practice.
At the beginning of 2015 he got to experience what is was like to compete in the US where it became obvious that the challenge was higher than expected and a lot more training and hard work had to go into preparing to compete at that level. This only made him want it even more and training meant completing 600 laps with different settings each week.
In 2016 all efforts where focused in Racing as much as possible in the US in different championships.
Results came in and he was able to secure a podium position in the Rok Cup Midwest Round 2, finishing in first place. During finals in the Rok Cup he finished first in the pre final and in 4th place on the final, overall securing a 6th place in the Rok Cup National Championship
During the Skusa Protour, he had and outstanding performance achieving a pole position, and a second place as well as finishing in the 15th position in Las Vegas SUPERNAT
With these results in the USA and winning the Mexican Championship once again, he became an official driver for Escuderia Telmex in 2017 and was also invited to participate in the Sergio Perez Karting Team, having Antonio Perez, a well known Kart and Nascar Driver, as his coach.
Throughout this year, his growth as a driver has become undeniable and the results showcase his performance. He had amazing results in the Rok Cup Florida with a 1st, 2nd, two 3rd places and a 4th, finishing the championship in 4th place. The results for the SKUSA Protour were also satisfactory; he obtained 5th place, 2nd place, a pole position and 1 fast lap
Ian's dream is to get to the highest category in the world of Racing and even though he knows this is a long and hard road he is more tan ready and willing to take on the challenge. At only 10 years old Ian has become on of the candidates to beat and is scheduled to participate in 15 races before the end of 2017 in the US and Mexico.
The goal for 2017 is to win the Supernats Skusa in Vegas.