Gonzales and Maranello Kart Sixth in Genk at the KZ2 European Championship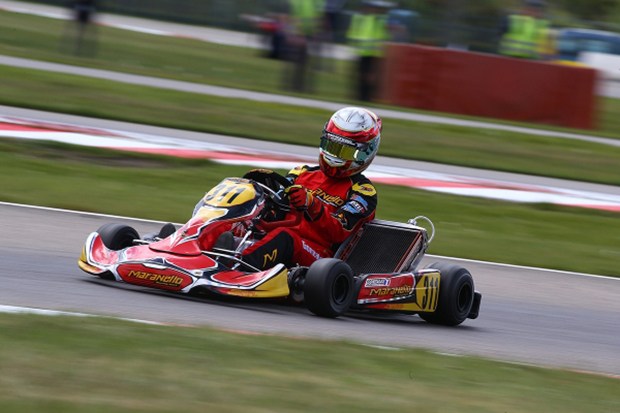 Nicolas Gonzales ended sixth in the opener of the KZ2 European Championship in Belgium. Alberto Cavalieri missing the Final by a whisker.
Maranello Kart had a difficult,  but quite rewarding exit to Genk for the opener of the CIK-FIA KZ2 European Championship. The start has been more complex than expected, but the end showed a good progress especially by Nicolas Gonzales.
Maranello Kart has fielded Nicolas Gonzales and Alberto Cavalieri in Genk. The two drivers were very motivated to shine among the 60 drivers on track in the opener of the championship. Nicolas Gonzales achieved the most between the two, as he was sixth in the Final after a good comeback in the qualifying heats that were quite difficult due to his 27th time in qualifying.
GONZALES PULLING A GREAT SIXTH PLACE IN THE FINAL
Gonzales managed to always close the heats within the top ten, before coming to the fore in the Final recovering from P13. He eventually closed sixth earning the first ten points valid for the European Championship.
A satisfied Nicolas Gonzales commented his sixth place in the Final in this way: "The first part of the weekend has been quite difficult and I did not obtain a great result in qualifying. We had some setup problems, but we got to grips with them during the heats and my performance improved. I think I run a good Final, crossing the line in seventh place, position that was later on turned into sixth due to the penalization of a driver ahead of me. This was the first time on Bridgestone tyres, now we need to work hard to be ready for the next rounds."
CAVALIERI READY TO COUNTER-CHARGE
The race-format this year does not leave much room for drivers not starting well in qualy. Things get tough to qualify for the Final if one has problems in the qualifying session as Prefinals are not run anymore and it is difficult to get enough ground back. This is what happened to Alberto Cavalieri, who missed out on qualifying for the Final by a whisker. Cavalieri was 53rd in qualifying and managed to recover in the heats, but he could not gain enough positions back to find his place among the finalists. In fact, the Italian could not get access to the Final due to three penalties too many.
Alberto Cavalieri was a bit disappointed after the heats, but he is ready to come back stronger: "I struggled in the first days to find a good setup and my qualifying session has been a real disaster. Starting the heats from the back makes a recovery very difficult. I gained on average five positions, but this has not been enough. That was a pity as a few more positions would have allowed me to qualify for the Final. Now we will run a few tests to get all set ahead of the next races."