Morning Coffee: Safety First
The Importance of Sport-Specific Safety Gear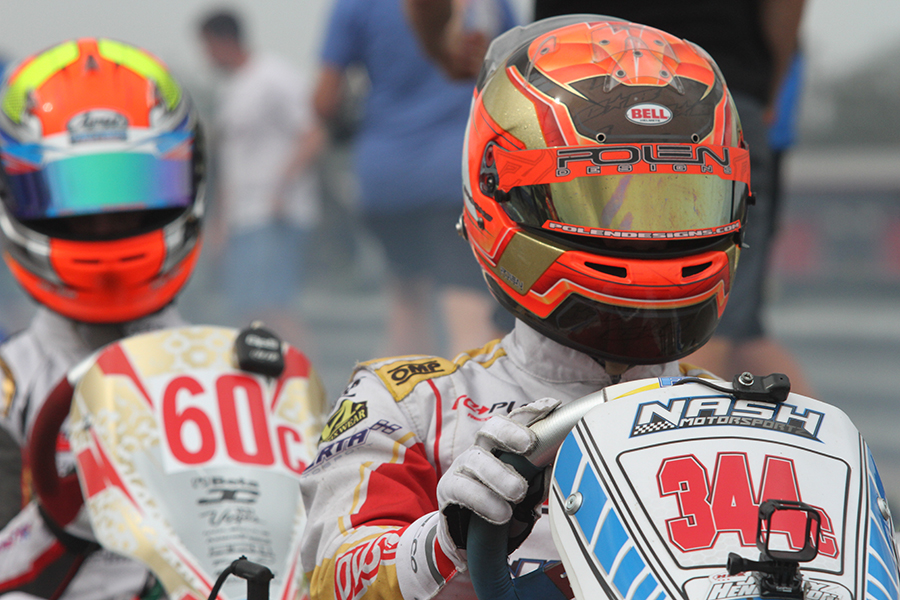 (Photo: EKN)
In my early days as a motorsports journalist, I worked as a freelance Editor-at-Large for National Kart News, which was the leading karting magazine at the time. One of the annual editorial components that my publisher always requested was a 'Safety Guide', so we put together an issue each year that highlighted the helmets, suits, boots, gloves and extras that were currently available. During the two years that I was with the magazine, we decided to go deeper, delving into the actual tests that were performed on karting suits and helmets before they were provided with their SFI and/or Snell certification. I learned a great deal in assembling this editorial, much of which remains locked in my brain to this day. I'm working on a similar editorial package for EKN that you'll see this summer.
The tests on the abrasion resistance of the nylon material used in manufacturing a kart suit still stick in my mind, likely due first to the fact that I found this topic to be tremendously interesting, and secondly, because one of the test's names.  It's hard to forget the 'Modified Weezenbeek Test'.  As I recall, and do not take this as the definitive word, the test essentially uses a pendulum apparatus affixed with an abrasive material on the end, which strikes the test fabric placed below during each pass through the low point of its arc. It simulates contact with the road and the material is then judged for its ability to protect against this abrasion.
This research I did for NKN has also educated me when it comes to what should and should not be worn in a kart.  It's also this knowledge that makes me cringe when I'm on social media and I see photos of a karter testing a race car, wearing their karting suit, which is so easy to recognize by the large logo of the chassis they run in karting. This is a recipe for disaster and needs to be stopped immediately. I've contacted many parents to provide my insight, whether they use it or not.  For those who I have not had the chance to talk to, or for those who maybe be looking to put your son or daughter in a race car this year or in the near future, please read intently.
A kart suit is designed specifically for abrasion resistance, and is not fire retardant (see those available from K1 RaceGear).  In a race car, you need a proper Nomex suit that is designed to protect against fire, and with that carries the SFI certification.  Parents and racers, if you or your child are climbing into a race car wearing a karting suit, you might as well let them wear jeans and a sweatshirt.  It's the same protection level when it comes to fire. In the horrible event of a fire, the results would be catastrophic.
This lackadaisical approach of proper safety gear goes both ways as well.
I get equally as concerned when a race car driver comes back to their roots to compete in karting events, and they wear their Nomex race suit.  Again, the logos give it away and I quickly see it in photos or from my position in the PA tower. If they were to flip, or even worse, flip and get into a high-speed slide on the racing surface, the results would be damaging and excruciatingly painful.  Nomex suits are not designed for abrasion resistance, and will rip, tear open or even melt into the skin when put in forceful contact with asphalt. This type of damage upon contact would result in direct skin-to-road contact.  Simply put, and there is no arguing this fact, Nomex race suits are not acceptable and will not protect a driver in a kart-specific accident.
Safety gear is specifically designed and tested to protect against the dangers inherent to the segment of the sport in which they are used. Karters need abrasion resistance, race car drivers require fire protection, and motocross racers protect against hard impact using helmets, body armor and knee-high boots.
It's truly a simple approach – wear what your sport demands.
This all circles back to consumer education, and retailers must be selling their customers the correct products, and in turn, team owners need to be certain that their drivers are hitting the track with proper safety gear. Anything less is unacceptable.
I've had discussions with Bell Racing USA's Chris Wheeler and Kyle Kietzmann about this very subject. When it comes to helmets, there are both karting and auto racing specific models.  Your karting helmet does not have a Nomex liner, so using in a race car increases the danger in a fire.  You can use a car helmet in karting, but not the other way around. In fact, a majority of the formula car racing programs, such as the Mazda Road to Indy, require the specific FIA8860 certification. In addition, Bell has developed karting products that are now being designed so that the overall weight of the helmet is age-specific.  Karters who are 16 years old and younger should be wearing a CMR 2016 helmet, which have a smaller shell and lighter weight.
In the end, this issue begins with the driver him or herself.  Proper safety gear is crucial and everyone knows this.  Educating our karting community is key, because we want our racers to make wise choices to protect themselves whenever they're on-track, but it still comes down to the user.  That said, I'd also like to see karting organizations, promoters and clubs be more diligent in ensuring that their racers are heading into competition properly protected. The requirement of CIK-approved race suits is part of most rulebooks in this country, so this needs to be informed.
Karters, protect yourselves.  Your kart suit will not protect you in a race car.
Race car drivers, your sponsored-up Nomex suit won't protect you from road rash if you get jettisoned from your seat.
We want you all racing with us, and we want you all to be safe.
Please follow and like us: