Fresher Places Second in 2017 Street Debut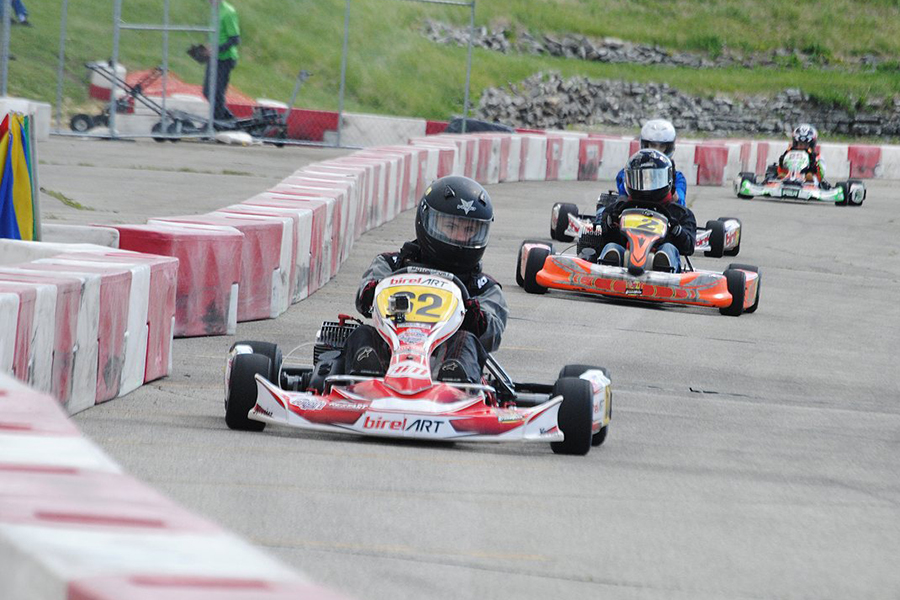 Jordan Fresher and his new Edwards-Rigdon Construction / Dilling Group #62 Birel pulls away from the AMS/OIL Junior 2 field in preliminary heat action in the SIRA "Anderson Sertoma Mayor's Cup" event in Anderson (IN). (Photo: SIRA)
Jordan Fresher (Avon, IN) made a successful 2017 street racing debut for Jim Howe Motorsports LLC (Columbus, IN), recovering from an early race spin to capture second in the AMS/OIL Junior 2 portion of the 23rd Annual "Anderson Sertoma Mayor's Cup" in Anderson (IN).
Fresher, 14, and his new Edwards-Rigdon Construction / Dilling Group #62 Birel started second in the four-kart Junior 2 field but found turn one to be bad luck, spinning there on lap 2. He got his BBS Race Engine Development Yamaha-powered mount pointed in the right direction, albeit in last place, ten seconds behind Layton Pulliam's leading #2 kart.
The youth took a few laps to compose himself, then started reeling off some of the fastest laps in the race to take third from Ben Kushner's #88 on lap 7. In the meantime, Alexander Klement and his #22 BBS-powered Birel inherited the lead on lap 8 when Pulliam pulled off with engine woes.
Fresher continued to reel in Klement in the 20-lap race run in the parking lot of the local Mounds Mall. By the end, Klement had the victory over Fresher by approximately 2-3 seconds on the eight-turn temporary course.
"We knew we were fast," JHM General Manager Jim Howe said, "but it's awful hard to make up that much distance recovering from our spin. As fast and consistent as everybody was, we knew it was gonna be tough to catch up. We made up a lot of ground but ran out of laps in the end."
Howe noted Fresher was still learning how to handle the added power and speed of the Junior 2 class and the added focus needed with those faster speeds. "We've got work to do," Howe added, "to keep Jordan focused on driving, just like we do with all youngsters learning how to go fast."
The runner-up finish concluded a very successful weekend for the team as Fresher posted a third and a first in the Junior 2 heats run the day before.
The event was the season opener for SIRA's seven-race series running street events throughout Indiana.
After four races in six weeks, the JHM team takes three weeks off to rest and enjoy the month of May in Indiana with the Verizon IndyCar events at Indianapolis Motor Speedway. JHM returns to action June 3-4 for the second annual SIRA-sanctioned "Mel Kenyon Classic" through the streets of downtown Lebanon (IN).