Progress and Top-Five Performances for Michael d'Orlando at International Circuit Napoli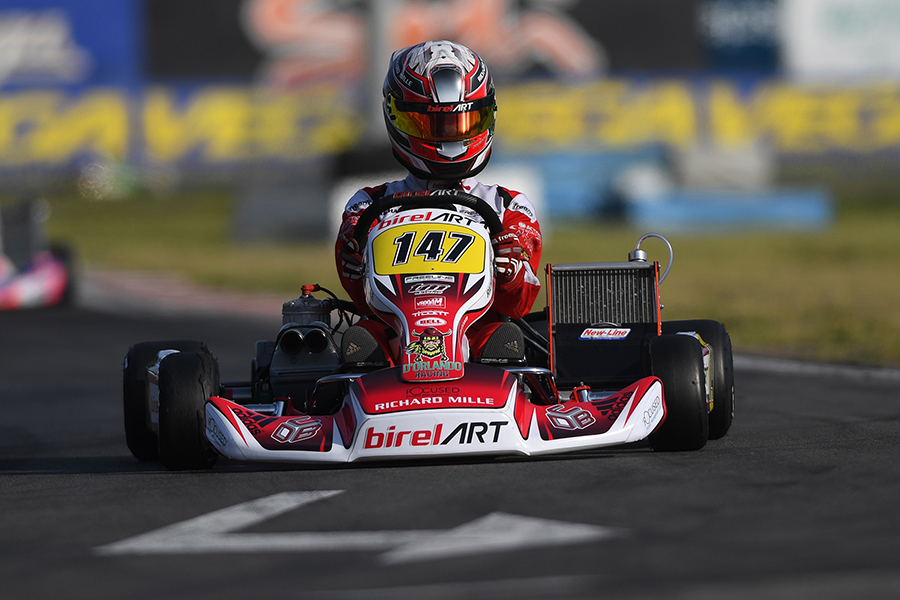 Michael d'Orlando and his Birel ART team continued their upward momentum into the International Circuit Napoli in Sarno, Italy last month, at the final round of the WSK Super Master Series and then into the first round of the CIK FIA European Championship series.  The 15-year-old American, as always, brought his perseverance and determination, so it was no surprise to see d'Orlando overcome some challenges and bring home some of the best results of his European career.
In the fourth & final round of the WSK series, d'Orlando's weekend got off to a rocky start with a disappointing 48th qualifying effort.  But d'Orlando remained focused and worked tirelessly with his Birel ART team to find the power & setup to move forward in the four heat races.  Those heat race results of 20th, 15th, 20th, and 25th would put d'Orlando in the 27th starting spot of the OK (Senior) class Pre-Final.  But again, as if the challenge wasn't already tough enough, a severe accident at the front of the grid in the opening corners of the Pre-Final A forced the first six laps of the 13-lap race to run in single file format under yellow flag conditions, with no passing permitted.  With only seven laps of head-to-head racing remaining, d'Orlando would move forward the 10 spots that he needed to transfer to the main event when disaster struck.  Contact from another driver forced him off the track and out of the competition therefore he would not qualify for the final race.  Although it was a disappointing end to what looked to be another promising main event, both driver and his Birel ART team were confident they were making the progress they've been looking for.
Then it was a time for a little vacation and a week of R&R for the Easter holiday.  Before returning to Sarno for the European Championship weekend a week later, the d'Orlando family enjoyed a break taking in the amazing sites of Italy's Amalfi coast.  But when Michael d'Orlando returned to the race track, he and his No.147 Birel ART kart were fast all week long.
Putting it together in the early stages of the week's competition, d'Orlando would have his best European performance to date in his short (European) career, by qualifying 7th in his Qualifying group, and an impressive 16th qualifying position over all out of the 69 OK (Senior) drivers in the competition.  Now running alongside top ranked world drivers, including former & current world champions, d'Orlando would bring home two very impressive 5th place heat race finishes.  However, the two very tough DNF's (Did Not Finish) in the remaining two heat races would end up affecting d'Orlando's chances of pushing for that podium, by narrowly missing a qualifying position for the main event, as he would finish 37th, just missing the OK (Senior) cut by three positions.
"Although missing the main events was not the results we were looking for," explains Michael d'Orlando. "I feel like we are definitely building our momentum and that we have been putting ourselves in the position to be back at the front again.  It's been a year for me now, competing in Europe, and I am pushing hard to take it to the next level.  Even though some unfortunate circumstances out of our control have affected us to compete in the Finals, I am confident we will continue to show our abilities to run with the best."
Michael d'Orlando will be back to racing action after the completion of final exams at Iona Preparatory School back home in the United States, in late June.  Stay tuned for continued updates and more information on Michael d'Orlando at www.dorlandoracing.com and be sure to follow him on Facebook (Michael d'Orlando Racing), Twitter (@dorlandoracing) and Instagram (@dorlandoracing).
Special thanks to Ronni Sala, Rickard Kaell Franchini and mechanic, Luca Casazza, and the entire staff at Birel ART (www.birelart.com) for their ongoing support and leadership.  Additional thanks to the support from DB Collaborative (www.db-collaborative.com) and owner John Macones, the entire community at Iona Preparatory School (wwww.ionaprep.org) and everyone at Focused Project Management (www.focusedpm.net).
A sincere Thank You to all our family, friends & fans for your ongoing support as our team continues to work toward our dream in 2017.