Energy Corse: A Very High Level of Performance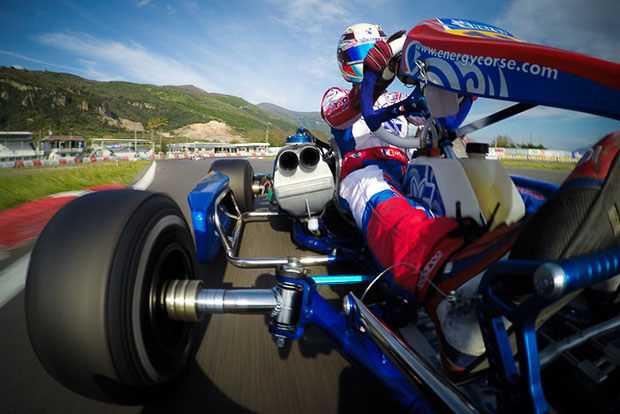 Karting, NOUET THEO, OK, F, ENERGY CORSE / PARILLA / LECONT, Energy Corse SRL, European Championship, Sarno, Italia, International Race, © KSP Reportages
The Energy Corse team has been more competitive than ever before at the beginning of the 2017 season. In KZ2, OK, OK-Junior, 60 Mini and X30, the drivers from the Italian team have demonstrated the great potential of their equipment. The entire technical team continues to put them in the best position to reach their goals. At the European Championship at Sarno, at the WSK Super Master Series, at the Andrea Margutti Trophy or in the National Championships, the results have not been lacking …
The work done during the winter continues to bear fruit. The Energy chassis proves to be formidably effective and the engines are completely satisfying. And within the Italian team, there is both an atmosphere of hard work and of dynamism, as confirmed by the team manager Mick Panigada. "We back up our drivers as closely as possible and are constantly helping them with the determination and energy that has been our trademark for many years. Of course, some still lack experience, but the progress of them all shows that we are on the right track."
Just move up from Junior, Théo Nouet is certainly in an upward phase. Already fast at the Margutti and the WSK, he placed his Energy-Parilla in the top three at the opening of the European Championship at Sarno, in Qualifying. "I was able to fight with the best all weekend, and I had very good feeling with the equipment. A malfunction of the power-valve made me drop to 14th position in the Final, but I know that we are able to aim for an excellent result," said Theo.
Ranked 9th in the Andrea Margutti Trophy at Lonato, the Slovakian Dominik Goldschmied confirmed the team's performance in this top level OK category.
Perfectly managed by the Energy Corse team, Kirill Smal succeeded in moving from 60 Mini to OK-Junior. Always at the forefront of the WSK at Castelletto, he made a good comeback to 6th place in the Final of the Margutti Trophy. Without a penalty for a dropped spoiler at the European Championship in Sarno, 10th place was promised to him. The Dane Frederik Kikkenborg and the Italian Pietro Delli Guanti also have the will to progress as quickly as possible through the rankings.
At the WSK Super Master Series, the Energy Corse team performed well in the other categories. So, behind the regulars in KZ, the Dutchman Martin Van Leeuwen was one of the fastest drivers who will very soon compete in the European KZ2 Championship. Cenyu Han, German Foteev, Ugo Ugochukwu and Dmitry Ignatov have all highlighted the quality of the equipment manufactured by Energy Corse, some of whom are members of the Giugliano Kart team. Ugochukwu won one of the races of the 2017 Italian Championship at Lonato, as well as the Final of the IAME International Open at Castelletto.
In other European countries, there are also numerous results in X30 … In Estonia, Rimmo Kadapik won the first event in X30 Junior with the Aix Racing Team, which completed a fabulous triple in Mini. The Scandinavian team was honored in the first event of the Finnish Championship: 1st and 2nd place in Mini on Saturday and new triple on Sunday plus a victory on Sunday in X30 Junior after a 2nd place on Saturday. Not to mention Ross Hayes in the top six in X30 Senior at the Andrea Margutti Trophy or the 2nd and 3rd positions from Alessandro Balzarotti (Noviello Engine) in the two Italian Championship races at Lonato in X30 Junior.