Eight Wins, Five Poles in All for Coyote Racers at Jacksonville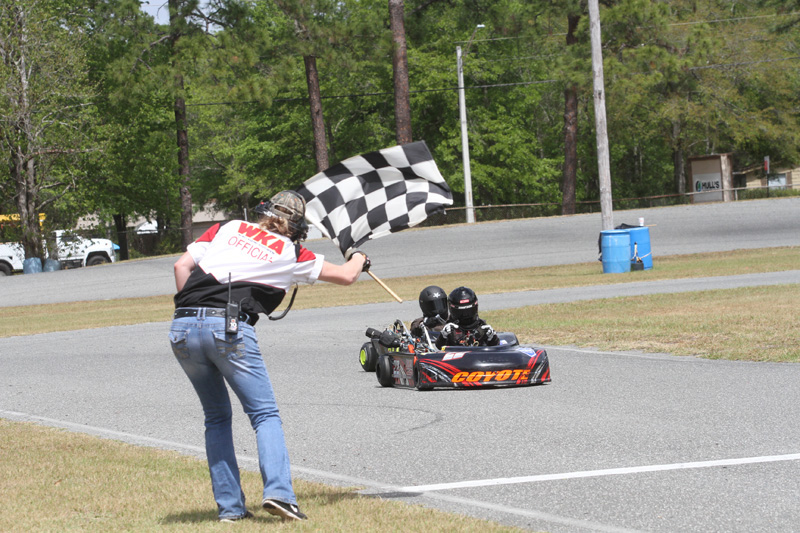 Blake Boon picks up his first national win of the year on his 2017 Wide Track
A dozen Coyote Motorsports national racers opened their 2017 season this past March 24-26 at the World Karting Association Gold Cup Nationals at the 103rd Street Sports Complex in Jacksonville, Fla.
Within the Coyote camp, the talk was the speed of junior drivers Blake Boon, Austin Williamson and Elmer Edmonson Jr.
Boon, competing on a new version of the 2017 Coyote Wide Track that is tailored for smaller, lighter drivers, scored wins both days in Sportsman Pro Gas Animal, finished second in Saturday's Sportsman LO206 final, and kicked off the weekend with a win in Friday night's Sportsman LO206 Shootout event.
Williamson would win both Junior Pro Gas Animal main events on his Wide Track, while senior competitors Matt Mayes, Brad Farmer and Jason Yarbrough all scored wins, bringing Coyote drivers' total to eight feature wins on the weekend. Jacksonville native Sean Meier would join the win column with a Pole Award in Saturday Senior LO206, giving the team a grand total of five Pole Awards on the weekend.