So Cal Oval Karters Benton and Juillerat Hope to Stay Perfect Saturday at Victorville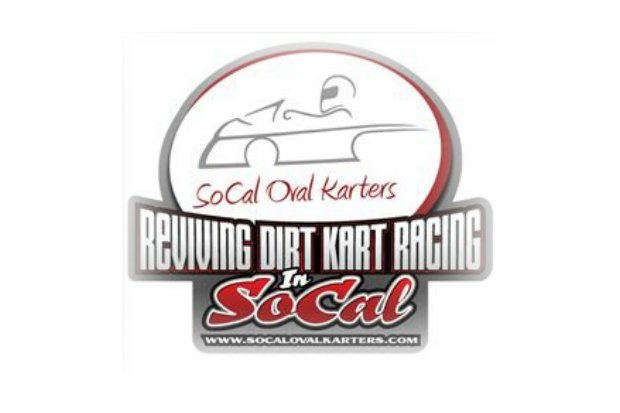 San Diego's Ronnie Benton and Steve Juillerat of Whittier hope to keep their perfect 2017 records intact when the So Cal Oval Karters return to John Aden's Wheel2Wheel Raceway on "Military Appreciation Night" this Saturday, May 6.  In addition to the five classes of SCOK the Speedway Sprints and Dirt Karts from W2W will also be in action.  Racing will start at 6:00 PM.
Benton, in the Senior 4 Cycle Class, and Juillerat in the F200's, won the season openers on the same Wheel2Wheel 1/8 of a mile banked dirt oval on March 18.  They each backed up those victories with wins at Perris Auto Speedway April 15.
Hesperia's Chris Southern won the season opening KT100 main event at W2W in March and his son Thomas won the second round of the season at Perris.  Chris Southern also won the Open class main at the March race at W2W.  Cathedral City karter Dillon Hoffman came home first at the second Open Class race of the season at Perris three weeks ago.
Cathedral City racer Dillon Hoffman takes a victory lap after winning the SCOK's Open Class main event at Perris Auto Speedway on April 15.  Photo by Scott Daloisio
Adult tickets (13 and over)  are $10.00.  Kids 6-12 are $5.00 and children 5 and under are free.  In addition, Saturday's "Military Appreciation Night" will see all military members – active, retired and reserves – admitted free when they show proper military id at the ticket window.
Wheel2Wheel Raceway is located just off the 15 Freeway on the San Bernardino County Fairgrounds at 14800 7th Street in Victorville.  You can reach the track by phone at (760) 247-3987.  The tracks website is available at the following link:  http://www.wheel2wheelraceway.com/
After Saturday on the High Desert, the SCOK will be off until June 10th when it stages its only road race of the year on the grounds of the famous Perris Auto Speedway.
The So Cal Oval Karters would like to thank the following sponsors for helping make the championship series possible.  Burris Racing, Cory Kruseman Sprint Car Driving School, Hubcapmike.com, Perris Auto Speedway, R&J Motorsports, THC Home Medical Services, T-MAC Racing and Yamaha of America Racing Engines.  If you or your business would like to become a partner of the So Cal Oval Karters, please call or E-mail Mike Nigh at (805) 857-2595 or mailto:scokart@gmail.com.
2017 So Cal Oval Karters Winners
KT100
March 18 – Wheel2Wheel Raceway – Chris Southern
April 15 – Perris Auto Speedway – Thomas Southern
Open
March 18 – Wheel2Wheel Raceway – Chris Southern
April 15 – Perris Auto Speedway – Dillon Hoffman
Senior 4 Cycle
March 18 – Wheel2Wheel – Ronnie Benton
April 15 – Perris Auto Speedway – Ronnie Benton
F200
March 18 – Wheel2Wheel Raceway – Steve Juillerat
April 15 – Perris Auto Speedway – Steve Juillerat
Junior 1
April 15 – Perris Auto Speedway – Drake Cardey
Junior/Junior
March 18 – Wheel2Wheel Raceway – Kailana Franklin
2017 So Cal Oval Karters 2017 Schedule
May 6 – Wheel2Wheel
June 10 – Perris Auto Speedway (road course)
July 15 – Wheel2Wheel
August 5 – The Grand Arena at Industry Hills
August 12 – Perris Auto Speedway
September 9 – Wheel2Wheel
September 30 – Perris Auto Speedway
October 14 – Wheel2Wheel
November 4 – Perris Auto Speedway