EKN Trackside: 2017 Superkarts! USA Pro Tour SpringNationals – Preview Part 2
Master divisions continue fielding strong competition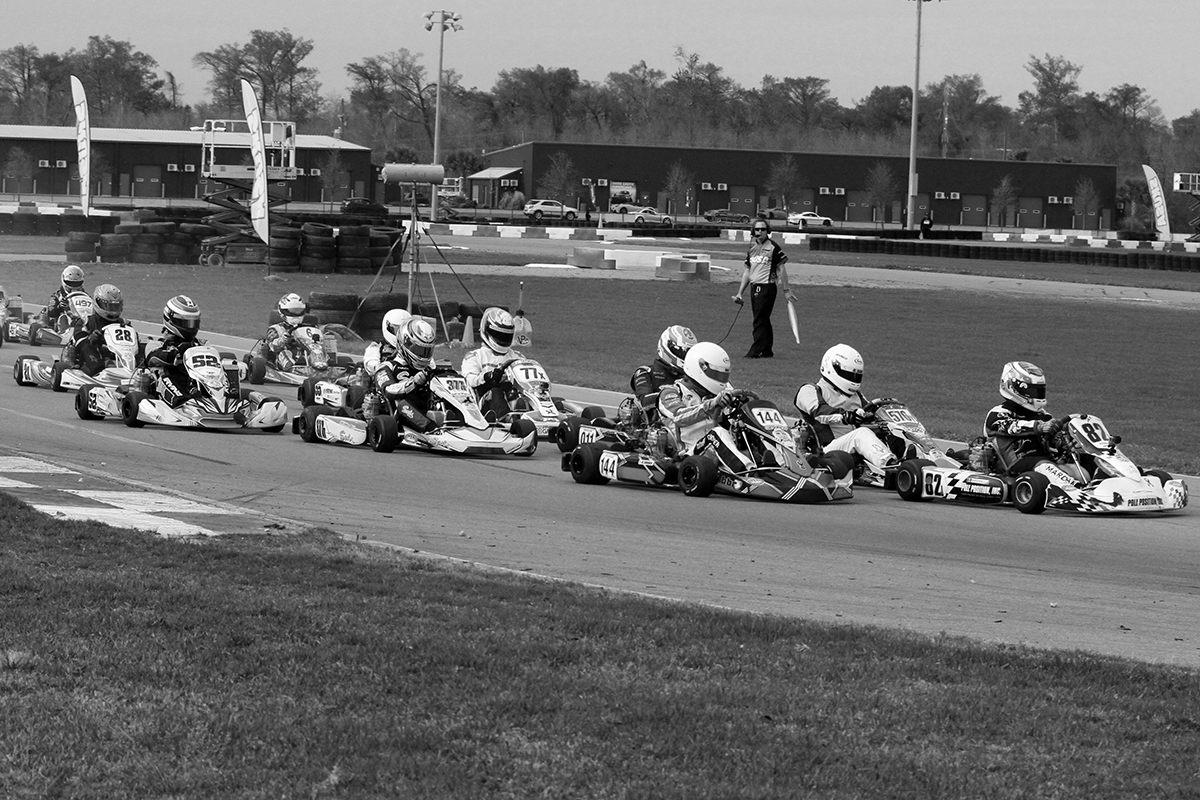 (Photo: EKN)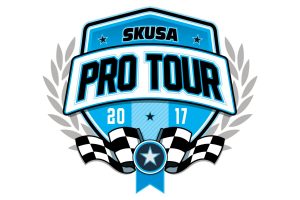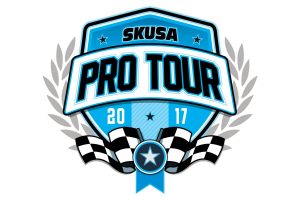 The 2017 is a new era for the Superkarts! USA Pro Tour. The launch of the new WinterNationals event to expand the championship program to six rounds of racing spanned over three events, along with event adjustments highlight many changes the organization has made to transition into the future. The SKUSA Pro Tour has put itself on the pedestal as the premier championship series in North America, with many more improvements on the to-do list now into the eighth season.
The 2017 edition of the SpringNationals, set for May 5-7, takes the organization and its racers back to where it all began in Sonoma, California. In April 2010, the SKUSA Pro Tour launched at the Jim Russell International Karting Center with just over 100 entries. Fast forward seven years, and SKUSA returns to the now-branded Simraceway Performance Karting Center with 230 pre-entries to take on the 7/10-mile course. The 12-turn circuit in the counter-clockwise direction is among the most raceable tracks in North America. Off-camber corners, fast straights, and of course the Tic-Tac-Toe section make this a driver's track, and one that will produce some exciting racing over the SpringNationals weekend.
eKartingNews is bringing all the action live to anyone and everyone with a laptop or mobile device. Bookmark www.ekartingnews.com/live and listen in to the live play-by-play provided by the official voice of SKUSA – EKN's own Rob Howden. Updates, photos and videos will be available throughout the weekend on the EKN social media outlets – Facebook, Twitter and Instagram.
---
X30 Master
The size and competition level has increased in the X30 Master thanks to the west coast bump. Twenty-five drivers are set to compete at the SpringNationals in Sonoma with 64% from the western half of North America. Three different countries are represented at the top of the championship chase. Canadian Blake Choquer became the inaugural WinterNationals winner, edging out his BBR / PDB teammate Mario Barrios. The Peruvian driver, who lives in Florida, stood on the podium twice at NOLA to enter the SpringNationals trailing Choquer by 40 points. The other victor in New Orleans was defending SKUSA Pro Tour champion Derek Wang (BBR / FA Kart). Technical issues Saturday in the Prefinal cost the former Team USA driver the chance to battle for the victory. Wang made up for it Sunday, sweeping the action. The top three are separated by 49 points heading into Sonoma.
Just outside looking in are Miguel Mier and Travis Irving. Mier (DKC / Sodi Kart) came away with two top-five finishes at NOLA, looking for more at the SpringNationals. Irving (FW / CompKart) matched those same results, and enters Sonoma fifth in the championship standings. With the number of west coast drivers, no one has more laps at the Simraceway circuit than Carlos Calderon. The Aluminos driver has shown to be among the top Master drivers in NorCal at the facility, looking to improve on his performance at the SpringNationals.
Two wildcards making their first SKUSA Pro Tour 2017 start are veterans Jess Peterson and Luke Vasquez. Peterson (PGR / Ricciardo) is a Master rookie with years of racing at the national level in the Senior ranks, graduating this season with two victories already at the California ProKart Challenge. Vasquez (RPM / Tony Kart) has both time behind the wheel and wrenching for a number of drivers at the national level, ready to battle in Sonoma.
Provisional X30 Master Entry List

| No. | Driver | Team | Chassis | Hometown |
| --- | --- | --- | --- | --- |
| 011f | Mario Barrios | BBR Karting | PDB | Miami Beach FL |
| 111m | Salvador Bortoni | Iron Rock Motorsports | | Mexico |
| 101y | Carlos Calderon | Aluminos | Aluminos | San Jose CA |
| 144r | Blake Choquer | BBR Karting | PDB | Langley BC |
| 668y | Aaron Farris | Speedsense Motorsports | Kosmic | San Mateo CA |
| 122z | Russell Francis | Formula Works | CompKart | Salem OR |
| 674y | Kelly Heil | Cambrian Go Karts | Birel ART | Campbell CA |
| 52c | Travis Irving | Formula Works | CompKart | Norco CA |
| 650y | Ron Jenkins | Cambrian Go Karts | Birel ART | Morgan Hill CA |
| 32y | Gary Lennon | Kyle Kuntze Motorsports | Tony Kart | Henderson NV |
| 82j | Laurentiu Mardan | KartCraft / Pole Position Inc | Kosmic | Arlington Heights IL |
| 497j | Paul Meise | Trinity Karting Group | Tony Kart | Cincinnati OH |
| 377t | Miguel Mier | Dallas Karting Complex (DKC) / SodiKart USA | Sodi Kart | Frisco TX |
| 146y | Eric Molinatti | 2Wild Karting | Tony Kart | Napa CA |
| 6j | Roman Padans | Merlin USA / Franklin Motorsports | Merlin | Sun Prairie WI |
| 255y | Jess Peterson | Phil Giebler Racing (PGR) | Ricciardo | Sparks NV |
| 122y | Jeff Rice | Leading Edge Motorsports (LEM) | Praga | Stockton CA |
| 55k | Jonathan Silva | Formula Works | CompKart | Corona CA |
| 44x | Robert Switzler | Independent Racers | FA Kart | Encinitas CA |
| 77x | Vatche Tatikian | Phil Giebler Racing (PGR) | Ricciardo | Altadena CA |
| 218z | Luke Vasquez | Ryan Perry Motorsport (RPM) | Tony Kart | Tigard OR |
| 28j | Cristian Vomir | KartCraft | Kosmic | Hoffman Estates IL |
| N1 | Derek Wang | BBR Karting | FA Kart | Kirkland WA |
| 087t | Adam White | Dallas Karting Complex (DKC) / SodiKart USA | Sodi Kart | Dallas TX |
| 800g | Luis Zervigon | PSL Karting | Birel ART | New Orleans LA |
---
S4 Master Stock Honda
The numbers did not increase as we believed they would following the WinterNationals. The S4 field is up to 11 drivers for Sonoma, with the same four expected to be toward the front of the field all weekend. Former series champion Jordon Musser (3G / Birel ART) left NOLA as the point leader thanks to a perfect score in Round One. Musser placed runner-up to SuperNationals X30 Master winner Renato David (Orsolon / Birel ART), who swept the action in Round Two. Musser leads by 15 points in the title chase entering the weekend.
Ben Schermerhorn and defending SKUSA Pro Tour champion Ryan Kinnear are the leading challengers. Schermerhorn (Birel ART) placed fourth both days in his S4 debut. Kinnear (Champion / Intrepid) placed third in each main events at NOLA. A DQ in Sunday's Prefinal cost the champ valuable points in the title chase, needing to recover this weekend for a chance to defend the crown.
Two drivers are making their 2017 SKUSA Pro Tour debuts. Rene Martinelli will carry the flag for TB Kart USA in the S4 division. A former Team USA member is making his first Pro Tour start outside the SuperNationals, where he finished 12th this past November. Terry Lawrence finished eighth last season on the SKUSA Pro Tour, making his 2017 SKUSA Pro Tour debut with Vemme Kart.
Provisional S4 Master Stock Honda Entry List

| No. | Driver | Team | Chassis | Hometown |
| --- | --- | --- | --- | --- |
| 333m | Jesse Carrasquedo | SP Karting Team | Parolin | Mexico |
| 250a | Renato David | Orsolon Racing | Birel ART | Orlando FL |
| 34f | Richard Heistand | PSL Karting | Birel ART | Orlando FL |
| 823m | Victor Jimenez | Rolison Performanc Group (RPG) | Tony Kart | Miami FL |
| N1 | Ryan Kinnear | Champion Racing | Intrepid | Richmond TX |
| 09y | Alex Kwan | Aluminos | Aluminos | Los Altos Hills CA |
| 13z | Terry Lawrence | Team Vemme Kart | Vemme Kart | Nampa ID |
| 10y | Rene Martinelli | TB Kart USA | TB Kart | Roseville CA |
| N2 | Jordon Musser | 3G Kart Racing | Birel ART | Coppell TX |
| 255d | Ben Schermerhorn | | Birel ART | Highlands Ranch CO |
| 021t | Nathan Stewart | | CRG | Flower Mound TX |
---
S4 Super Master Stock Honda
The S4 Super Master category continues to gain momentum across the country. A similar size field from the inaugural WinterNationals is set for the SpringNationals, with the thought of breaking the 20-driver mark on the horizon. One driver that drove away from the field is defending SKUSA Pro Tour champion Robert Marks (PKS / CRG). Marks doubled up in the win column at the WinterNationals, and has the target on him throughout the SpringNationals.
A strong group of drivers are chasing Marks in the championship chase. Mike Jones made the move up to the Super Master division and currently sits as the lead challenger. Jones (DKC / Sodi Kart) was top qualifier both days in NOLA, winning Saturday's Prefinal. John Crow is among those looking to break Marks four race SKUSA Pro Tour winning streak that dates back to Round Four at the 2016 SummerNationals. Crow (MRC / Aluminos) stood on the podium at NOLA on Sunday, and loves the Sonoma circuit.
2016 SKUSA Pro Tour plate holders Nick Firestone and Rod Clinard did not have the WinterNationals they had hoped. Firestone (DRT / DR Kart) was able to grab a fourth-place result on Sunday to bounce back from a tough outing Saturday. Clinard (CRG Nordam) was just outside the top-five all weekend, looking to bounce back at the SpringNationals.
Adding to the mix are some notable names. Kalvin Chen (CRG) has been beating up the competition at the Los Angeles Karting Championship, earning his third straight victory this past weekend, and now set to make his SKUSA Pro Tour debut. Patrick O'Neill is the inaugural Streets of Lancaster Grand Prix winner for the S4 Super Master division. Racing under the Ron White Racing / CRG banner. O'Neill finished fourth at the SuperNationals in November, and is racing at his home track this weekend. Another hometown favorite is Jim Kidd (Aluminos). It has been a long road to return to the driver's seat after back surgery, and 'The Kidd' is ready for once again for the SKUSA Pro Tour.
Provisional S4 Super Master Stock Honda Entry List

| No. | Driver | Team | Chassis | Hometown |
| --- | --- | --- | --- | --- |
| 155f | Farshad Bagheri | TB Kart USA | TB Kart | St. Petersburg FL |
| 104x | Levi Bennett | PKS Kart Supplies / Team Visalia | CRG | Visalia CA |
| 56c | Kalvin Chen | FastDDS/OrangeCountyDentist.com | CRG | Yorba Linda CA |
| N3 | Rod Clinard | CRG Nordam | CRG | Hewitt TX |
| 31c | John Crow | Musgrave Racing Company (MRC) | Aluminos | Anaheim CA |
| N2 | Nick Firestone | DRT Racing | DR Kart | Paradise Valley AZ |
| 100t | Mike Jones | Dallas Karting Complex (DKC) / SodiKart USA | Sodi Kart | Union Valley TX |
| 98y | Jim Kidd | Aluminos | Aluminos | Campbell CA |
| 124k | Jeff Krogstad | | CRG | Lancaster CA |
| N1 | Robert Marks | PKS Kart Supplies / Team Visalia | CRG | Visalia CA |
| 64y | Patrick O'Neill | Ron White Racing | CRG | San Rafael CA |
| 68t | Venkat Reddy | Core Karting | CRG | Flower Mound TX |
| 21x | Ken Schilling | Aluminos / Musgrave Racing Company (MRC) | Aluminos | Stanton CA |
| 357y | Zoli Sule | Musgrave Racing Company (MRC) | Aluminos | Las Vegas NV |
| 102x | Darrell Tunnell | PKS Kart Supplies / Team Visalia | CRG | Visalia CA |
| 994y | Kevin Woods | Ron White Racing | CRG | Newark CA |