The Purdue Grand Prix: 60 Years Old and Going Strong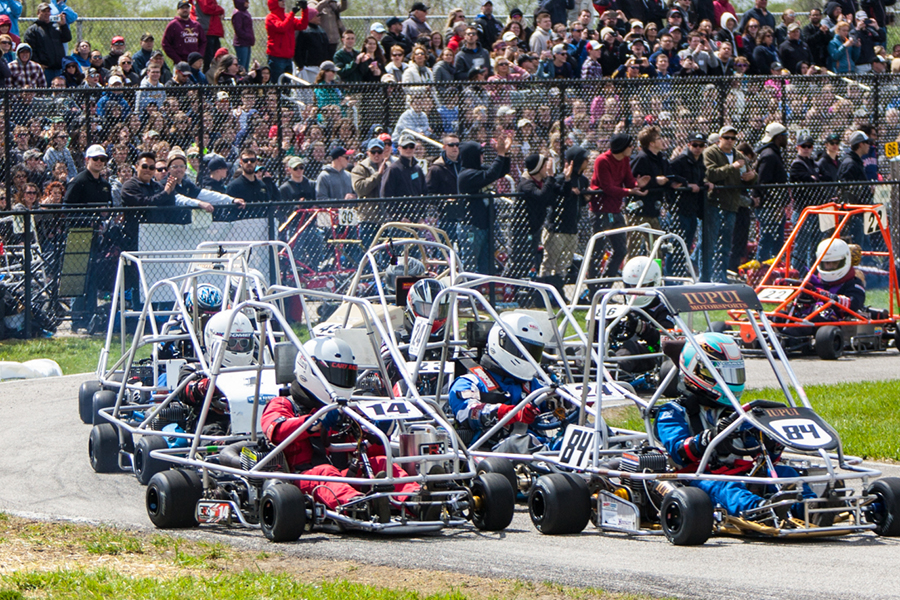 60th running of the Purdue Grand Prix gets underway (Photo: Zach Fuhrman)
– written by John Copeland – Fox Valley Kart

An idea that popped up more than 60 years ago in a fraternity house bull session at Purdue University has become the longest continuously running event in the sport of Karting.  The Purdue Grand Prix pits teams of students from the highly regarded engineering school in West Lafayette, Indiana in a 160 lap marathon using 100cc Yamaha-powered karts. The karts are pretty much what you'd see at any sprint kart event, with the addition of mandatory roll cages, seat belts, and exchangeable fuel tanks.
Through its history the event has been held at a number of locations around the campus and currently uses a purpose-built 1/3 mile track that the University constructed specifically for the Grand Prix in 2012. Unlike most college activities, the Grand Prix Foundation is a completely student-run organization with dozens of students responsible for everything from advertising, to ticket sales, to facilities, to security, as well as running the event itself. A dedicated group of University staff provide guidance and oversee safety and security needs.
Students begin work months in advance as teams form representing residence halls, fraternities and sororities, and various professional organizations. Finding sponsorship dollars to underwrite the substantial costs of a Grand prix effort is a major project in itself. While several teams find support from local businesses, many are successful in landing major national and multi-national corporations who are looking for ways to improve their access to highly sought-after future graduates. Delphi Electronics and Lockheed Martin have also made long-term commitments to support the event a a whole. These funds, along with proceeds from the more than 4500 tickets sold for the race and entry fees from the teams, form a pool from which the Foundation annually award thousands of dollars in scholarships to deserving students. The Grand Prix organization's motto is "Students Helping Students".
After two weeks of practice, the nearly 50 teams faced off in qualifications. The fastest 27 were "locked in" to the starting field, while those who weren't quite quick enough were assigned to starting spots in the 3 last-chance qualifying sprint races on the day of the big race. The top two finishers from each of those sprint races are added to the starting field for the main race, making a starting grid of 33 karts.
This year, in celebration of the 60th running of the Grand Prix, alumni racers were invited back to participate in two "Alumni Races".  Racers who participated prior to 1984 ran in the "Classic" class, including two who had participated in the very first Grand Prix in 1958! Alums from 1984 and later had their own race and everyone in both events had a great time re-living their past glories before the field was gridded for the main event.
With 33 karts on a 1/3 mile, 8 turn track, the action is non-stop. Recent years have seen more and more drivers with previous karting experience along with many who, before practice began, had never driven a kart before. But qualifying times from fastest to slowest, were just about 1 ½  seconds apart. Traffic management and staying out of trouble are keys to success at the Grand Prix and things happen quickly. On the very first lap, 2nd qualifier Adam Jennerjahn and pole-sitter Brenden Johnson collided in turn 8 and both lost any hope of taking the victory. After repairs, Johnson was able to return to action and posted the fastest laps of the day, but could never make up the lost time.
Kyle Tilly took advantage of the first lap incident to claim the lead, hotly pursued by Camden Speth, but both of them eventually had trouble; Tilley with kart-to-kart contact the flattened at tire, and Speth whose engine gave up the ghost. Behind them there was lots of great racing as drivers who started farther back found their rhythm and moved up. But the order of the day was contact; lots of contact. It was easy to see why the roll cages and seat belts have become such an important part of the GP safety record. In fact, in 60 years, the most serious driver injury has been a broken finger!
Another important safety feature at the Grand Prix is the exchangeable fuel tanks. With fuel capacity limited to 7 quarts, a refueling pit stop is required. This adds the element of pit crew involvement and has spurred the teams to design some incredibly clever designs for quick-change fuel tanks. Some are so sophisticated that the drivers only need to stop of 2 or 3 seconds before returning to the track.
By lap 130 it looked like Spencer Meredith might be on his way to victory when he dropped a wheel off the track and lost a chain. That moved Abby Willis into the lead and a shot at being only the 2nd woman to win in 60 years. But Kyle Tilley had recovered from his unscheduled pit stop to replace the flat tire and was storming back to the front. Tilley reclaimed the lead with15 laps to go and took the checkered flag with both arms raised. Willis had to settle for 2nd, followed by James Schnabel and Nick Shirrell. Matthew Guido came all the way from 30th on the grid to claim 5th place.
And so the 60th edition of the Purdue Grand Prix in is the books, and plans are already underway for Race 61. The oldest continuously-running event in the sport is getting better and stronger every year, showcasing karting to a wider and wider audience. Discussions are underway about televising the event to reach even more people. What could be better?