Race Report: Tuto Super One Series Round 3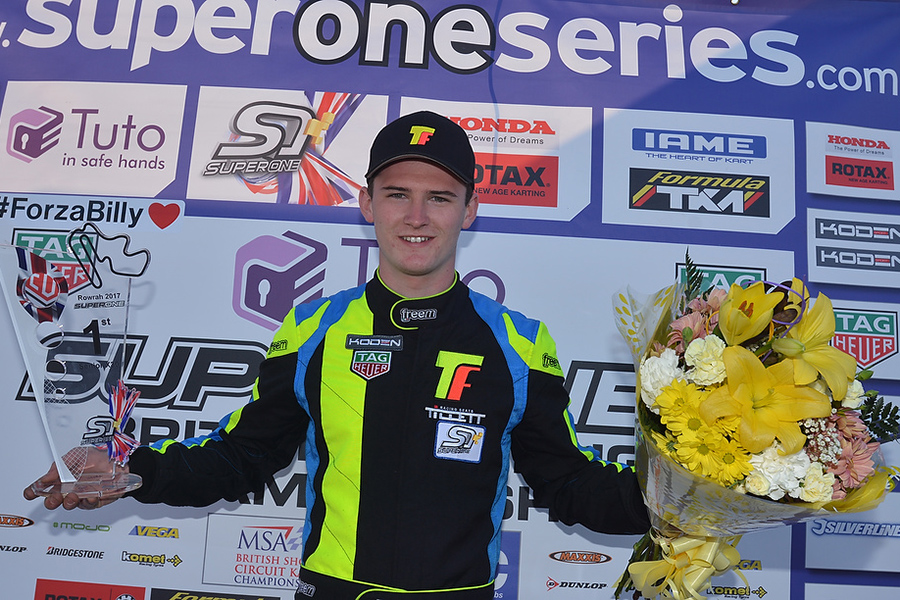 (Photo: Kartpix.net)
The Super One Series returned to Rowrah for the second time this year after the track stepped in to run Round 3, originally scheduled for Buckmore Park which didn't have the paddock capacity for a meeting of this size. The weather was better this time though, 10℃ but dry.
The whole paddock came together in support of the injured F4 driver Billy Monger, a stalwart of the Super One Series for several years. £5000 was raised by the drivers and teams including significant donations from Cumbria Kart Club and Super One, and the #BillyWhizz stickers were ubiquitous.
Koden helmets is supporting Super One with a carbon fibre helmet for the winners and an extra prize for the most podiums, as well as the Koden Academy which awards drivers wearing Koden helmets £100, £75 or £50 for podium positions. Sebastian Bloch in Honda Cadet benefited from this at Rowrah.
MSA British Cadet Kart Championship
Taylor Barnard scored another double win at Rowrah to underscore his dominance in the IAME class at present. After pole and two equally dominant heat wins, he lined up in pole for the first Final next to Arvid Lindblad followed by Luke Watts and Matthew Rees.
Barnard pulled away from the start as Alexander Dunne, Matthew Rees and Lindblad fought over 2nd, but the gap only increased after Dunne established himself and the front of the chasing pack ahead of Rees.
In Final 2 Rees leapfrogged ahead of Dunne at the start but Barnard was again untouchable. Christopher Draper took 3rd a few laps from the end after a battle involving Dunne and Maxwell Dodds.
Barnard is now 31 points ahead of Rees in the Championship but there are still five rounds to go.
ABkC Honda Cadet National Championship
Archie Brown was another driver to win twice out of the 41 drivers in Honda Cadet with his main opposition coming from Oliver Bearman. Theo Micouris took pole and the three heat wins went to Alfie Rigby, Lucas Ellingham and Bearman, with Ellingham taking pole for Final 1.
In Final 1 Ellingham held on to the lead for a few laps before Bearman took over and finally Brown passed with three laps to go and Bearman who had dropped back slightly retook 2nd. James Walker had been 3rd but was excluded for poor behaviour which gave the position to Micouris.
In Final 2 Brown had Bearman on his tail throughout but the pair of them were soon several seconds ahead of 3rd which was taken by Sebastian Bloch from Oliver Greenall on the last lap.
Brown now has a 17 point lead ahead of Alfie Rigby, but Rigby was reinstated in the results pending an appeal to the MSA Motor Sports Council so this may all change.
MSA X30 Junior National Championship
Luke Whitehead and Jonny Wilkinson won the X30 Junior Finals after some racing that went over the top at times. Whitehead took pole in Qualifying and kept it after the heats with other heat wins going to Reggie Duhy and Alex Lloyd.
Whitehead led all of Final 1 but once Louie Westover got into 2nd he was reeling Whitehead in with Morgan Porter immediately behind.
In Final 2 Westover was the early leader before Whitehead and Porter both had turns in the hot spot but a last-lap confrontation gave Wilkinson the opportunity to go ahead and he won over a second ahead of Westover, while Porter dropped down the order and Whitehead received a bumper penalty.
Westover still leads the Championship but is just six points ahead of Wilkinson.
MSA X30 Senior National Championship
Although Brett Ward and Elliot Harvey beat him in Qualifying, Danny Keirle completed a clean sheet during the racing, winning both his heats and both his Finals. The other heat winners were Joe Turney and Thomas Turner.
The first Final saw quite a struggle for the win between Keirle, Turney and Turner, with Turney crossing the line 2nd but demoted for a bumper penalty. Turner was promoted to 2nd and Ward 3rd.
In Final 2 Keirle was a clearer winner, gradually pulling away from 2nd place which was fought over by Ward and Derek Morgan, with Turner overtaking Morgan on the last lap.
Keirle finished the weekend 23 points ahead of Ward in the Championship.
ABkC Minimax National Championship
Lewis Gilbert and Kai Hunter shared the wins in the Minimax class where the gaps were small between the frontrunners. Hunter took pole in Timed Qualifying and one heat win, while Jamie Day took the other, and Hunter was on pole for Final 1 by virtue of his better Qualifying.
Hunter lost the lead to Gilbert a couple of laps into Final 1, and Day also had a spell up the front before Gilbert took it back, but the trio remained tight. Final 2 was even closer with Gilbert, Day, Tom Adams and finally Hunter all leading, but Hunter was excluded before being reinstated pending an appeal to the MSA Motor Sports Council.
Hunter has a massive 38 point lead in the Championship over Gilbert.
ABkC Rotax Junior National Championship
Clayton Ravenscroft and Tyler Chesterton won the finals in Junior Rotax after Finlay Bunce Qualified on pole and Ravenscroft won both heats.
Ravenscroft didn't relinquish the lead in Final 1 but had Rhys Hunter in his shadow throughout with Chesterton taking 3rd at half distance several seconds back. In Final 2 Chesterton passed Ravenscroft after two laps and gradually pulled away. Ravenscroft dropped to 6th then received a bumper penalty. Hunter took 2nd again closely followed by Guy Cunnington.
Hunter now leads the Championship by 18 points from Chesterton with Ravenscroft a further 18 points back.
Results
IAME Cadet
Final 1 (14 laps): 1 Taylor Barnard (Synergy), 2 Alex Dunne (Synergy), 3 Matthew Rees (Zip), 4 Maxwell Dodds (Tony Kart), 5 Christopher Draper (Tony Kart), 6 Coskun Irfan (Synergy)
Final 2 (14 laps): 1 Barnard, 2 Rees, 3 Draper, 4 Freddie Slater (Fusion), 5 Dunne, 6 Dodds
Championship Standings
1 Taylor Barnard 391
2 Matthew Rees 360
3 Freddie Slater 346
Arvid Lindblad 346
5 Luke Watts 339
6 Alex Dunne 335
Honda Cadet
Final 1 (14 laps): 1 Archie Brown (Synergy), 2 Oliver Bearman (Zip), 3 Theo Micouris (Zip), 4 Coskun Irfan (Synergy), 5 Harvey Charter (Zip), 6 Alfie Rigby (BRK)
Final 2 (14 laps): 1 Brown, 2 Bearman, 3 Sebastian Bloch (Project One), 4 Oliver Greenall (Project One), 5 Connor Clifford (Project One), 6 Daniel Guinchard (Project One)
Championship Standings
1 Archie Brown 364
2 Alfie Rigby 347
3 Oliver Greenall 342
4 Coskun Irfan 341
5 Joshua McLean 327
Harvey Charter 327
X30 Junior
Final 1 (17 laps): 1 Luke Whitehead (CompKart), 2 Louie Westover (Kosmic), 3 Morgan Porter (Tony Kart), 4 Sean Butcher (Tony Kart), 5 Jonny Wilkinson (Tony Kart), 6 Joshua Rattican (Tony Kart)
Final 2 (16 laps): 1 Wilkinson, 2 Westover, 3 Reggie Duhy (CompKart), 4 Dragan Pinsent (Exprit), 5 Rattican, 6 Louie Short (Mad Croc)
Championship Standings
1 Louie Westover 373
2 Jonny Wilkinson 367
3 Sean Butcher 350
4 Reggie Duhy 345
5 Samuel White 334
6 Morgan Porter 327
X30 Senior
Final 1 (17 laps): 1 Danny Keirle (Fullerton), 2 Thomas Turner (Tony Kart), 3 Brett Ward (Alonso), 4 Levi King (Tony Kart), 5 Derek Morgan (Gillard), 6 Josh Skelton (Tony Kart)
Final 2 (17 laps): 1 Keirle, 2 Ward, 3 Turner, 4 Morgan, 5 Archie Tillett (Fullerton), 6 Gus Lawrence (Tony Kart)
Championship Standings
1 Danny Keirle 391
2 Thomas Turner 368
3 Brett Ward 343
4 Josh Skelton 338
5 Elliot Harvey 329
6 James Johnson 328
Minimax
Final 1 (16 laps): 1 Lewis Gilbert (Tony Kart), 2 Kai Hunter (Kosmic), 3 Jamie Day (Energy), 4 Van Knapton (Alonso), 5 Owen Johnson (Tony Kart), 6 Tom Adams (Tony Kart)
Final 2 (16 laps): 1 Hunter, 2 Day, 3 Adams, 4 Knapton, 5 Johnson, 6 Leonardo Panayiotou (Alonso)
Championship Standings
1 Kai Hunter 383
2 Lewis Gilbert 345
3 Van Knapton 342
4 Owen Johnson 341
5 Tom Adams 334
6 Ben Caisley 318
Rotax Junior
Final 1 (17 laps): 1 Clayton Ravenscroft (Kosmic), 2 Rhys Hunter (Kosmic), 3 Tyler Chesterton (Tony Kart), 4 Guy Cunnington (Tony Kart), 5 Tommy Foster (Tony Kart), 6 James Lowther (Tony Kart)
Final 2 (16 laps): 1 Chesterton, 2 Hunter, 3 Cunnington, 4 Foster, 5 Bradley Barrett (Tony Kart), 6 Finlay Bunce (Kosmic)
Championship Standings
1 Rhys Hunter 370
2 Tyler Chesterton 362
3 Clayton Ravenscroft 343
Bradley Barrett 343
5 Finlay Bunce 325
6 James Lowther 319