JH Motorsports Confirmed as VLR Dealer with Arrive-and-Drive Programs
Seats available for upcoming LAKC and Tri-C Karters events at CalSpeed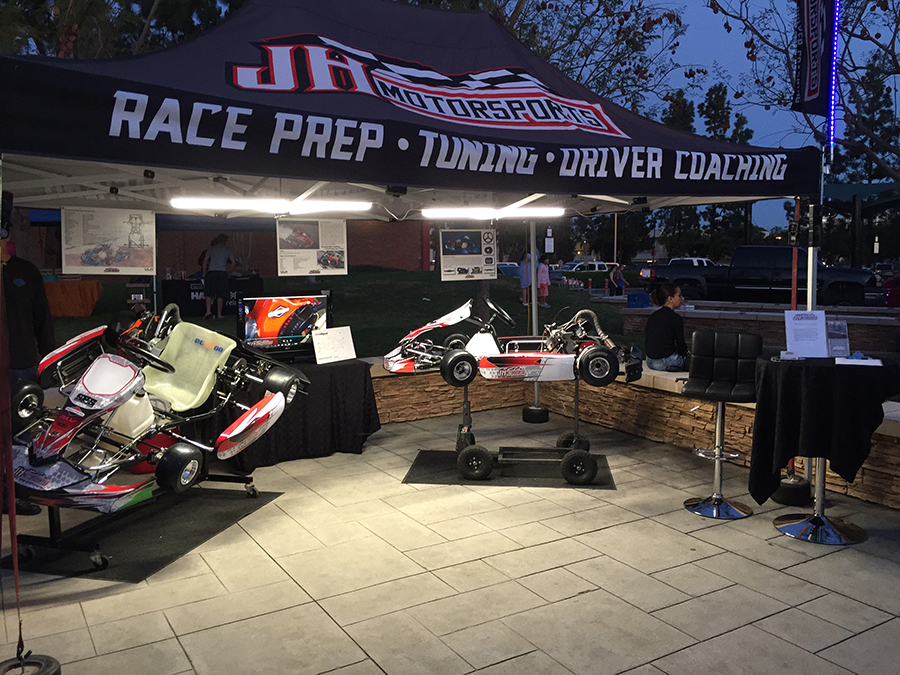 JH Motorsports is taking the sport of karting to the masses as a new dealer for VLR karts, displaying at the Cajon Classic Cruise all spring and summer
Well-respected SoCal karting tuner Josh Huff continues the evolution and growth of his new operation – JH Motorsports. Huff's new effort has already hit the ground running at California ProKart Challenge and LAKC events, and the newest addition to the company is the confirmation that JH Motorsports is now a dealer for the new VLR spec four-cycle chassis. Huff is fully committed to helping the sport grow at the club level, and he's being aggressive in this dedicated effort by prepping four arrive-and-drive karts for the upcoming LAKC and Tri-C Karters events at CalSpeed Karting in Fontana, CA. Huff is also being pro-active in his attempt to grow the sport through his sponsorship of the Cajon Classic Cruise, a Wednesday car show where he will be on-site each week throughout the spring and summer to present karting and the JH Motorsports program to the show attendees.
"Like so many people in the sport right now, I'm really excited about the Briggs 206 program, and in particular, the spec VLR chassis formula," Huff enthused. "I want to do what I can to bring new people into the sport, and that's why I signed up as a dealer with the VLR. It's a great chassis, and it is competitive in the Spec VLR class and the open 206 classes as well. I'm really excited to be able to bring interested car enthusiasts from the classic cruise as well, and I'm fine-tuning my sales approach based on the many discussions I'm having with people who stop by to check out the karts. The tent and the karts draw a crowd, that's for sure."
JH Motorsports is San Diego's only VLR chassis dealer and has both rolling chassis and race-ready 206 packages in stock and they also have arrive-and-drive opportunities ready to hit the track this weekend at the LAKC event at CalSpeed. The shop is also an authorized dealer for RLV, Bridgestone and GMZ Wheels.
JH Motorsports driver Stephen Brucker will be competing in one of the team's VLR karts in the 206 Junior classes this weekend at the LAKC, and the team will also be trackside for the next Tri-C Karters race on May 13. Huff already has one four-driver team signed up for the Tri-C Endurance Race at Adams in June, and has three more karts ready for interested racers.
Huff's support and participation at the Cajon Classic Cruise, which takes place every Wednesday in downtown El Cajon, is designed to introduce the sport to racing and car enthusiasts who don't know that they can jump in a kart and go race. JH Motorsports is promoting a full day of use, at a race or for a dedicated test, for just $350 a day. The team is offering support at events at Tri-C or tests at CalSpeed, Perris or Adams for any interested showgoers. The services provided to these new racers to elevate their experience include lead-follow sessions, data overview, GoPro video review, pre-track prep, trackside support, parts sales and transport. This is a full-on 100% effort to bring new racers into karting.
Of course, the team has its regional and national level program, as well. Pro racing under the JH Motorsports banner will include race preparation, trackside support and paddock assistance. Huff is among the best in the field of data analysis and driver coaching, which he will use to get the best out of his drivers and their equipment. Pre-race testing support is also available through JH Motorsports and equipment transportation is another service that will be available soon. JH Motorsports is prepared to support drivers at the California ProKart Challenge, Los Angeles Karting Championship, Superkarts! USA Pro Tour and SKUSA SuperNationals 21. Personalized programs involving other events and locations can be tailored to fit your schedule.
To learn more about JH Motorsports, you can contact Josh Huff via email josh@joshhuffmotorsports.com or call 619-201-5474. The website – joshhuffmotorsports.com – is currently under development to serve as the online home for the new karting operation.