Northwest Kart Dates 206 Series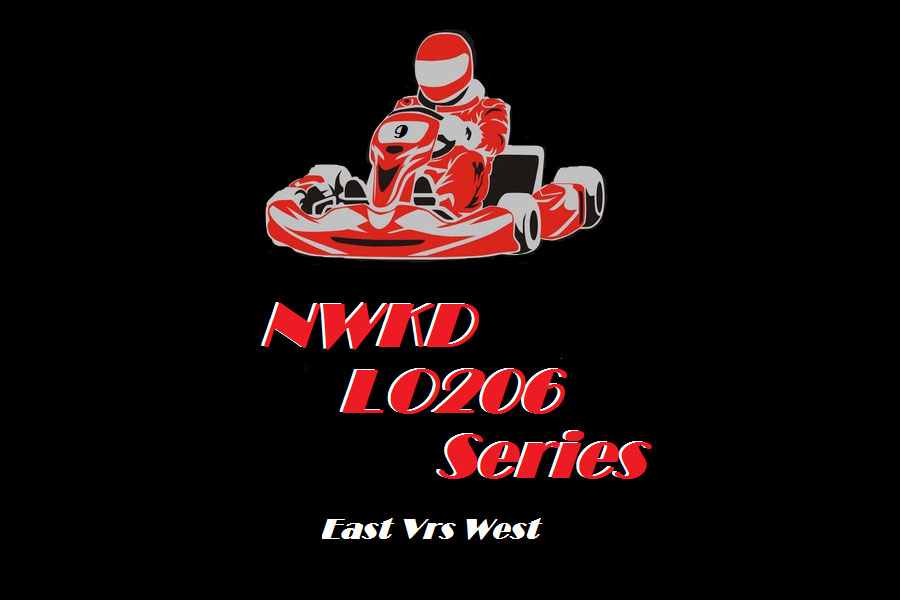 There is no better way to start a new series and season off with a great field of karts. That was no different for the Northwest Kart Dates 206 East Division race at Tri-City Kart Club. The series started off with 16 Junior One LO206 and 8 Junior Two LO206 and 12 Senior LO206 and 8 Master LO206 (Not a points class). The racing was exciting and everyone was ready to race. It was a Saturday Day race and it was a eventful day to say the least.
While the Northwest Kart Dates West 206 series has have one race for junior One and Two back last month at PSGKA and two races for Senior LO206 at PSGKA and PGP last month, this is still the biggest entry for the NWKD two Divisions and will be the start for a great series.
Senior 206:
Justin Walsh led the way in P1 with Kellen Dean P2 and Tanner Korenkiewicz and Justin Korenkiewicz in P3 and P4 as they took the green flag. J. Walsh, K. Dean and the Korenkiewicz brothers spaced the field, as they were .400 faster than the whole field. Justin Korenkiewicz had issues half way through the main event and pulled off of the track, ending his race after posting the fastest lap of the race.
The battle behind the top 3 was the interesting part, as Craig Strait and Bryce Peterson banged on each other for alot of the race and did not help either racer. Craig Strait wouldn't give Bryce Peterson any room resulting in locking wheels coming out of turn three. After the two racers unlocked wheels, it was Bryce Peterson who was trying to make up some spots. Bryce would caught Tyler Kellin but the twos Rivals would meet again as Craig Strait would caught up to Bryce Peterson. Craig Strait would hit and drive up Bryce Peterson's body work resulting in again losing time from the racers in front of them. Craig came out finishing ahead of Bryce Peterson but would lose spots for rough driving and finish 10th.
While the rough driving happened through out the pack behind the top 3, Justin Walsh did everything he needed to keep Kellen Dean and Tanner Korenkiewicz at bay as the Justin Walsh takes the win with Kellen Dean P2, Tanner K. P3 and Seth Appel P4.
Masters 206:
Running both Senior 206 and Masters 206, Bryce Peterson seemed like he had the field covered in Masters 206 until the main event. Bryce Peterson would start P1 with Eric Hubele and Ken Porter in P2 and P3. Bad luck drew the 2016 TCKC Shootout winner, Derek Bittle as he could not keep a chain from coming off, Derek would start last.
The inside lane had a great start as Bryce Peterson had hole shot and Ken Porter in P2, Eric Hubele in P3 and Derek Bittle coming from last to P4 by turn 2 of the first lap. Eric Hubele found some speed from the Heat race and passed Ken Porter and was looking to track down Bryce Peterson who gained a small gap. Derek Bittle would pass Ken Porter down the short straightaway and would be in P3 and pulling away from Ken Porter until his chain came off again for the third time in the day ending his race.
Eric Hubele would track down Bryce Peterson and in the final laps of the race, Eric Hubele would pass Bryce Peterson and would come home to the checkered flag in P1, Bryce Peterson in P2 and Ken Porter in P3.
Junior 2 206:
Daytona Arnzen brought the field to the green flag with Wesley Hannah in P2 and Eliabeth Hunter-Hays in P3 and Garrett Poynor in P4. Daytona would get the hole shot and would be followed by Elizabeth Hays as she took over P2, Elizabeth would stick with Daytona as they both pulled away from Wesley Hannah(P3) and Garrett Poynor (P4), who both had tight clean races.
Daytona Arnzen would be come home with the checkered flag with Elizabeth Hays in P2 and Wesley Hannah and Garrett Poynor in P3 and P4.
Junior 1 206:
This is the biggest field of the day with 16 karts. It was Trey Arnzen who was a rocket of the race. He would bring the field to the green flag with Teagan Fletcher and Mason Smark in P2 and P3. On lap 7, Teagan Fletcher would have issues with the kart resulting in pulling off, ending Teagan's day. That allowed Mason Smark and Harrison Budzeck to gain a spot each.
On Lap 8, Harrison Budzeck wanted second place and he passed Mason Smark for P2. Mason didn't have enough to pass Budzeck back and Trey Azren took the checkered flag with Budzeck and Smark in P2 and P3. Only six karts finished on the lead lap.
The next NWKD 206 East Race is in Spokane, WA on May 21st. The next NWKD 206 West Race is at SIMA in Sumas, WA on May 6th