Pushback Bumper: The United States Debut First Hand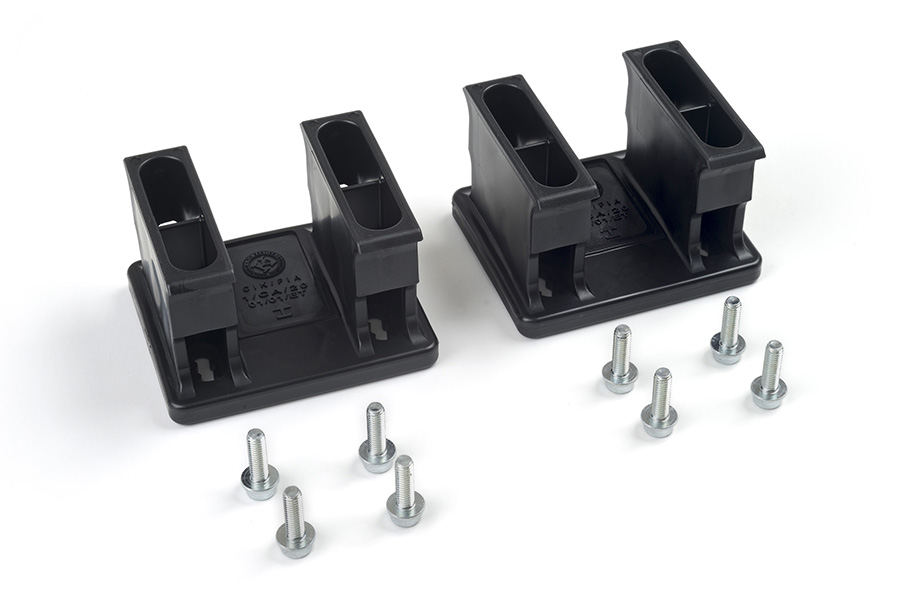 The following is a column from racer and announcer Xander Clements, who competed at the first round of the United States Pro Kart Series on April 7-9 at the GoPro Motorplex in Mooresville, North Carolina. The first event of the 2017 season for the program marked the debut of the 'pushback' nose, which has been utilized in Europe and in CIK competition. The introduction has been made to help prevent rough driving, especially at the starts. Promoter Mark Coats has taken the first step, mandating the bumper system in all categories.
As a guy who now spends 99% of his time at the racetrack now blaring his voice through the PA system instead of driving, I am far from an expert when it comes to getting behind the wheel. In fact, this weekend a lot of people that I had met from announcing didn't even know that I raced, which is understandable as I had only been able to afford 1 race a year for the past couple of seasons. With that said, hopefully this article can help give everyone a collective view on the USPKS's introduction of the pushback bumper and utilization of it.
For those who don't know how the pushback bumper system works, it is basically an extra rubber insert that is bolted onto your plastic bumper. Once clamped on correctly, it is fairly stiff, but with enough contact, the initial "lip" of the rubber insert slides towards your pedals and then the bumper rests on a second, lower ledge. Once on the lower ledge, the bumper rides significantly looser than on the initial lip, but it doesn't completely drag like it did when they first introduced the system in Europe a few years ago.
A primary worry I had coming into the weekend was how much of the device would be compromised after its first push-in. Would the initial lip become slowly rubbed off over multiple pushbacks, and therefore become easier to be pushed in than a new rubber insert? While the device isn't overly expensive, I was trying to run the season on as minimal of a budget as possible, so that was something I would simply have to wait and find out.
In practice, I pushed my DCT SpeedSport teammate Connor Tebbe around a little bit, and the bumper held. However, we did find out that the KG bumper clamps were a touch stiffer than the OTK ones I was running, although again, I didn't want to buy them just yet as I was hoping to not have to spend any dollar more than I needed to. Unfortunately, this was the wrong decision, and I'll get to that later.
On Saturday, my first heat race went fine, with the start and racing very clean. I did get quite a heavy punt from the driver behind me at the end of the heat and fell from 4th to 6th. It wasn't malicious; he just mis-timed the braking zone trying to cross me over. Somehow, his bumper didn't drop. USPKS did hand him a penalty as he crossed the line 5th, but for some reason, the penalty didn't make it through their timing structure, and he was still officially scored 5th. I thought that he had protested the call, but after speaking with Race Director Jason Ludwig, there was only one protest all day and it wasn't him.
In the second heat race, I got shuffled a bit further back trying to push forward, and one time coming out of the hairpin there was a bit of an accordion effect as everyone quickly got back to single file, and I got shoved into the kart in front. It knocked the left front side of my bumper in and I was given a 10-second penalty. In Europe, one side kicked in is only a 5-second penalty, but USPKS was doing a 10-second penalty for all. After this, I bought KG clamps and took similar shots to the front in the Final but didn't have the bumper drop down and finished 5th.
On Sunday, I had relatively no issues with the bumper at all. However, I was one of the luckier ones. Ashley Rogero was running both KA100 and X30 Pro, and in X30 she was aboard an FA Kart. I don't know if she ran OTK clamps, but her bumper dropped multiple times over the weekend either by popping a curb or bump-drafting. After a push-back penalty took away her Prefinal win in X30 on Sunday, she protested using the new video clause USPKS has put in place for the year. That video can also be viewed on YouTube by clicking here. You can see she drove very clean, however, the USPKS officials upheld their original penalty as they did for everyone else this weekend. She and her team were frustrated and understandably so. Why go out and win if you get a penalty for something that isn't your doing and can't win the protest?
However, the bumper itself did get positive reviews from most drivers I spoke with. Josh Hotz and I talked after our Final on Saturday that we both had a lot more fun in the KA100 class with the pushback bumper combination than last year in X30 Pro. The racing was close and relatively clean. TJ Koyen and I also shared similar words about both the new motor package and the type of racing the bumper helped to produce throughout the field.
Dusty Davis made a good point about how some of the racing has changed a bit. Rather than moving someone out of the way like before, he felt that some drivers were making crazy dive bombs and just using up the sidepod of the driver they passed to get by. I didn't have any experience with what he said firsthand, but I did witness a bit of what he was describing Personally, I'd still prefer that than a shot from behind like what I experienced on Saturday's first heat.
I would like to applaud the series on their very consistent inspection with the pushback bumper. Rick Jump and his team inspected each bumper before every official session on the weekend, and also checked it over in pre-tech on Thursday afternoon or Friday morning. It is unfortunate that if you get a crack or hole you have to completely replace the nose piece, or, like in my case, it doesn't have the newer style bolt pattern to fit the push-back device. Again, they were consistent, and every single session they were speeding up the process. I would like to have a true 'parc ferme' area rather than a cluster at the back of the grid, but I'm sure that is something they are already considering for next time.
I think a few small tweaks to the system would be perfect. USPKS and Route 66 on Wednesday announced they will now be doing a 5-second penalty for one side of the bumper beginning with the Route 66 Sprint Series opener in New Castle.
One other minor note of frustration I had was the gridding for the Sunday KA100 Final. I understand USPKS wanted to maintain a tight time schedule, but the grid steward sent the grid a little prematurely in my opinion. GoPro Motorplex's grid is fairly narrow, especially when karts are filling the rows on either side. I was trying to negotiate my way through the grid to get up to third, and my DCT SpeedSport teammate Connor Tebbe was on his way to fifth pushing his kart right behind me. Yet, with the grid steward seeing this, he sent the grid out when I had only pushed my kart through row 8 or so.
I think that it would be nice if the official session times should simply close the back of the grid from drivers showing their bumpers but give everyone time to get in their spots. It wasn't like I was late, we just didn't want to be disrespectful to the National Anthem by walking to the grid during it. Our kart was in the pre-grid area during opening ceremonies – which were a couple minutes before the start of the Final -, and we checked our bumper as soon as possible. I was still able to rush into my spot on the track before the green, but if not, it would have been an extremely frustrating end to the weekend.
Overall, USPKS took a big chance by being the first series to adopt the system. I'm sure that many of the other sanctioning bodies were watching social media and race monitor to see how the weekend went and will take what they hear into account when reviewing the system for their own series. I can say that outside of a racing incident in Sunday's Prefinal, I had $0 as my broken parts bill on the weekend, and I will definitely credit part of that to the pushback bumper making everyone a little more cautious. The racing itself was fantastic to watch all weekend, as it was like how I normally describe karting: rare when a driver breaks away and normal when we have a big pack battling for the win. I do hope that they can be a little less rigid on the penalties in Pittsburgh in the like of Ashley's case, because if not, I can easily see an unwarranted 10-second penalty determining championships.
At the end of the day, I had fun and am looking forward to competing at Rounds 3 and 4 in Pittsburgh, PA.
To further discuss the 'dropdown' or 'pushback' bumper, visit the EKN Forum discussion started back in December.
United States Pro Kart Series was able to provide EKN with statistics regarding the penalties handed out on the weekend. Below is a breakdown of the total, along with a breakdown of the pushback bumper penalties at GoPro Motorplex.
Saturday Total Penalties
Infraction
Total
Penalty
Late Tire Scanning
2
2 Positions
Avoidable Contact
7
Finish Behind Another Driver or Time
Bumper Rule
27
10 Seconds
Tech
4
DQ
Sunday Total Penalties
Infraction
Total
Penalty
Avoidable Contact
5
Finish Behind Another Driver or Time
Bumper Rule
14
10 Seconds
Tech
2
DQ
Total Bumper Penalties Per Class
Class
# Penalties
# Drivers
IAME KA100
13
10
IAME Micro Swift
5
4
IAME Mini Swift*
7
6
IAME X30 Jr
4
3
IAME X30 Pro
6
5
Yamaha Cadet*
6
4
Total
41
31
*1 Common Driver