So Cal Oval Karters at Perris Auto Speedway This Saturday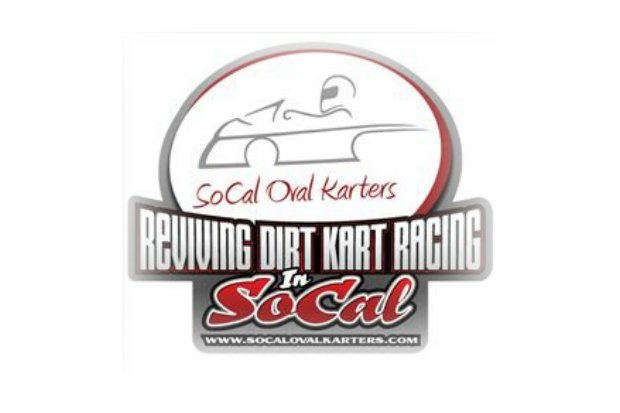 After a month off, the So Cal Oval Karters return to action this Saturday, April 15th, on a track specially cut into the infield at Perris Auto Speedway.  Joining the SCOK will be the Norco Mower Association with round #1 of their "2017 Mowdown Series."  Gates will open at 9:00 AM with racing at 11:00.
Saturday's race will be the first of five for the SCOK at the famous Riverside County racing facility in 2017.  Four of the dates will be on an oval.  The only exception will be the June 10th race.  On that day, the SCOK will test its skills on a specially designed road course for the only time this year.
At the season opener, last month at John Aden's Wheel2Wheel Raceway, Hesperia's Chris Southern, the SCOK defending KT100 champion, won both the KT100 and Open main events.  Whittier's Steve Juillerat, who won the 2016 F200 championship, won the F200 main.  San Diego's Ronnie Benton took home the trophy in the Senior 4 Cycles and Kailani Franklin won in the Junior/Junior's.  All are expected to be in action on Saturday.
In addition to the racing, SCOK will be hosting its arrive and drive program.  It is for adults and children who would like to take a ride in a full racing kart.  Cost is $25.00 for 10-laps plus a $10.00 pit pass.  Drivers must wear jeans and a long sleeve jacket or sweatshirt.  The SCOK will provide all the other safety equipment.  To reserve a space of for more information call or E-mail Mike Night at (805) 857-2595 – scokart@gmail.com
The Norco Mower Association's portion of the show will be their first of nine races in the "2017 Mowdown Series."   They will be at all the SCOK races at The PAS this year except for the June 10th road race.
Entrance to Saturday's race will be at the pit gate and will be $10.00.  The grandstands and concession stands will not be open.  Fans are urged to bring a lawn chair and a cooler and enjoy a fun day of racing under the sun.
The So Cal Oval Karters would like to thank the following sponsors for helping make the championship series possible.  Burris Racing, Cory Kruseman Sprint Car Driving School, Hubcapmike.com, Perris Auto Speedway, R&J Motorsports, THC Home Medical Services, T-MAC Racing and Yamaha of America Racing Engines.  If you or your business would like to become a partner of the So Cal Oval Karters, please call or E-mail Mike Nigh at (805) 857-2595 or mailto:scokart@gmail.com.
2017 So Cal Oval Karters 2017 Schedule
April 15 – Perris Auto Speedway
May 6 – Wheel2Wheel
June 10 – Perris Auto Speedway (road course)
July 15 – Wheel2Wheel
August 5 – The Grand Arena at Industry Hills
August 12 – Perris Auto Speedway
September 9 – Wheel2Wheel
September 30 – Perris Auto Speedway
October 14 – Wheel2Wheel
November 4 – Perris Auto Speedway