A Successful Exit to Siena at the Pacini Trophy for Maranello Kart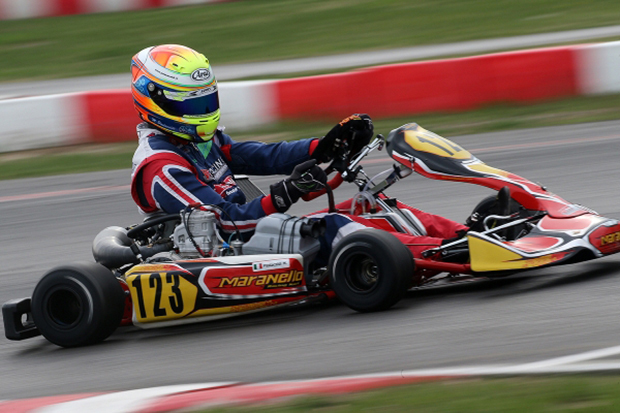 Maranello Kart secured the victory of the Pacini Trophy at the Circuit of Siena with Pastacaldi in KZ2, Giannini in KZ3 Junior and Tonoli in KZ3 Over.
Maranello Kart got on track at the Circuit of Siena on the weekend of April 9th to partake in the Pacini Trophy and put in great performances in all shifter categories KZ2, KZ3 and KZ4. It has been a real Maranello Kart show with a record series of victories and several interesting surprises.
Marco Pastacaldi won the most performing category, i.e. KZ2, on Maranello-Tm with the assistance of SG Race. He claimed the victory in the Final after winning Prefinal. Luigi Del Vecchio joined him on the podium in P3 on Maranello-Tm run by Oracle, as he managed to put in a great comeback run started from the sixth place.
The victory of KZ3 Junior went to Mattia Giannini, on Maranello-Tm by Oracle, a result that followed the pole position set in qualifying. The podium was rounded off by the third place secured by Roberto Cesari on Maranello-Tm. Marco Miastkowski obtained a good fifth place on  Maranello-Tm run by SG Race.
2015 Italian Champion Andrea Tonoli has been shining in KZ3 Over, taking the victory in a nice and crowded Final, after coming second in the Prefinal. Tonoli, on Maranello-Tm run by SG Race, took an early lead, crossing the finish line more than 5 seconds ahead of his closest rival. The other Maranello Kart's drivers Lanfranco Carlini and Giuseppe Nicolini (Oracle) had unfortunately to retire, as happened to Attilio Borghi who had claimed a good sixth place in Prefinal.
Francesca Cifola has been very quick in KZ3 Under on Maranello-Tm run by Monti Racing, but had to retire early from the Final. Francesca Cifola's performance has been great though, as she was second in qualifying just 45 thousands shy of the pole position time and fifth in Prefinal. Alessio Zanotti turned out to be the best of Maranello Kart's lot in KZ3 Under, as he was second, followed by Michael Dalle Stelle (SG Race) and Marco Cardinaletti (Crono Racing) in fourth and fifth place. Irnerio Cittadini was seventh, Daniele D'Uva (Oracle) ninth and Tiziano Iodice (Kart Evolution) 19th.
The best result for Maranello Kart in KZ4 was obtained by Enrico Simonetti who closed his Final in seventh place recovering from an unlucky Prefinal, while Pierluigi Della Maggiora (Kart Evolution) ended 12th.