Fresher Makes Successful Junior Debut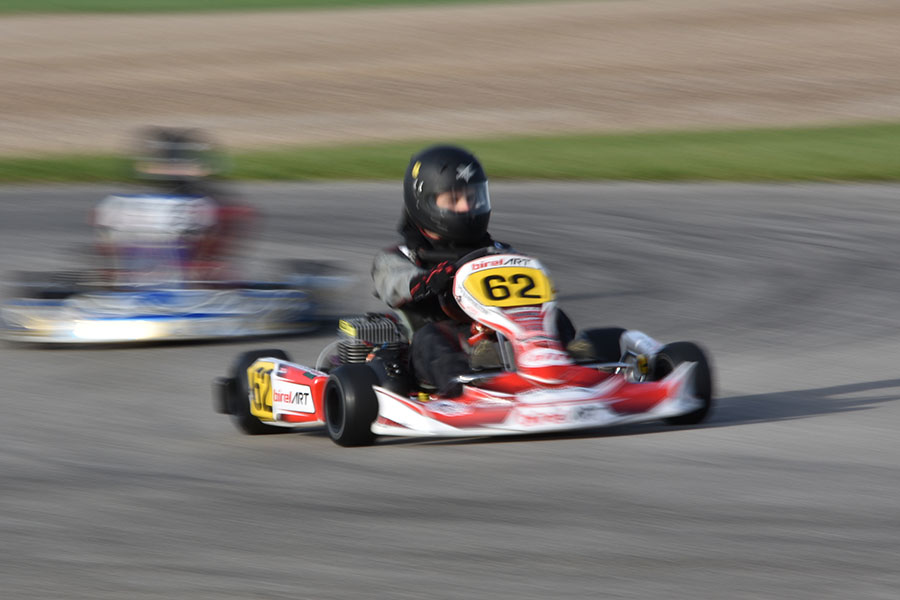 Jordan Fresher and the new Edwards-Rigdon Construction / Dilling Group #62 Birel at G & J Kartway in Camden, OH (Photo: Brennan McIntosh)
Jordan Fresher made a successful Yamaha Junior debut for the Columbus, Indiana-based Jim Howe Motorsports LLC kart team with a solid 13th place finish in the Ohio Valley Karting Association (OVKA) season opener at the tough G & J Kartway in Camden (OH).
By rule, Fresher (Avon, IN) and his new Edwards-Rigdon Construction / Dilling Group #62 Birel started last in the 19-kart Junior field. He avoided turn one carnage at the start, then turn three carnage on the restart to battle to his finish. This was his first race day in a Junior kart after running the past two seasons in Junior Sportsman.
Fresher emerged in tenth from the restart heaps and battled the more-experienced OVKA regulars until the very end of the eight-lap finale. He finished on the lead lap and was never in any danger of being lapped.
"I am extremely pleased with his run," team manager Jim Howe said, "considering he had a total of 30 laps of practice in the kart and had never seen what has to be one of the toughest race tracks in the country."
In earlier action, Fresher qualified 19th in the Yamaha Junior field then improved to 16th in the pre-finale.
Howe said a better gauge of Fresher's progress was his lap times throughout the weekend, as the 14-year-old youth consistently improved his times by at least a half-second and frequently closer to a full second each time he went out. "We have much to work on, of course," Howe said, "but he really picked up the lines, added power, and longer wheelbase. It truly was a great start."
"This is a hard track," Fresher added, "I had a tough time with turn seven but got better at it during the race."
The event was OVKA's 2017 season opener and featured a record 137 entries across 12 classes. Fresher will compete in the next two OVKA events – April 9 and April 30 – at the Camden road course as well before starting the Southern Indiana Racing Association (SIRA) street circuit May 6-7 with the annual Anderson Sertoma Mayor's Cup in Anderson (IN).