P1 Racing's Cole Wins SF Rok Senior Championship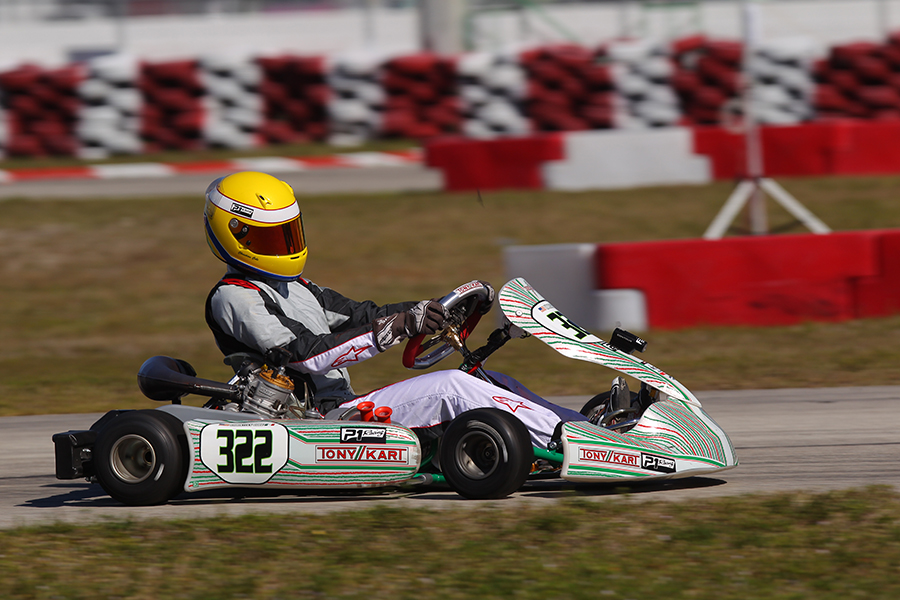 P1 Racing's Christian Cole won the ROK Senior title in the South Florida ROK Cup Championship
Palmetto, FL driver Christian Cole completed a clean sweep of the South Florida Senior ROK Championship in Homestead, FL winning all 4 feature races to lock up his 2nd straight Championship at the Homestead Karting facility (www.homesteadkarting.net)
The Championship took place over a 4 month period with races in October, November, December and the final race on March 26th. This season was very impressive say's Christian's father Rodney. Christian set pole position in each race and won every final race to secure the Championship. The P1 Racing prepared Tony Kart was the fastest kart all weekend. Kevin Perry, owner of P1 Racing, again showed why he is the best tuner in the sport. Qualifying was very close with Christian securing pole position by just under a tenth of a second with 4 drivers all having a strong chance at Pole. Once the racing started the chassis and driver came to life with Christian leading every lap, having the fastest lap in each lap and setting the fastest lap of the race in his final lap. Christian said, the Kart just kept getting faster. Kevin wanted me to slow down once I built up a gap but the kart felt so good I just kept pushing and the kart responded. The chassis was perfect. Our ROK Senior engine ran great as well. We have put a lot of time into our engine program over the last couple of months and this weekend was the perfect match of a great chassis and engine. I just had to get the most out of the package and I feel I did that.
We would like to thank everyone at Homestead Karting for putting on another great weekend of racing. We would also like to especially thank Kevin Perry and the entire Perry family and P1 Racing for all the long hours and for providing such a great kart to drive.
Christian's next race will be the 4th round of the Florida ROK Cup (www.rokcupusa.com) taking place at the beautiful Orlando Kart Center (www.orlandokartcenter.com) on April 6-9.