Le Cont Tyres Make Official Debut at Gearup F Series Opener
Positive feedback on new product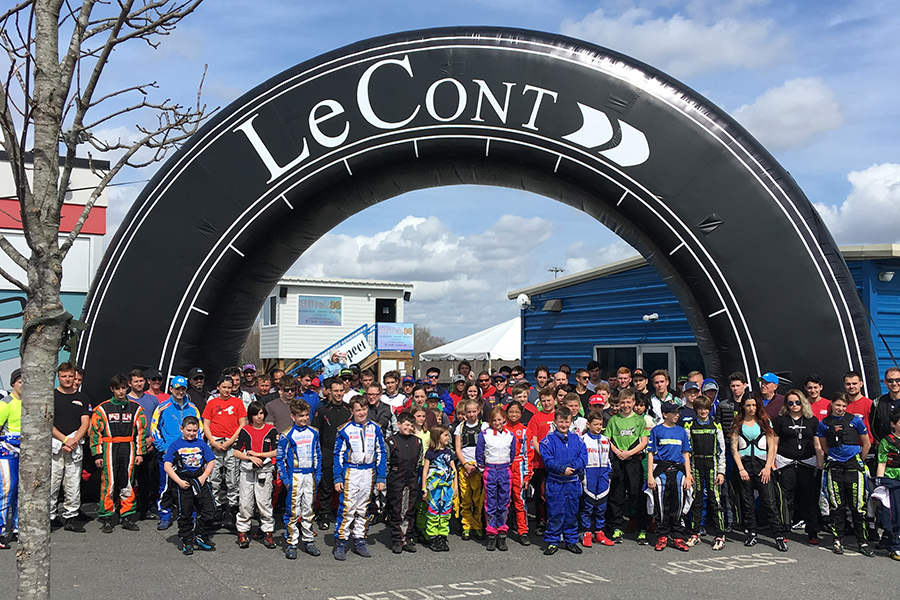 With a series record of 185 entries, the opening round of the F Series took place just over a week ago at the GoPro Motorplex in Mooresville, NC. The event provided a stellar opportunity for Le Cont Tyres to show its potential at a real "test driver" opportunity! The event featured 31 KZ entries along with another 27 Honda Stock Honda entries, totaling 58 shifters in one the biggest shifter classes in the country! 
"It was an incredible weekend," said Wagner Rossi, WR Motorsports founder and the exclusive Le Cont importer for the North and Central America. "It's such a great feeling working with the most growing series in the country! Marco Oldhafer has put together a fantastic show for drivers and family! I'm so happy with the drivers and team's feedback on the tires. The tire broke all the records in all the classes comparing with the same classes last year. The pole position in the KZ – Rory Van Der Steur – broke the record by six tenths from last year's pole. The tires held up incredibly, and were steady and fast in all the classes (Juniors, TAG and Shifters)."
The entries on the KZs could be even better if couple of drivers had being received their engines on time. 
Here is feedback from the series promoters and a trio of drivers:
Marco Oldhafer – Gearup F Series Promoter 
"As expected going into the first round of a new year, the entire F-Series team was a little apprehensive to see the first round go off smooth. With some product and rule changes for this season, it was on our mind even though we had done our homework! The result could not have been more delightful as the engine rules and regulations were spot on and the tire decision was not just good but phenomenal. The overwhelmingly positive feedback on the LeCont Tyre is just awesome and we are confident the sport will be very different in a few years just because of this one product. As for the competition this past race, it has gone to a whole new level and we look forward to a fabulous year of racing!"
Josh Lane – KZ driver
"It was a great feeling to actually get to work on both the chassis and myself. The new white Le Cont tire pushed me to make both the chassis and myself better each session as the tires were there from qualifying to the last lap of the final. Never in the history of any shifter racing I have been a part of have seen fast laps at the end of the final match near qualifying pace. I've always been one to manage my tires, so I need to learn a new trick!
Remo Ruscitti – KZ driver
"I was beyond impressed with the durability of both Prime and Option compounds this weekend, setting quicker times in both KZ and TaG than last season. The Prime tire performed so well at the end of the 20-lap KZ final, I was able to push late in the run one tenth within my qualifying time from earlier in the day." 
Monroe Jordan – KZ driver
"Reflecting on last weekend's race at GoPro Motoplex, I couldn't be happier with my first impressions of the Gearup F-Series supported by LeCont Tires. The professionalism of the series organizers and track staff far surpassed any expectations and the friendly atmosphere throughout the paddock added to that.  It wouldn't be such a success without a great tire and LeCont provided just that. New to North America in 2017, LeCont pushed the envelope to infiltrate a revolutionary new tire in to the karting scene. Their efforts to help grow the sport are directly reflected in the tire itself.  The LeCont white compound was the tire of choice for the shifter and TaG classes. Driving them for the first time with zero testing on them, I felt very comfortable and I was able to push right away. What stood out to me the most was the sheer consistency of the tire accompanied with tons of grip. Lap times were just as quick as last year's tires and yet tire degradation seemed to be cut in half. Lap times stayed consistent throughout the day and I can ensure you I'll be competing with this same set for next weekend's race.  On top of it all, having the guys from WR Motorsports, who are the NA distributors, come out to the race and provide hands on support sealed the deal why LeCont is the tire of the future. Your support is hugely appreciated!"