NCK Holds Corkscrew Spring Nationals at Laguna Seca
New two-day event becomes 'bucket list' check-off for a number of karters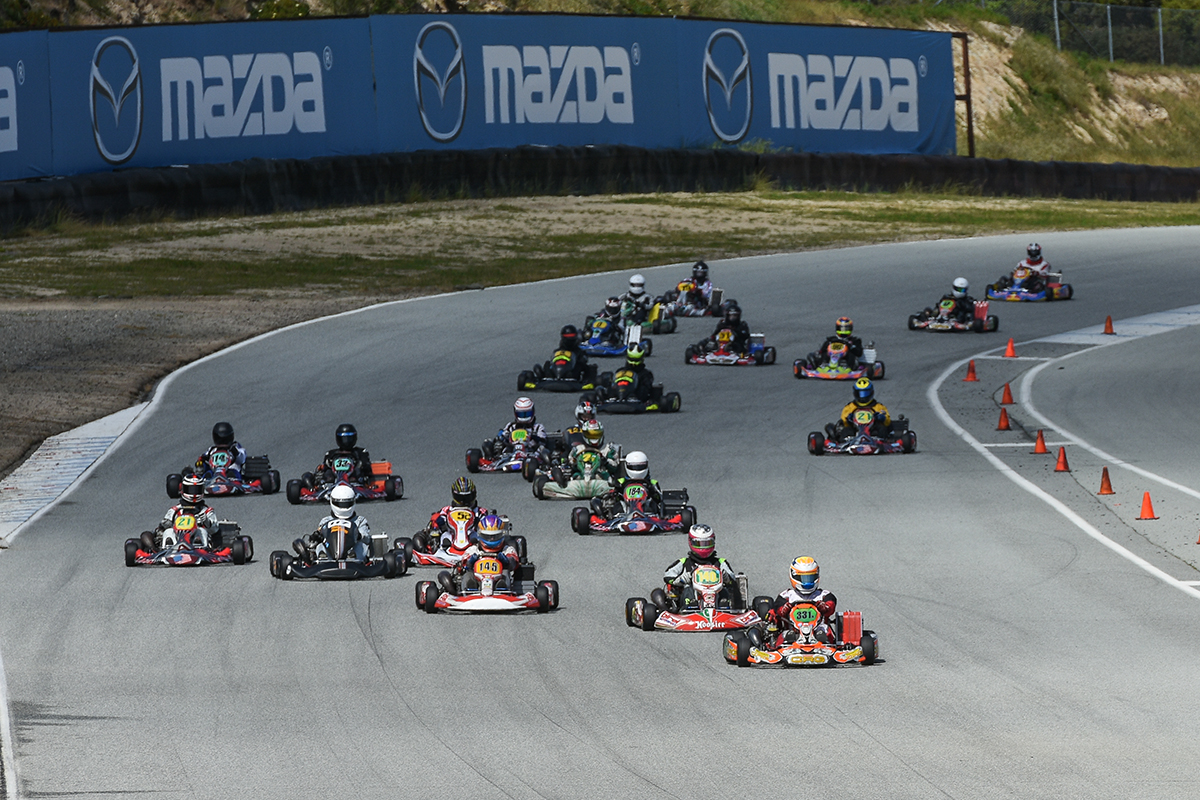 Racers from all over North America took part in the first NCK Corkscrew Spring Nationals last weekend at Mazda Raceway Laguna Seca (Photo: James Piper)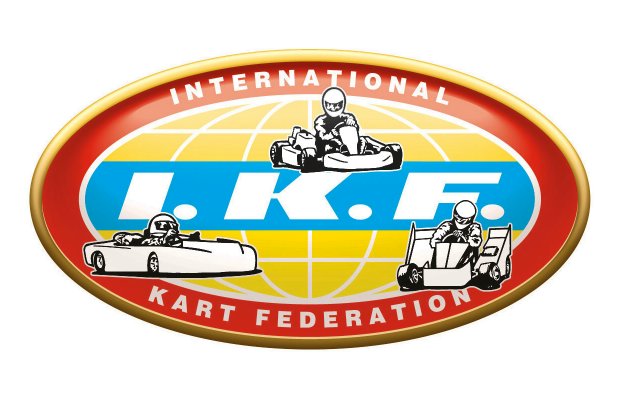 It was a big announcement and it sent many racers scrambling to look at their travel calendars. Last August, Northern California Karters (NCK) announced that they would be promoting a new two-day karting-only event at Mazda Raceway Laguna Seca. The historic course in Monterey, California has hosted karting events throughout its history, most recently when the 250cc Superkart took to the track as part of ALMS weekends or when the NCK held one-day races. The new two-day event on March 25-26 brought karters from all over North America to check off a 'bucket list' facility. For many, this was THE 'Super Nationals' of 2017.
Due to track limits on vehicle counts, race groups were limited to 40 karts. The 125 Sprint shifterkart categories of Formula 125 and IKF Super Stock CR125 each reached that mark both days, requiring their own race groups. The rest of the groups were a mixture of laydown, sprint enduro and CIK-standard karts with all types of different engines been seen throughout the paddock. NCK welcomed World Karting Association competitors, offering up the specific 100cc Controlled laydown division and Sprint Animal package that is so popular throughout the eastern half of the United States.
"Long-time IKF affiliate NCK has pulled off the biggest road race event west of the Mississippi in a long time," stated IKF President Roger Miller. "The leadership team of Mark Morrison and Jim White, along with Race Director Debbie Kuntze – all long-time IKF members – planned and executed the race weekend. All of the competitors I spoke with echoed the same sentiments – they were impressed with the event, and were happy with how well things were run. I was impressed with how smooth everything ran throughout the weekend. Seeing a "who's who" of karting at this event was great. Well-known racing families like Baldus, Vehring and Russell all came with full trailers and a load of drivers from way outside of California. Other teams from the Northwest arrived with Don Holmboe and Mike Schorn. Rob Soares of Aluminos brought a group of 125 drivers and also making appearance was Reine Pierssen from SwedeTech. Aaron Standford of Puget Sound Road Racing Association also came to the event, with drivers competing in shifters and TaG classes. Overall, I'd say this was a success."
As Miller stated, a number of big names in karting industry took part in the event. Russell Karting Specialties were among the industry heavyweights in the paddock, including owner Jim Russell Jr. Curtis Cooksey from Acceleration Kart Racing jumped back behind the wheel to get in laps at Laguna. The famous Hegar Manufacturing family in the familiar all-black karts are always at the big road race events along the West Coast. From the Midwest, the 4-Cycle Central crew and the Vehring family brought a number of Briggs & Stratton Animal drivers to the west coast.
Superkarts! USA CEO and President Tom Kutscher was able to get away from planning the upcoming California ProKart Challenge and SKUSA Pro Tour SpringNationals events to get back behind the seat of a kart, thanks to Aluminos, and enjoy the thrill of driving Laguna Seca. "It was on my bucket list, just like everyone else, to turn laps at Laguna. Rob Soares (Aluminos) invited me up and that was it. The first lap I took, the trip was worth it. That place is one of the most beautiful sites in the world. We had a little issues so one day on-track was perfect me. Just driving there was a thrill. It's a great warm-up to our Streets of Willow event, as I hope to get back behind the wheel again. The NCK and the entire paddock there were great. We just enjoyed the time at the track, a little racing, a little cooking, and some drinking after the day was done. Road racing is something people need to try at least once. Go try it. The atmosphere is the way I remember what karting is all about. Just a good time with family and friends."
The event was not only a bucket list for karter Christopher Agena, it was also the location that he and second generation karter Michelle Dean will forever remember. Agena finished second in the WKA Animal class on Saturday and following the race proposed to Ms. Dean right there in the paddock. Of course, she said yes! Congratulations to the future Mr. and Mrs. Agena.
"I'm pretty proud of our NCK Laguna Seca event," added NCK Jim White. "It took a tremendous amount of time and effort to pull this off. Administratively, Saturday was a fire drill. On Sunday, it finally calmed down a bit. I was actually able to watch a race from the flag stand and enjoy the fruits of my labor. Seeing 40 karts coming down the hill behind a beautiful Shelby Cobra pace car was wonderful. The start from the flag stand was awesome. It brought a tear to my eye. At that point, I was reminded why I do this."
"To make this event happen, I have to thank a lot of people. First, my fellow NCK directors Mark Morrison and Roger Miller. We made this work guys! Also thanks to our scorer Ashley Chavez (aka Wonder Woman). She is directly responsible for beating the wireless gods and getting Race Monitor up and running so the world could see live timing. My daughter Stacey White, who busted her ass for two days putting out the fires that I normally have to. Jim Long for getting our remote scoring at the scales operational. Steve Kemp and Andrew Kemp for scales and tech. We had help from the Monterey Bay Karters, Vince who worked the gate for us and his son Jon who was a tremendous help with scoring from the tech area. I know I'm missing people here, so I'm sorry, but I truly appreciated your help. Lastly, I want to thank my extended racing family for participating in this event. I hope everyone has, or will make it home safely."
More images can be found at the Kart Art link and thank you to James Piper for the selected photos to use for the story.
During the event, one major incident put one racer in the hospital. Wisconsin's Mike Ring of Wisconsin was hospitalized following a solo kart incident on Sunday. A GoFundMe program has been set up to assist Mike and his family.
The next big event to take place on the West Coast is the rejuvenated IKF Road Race Grand Nationals. This year, the Puget Sound Road Racing Association (PSRRA) is the host at The Ridge Motorsports Park in Washington on August 1-4.
Saturday Winners:
125cc-150cc Open/FKE II: Jeremy Lightwine
Formula 80 Sprint: Jeff Wamre
100cc Open / FKE I: Greg Lindahl
WKA Controlled: Richard Scavuzzo
WKA Stock Honda: Coy Dayton
Sprint Stock CR125: Brandon Scheiber
DD2: Joshua Bryan
WKA Animal: Regan Vehring
World Formula Heavy: Michael Schorn
Yamaha KT-100S Heavy: Joe Payne
Yamaha Ltd Heavy Sprint: Michael Estrella
Formula 125: Jeremy Lightwine
Intercontinental-E: Anthony Williams
TaG Heavy: Nicholas Martin
WKA Controlled: John Scavuzzo
250 FE: Dean Martin
Super IC/E: Herach Haroutunians
WC Super Stock CR125: Ryan Hegar
Sunday Winners:
Formula 125cc: Jeremy Lightwine
Sprint Stock CR125: Doug Ring
Unlimited / FKE III: John Benson
TaG Heavy: Brian Zirves
Super Stock CR125: Coy Dayton
WKA Controlled: John Scavuzzo
DD2: Joshua Bryan
80cc Laydown: Greg Lindahl
Formula 80 Sprint: Jeff Mills
Yamaha KT-100S Light: Allan Gierz
World Formula Medium: Darin Marcum
WKA Animal: Vince Bartolotta
Intercontinental E: John Benson
WKA Stock Honda: Nicholas George
125cc-150cc Open/FKE II: Jim Russell Jr.
100cc Open/FKE II: John Scavuzzo
4-Cycle Open: Travis Sabatka
125 Open: Jeff Mills