First Official Outing for Italkart 2017 This Weekend in F-Series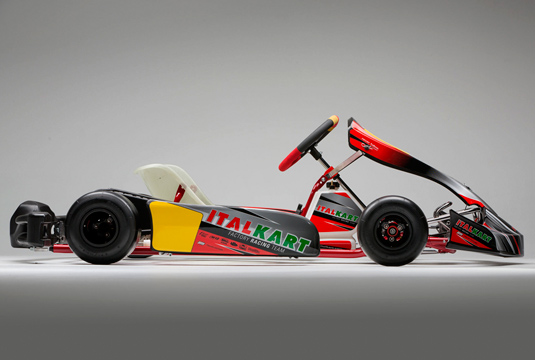 The highly anticipated arrival of the 2017 Rapido V1 is here. The core of the chassis will remain unchanged as the brands marque model has won the Rotax US Open, SKUSA Supernationls, Rock Island GP and the F-Series to name just a few.
Pictured here is the KF version or non-shifter kart. New for 2017 is the aero kit which offers less drag and lighter design in comparison to the traditional FP7 you will see on the shifter models. We have also gone to a bigger oval style steering wheel for more hand grip/comfort, and an upgraded front spindle yoke which offers adjustable camber. This allows you to perfectly set the camber on each side of the chassis and then increase or decrease caster by replacing the pill insert. The front end also offers more adjustability in the front ride height. A slight update to the brake protector also allows easier rear ride height adjustability. The rest of the kart is built to our stringent specifications as usual.
With the chassis being very versatile on a variety of tire compounds, classes and tracks, we have not wanted to "mess with a good thing" as they say. Or in our native language, "Perfecto".
The new Laguna SE KZ chassis is another new model for this season. Attention to detail brings another race winning chassis to our line-up. The Laguna SE and the Rapido V1 will be Italkart's two premier KZ karts.
The Italkart Laguna SE Black Edition is one of the new models for 2017. It will be offered in the KZ version as well as what is pictured here, the KF version (non-shifter) It is a 30/30mm design with reservoir brakes, 25mm spindles w/4 inner bearings, 10mm spindle bolts an all billet anodized components. Attention to detail has gone in to each component of this new special edition chassis.
This color combination will only be available with the Laguna models and limited quantities in this version (KF). The KZ models will be featured in the next days which will be offered in the Black Edition as well as the traditional Italkart red.