Tuto Super One Series Round 1 Report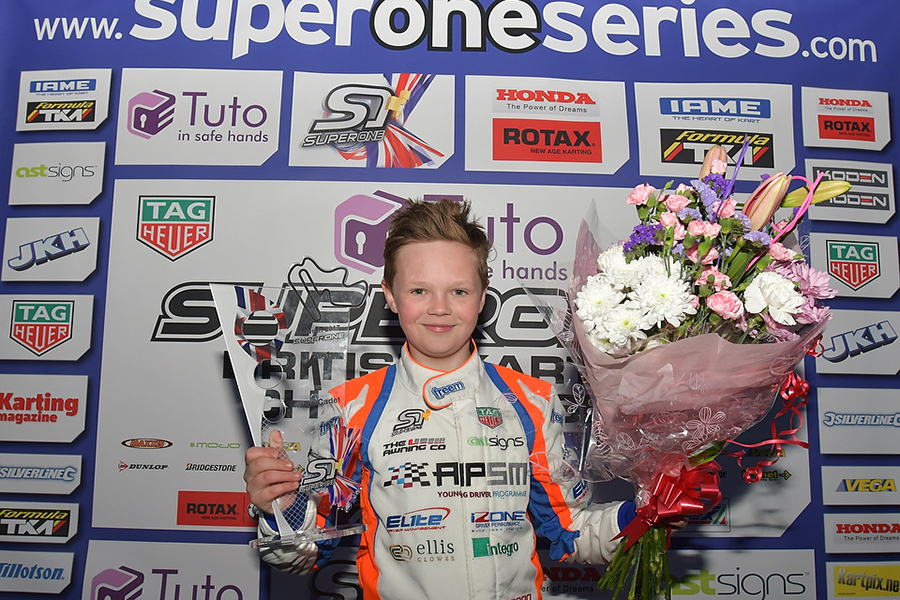 (Photo: Kartpix.net)
The first round of the 2017 series for IAME Cadets, TKM, X30 and Rotax classes didn't see a single period of dry running, and with no action until midday on Sunday due to the torrential rain the organisers at Rowrah did incredibly well to get through the entire programme.
MSA British Cadet Kart Championship
Taylor Barnard qualified on pole 0.15s ahead of Coskun Irfan then Barnard, Freddie Slater and Alexander Dunne took a heat apiece, with Barnard and Slater ending up equal on points and Barnard taking pole for Final 1 by virtue of his higher qualifying position. In Final 1 Slater got the best start before Barnard took back the lead, with Slater staying on Barnard's tail throughout. Slater briefly took the lead on lap 7, before tucking back into position, then in the traditional last lap tussle he ended up 4th and Matthew Rees took 2nd ahead of Arvid Lindblad. Barnard dominated the second Final, over a second ahead throughout, with Maxwell Dodds gradually pulling away from Oliver Denny and the pack behind him too. The highest climber was Josh Rowledge who came through the Repechage to 14th in Final 1 then 8th in Final 2.
Final 1 (11 laps): 1 Taylor Barnard (Synergy); 2 Matthew Rees (Zip); 3 Arvid Lindblad (Zip); 4 Freddie Slater (Synergy); 5 Maxwell Dodds (Tony); 6 Oliver Denny (Synergy)
Final 2 (11 laps): 1 Barnard; 2 Dodds; 3 Denny; 4 Alexander Dunne (Synergy); 5 Rees; 6 Luke Watts (Zip)
Provisional Championship Points Standings
1 Barnard 195
2 Slater 180
3 Lindblad 177
4 Rees 176
5 Dodds 174
6 Denny 173
MSA TKM Junior National Championship
Kurt Roberts took pole out of the 30 Junior TKMs half a second ahead of James Pashley with Ross Deal a tenth behind that. However, Roberts came off at the start of the first heat, dropping to the back but persevering to finish in 20th. Theo Hesketh won the second heat with Roberts 2nd, and Hesketh had pole from Pashley and Deal. The first Final soon settled down to Hesketh, Pashley and Deal, but Final 2 was a great race with Robert Welham taking the lead on lap 3 and Roberts coming back up to 2nd before Abbi Pulling reeled him to take 2nd on the last lap while Hesketh eventually finished 8th.
Final 1 (11 laps): 1 Theo Hesketh (Tony); 2 James Pashley (Jade); 3 Ross Deal (Tal-Ko); 4 Robert Welham (Tony); 5 Kurt Roberts (Jade); 6 Abbi Pulling (Tal-Ko)
Final 2 (12 laps): 1 Welham; 2 Pulling; 3 Roberts; 4 Deal; 5 Pashley; 6 Ian Sisson (Tony)
Provisional Championship Points Standings
1= Hesketh 184
1= Pashley 184
3 Deal 183
4 Welham 178
5 Pulling 166
6 Roberts 164
MSA TKM Senior National Championship
John Hogan qualified just a hundredth ahead of Stephen Letts, but Letts won both of his heats with the other heat win going to Kyle Sproat whose first heat hadn't gone well. Hogan had a 2nd and an exclusion so was well down the order. Letts led all the way in Final 1 with Ryan Edwards 2nd but dropping back and Vercoe 3rd. It was the same order in Final 2 but Letts took a bit longer to get going and Edwards led briefly with Vercoe also passing Letts, but Letts was soon back in the lead to go on to win by 1.18s. Hogan meanwhile won the Repechage and came through to 13th in Final 1 and 9th in Final 2.
Final 1 (12 laps): 1 Stephen Letts (Tony); 2 Ryan Edwards (Tony); 3 Simon Vercoe (Tal-Ko); 4 Matthew Taylor (Tony); 5 Harry Moore (Jade); 6 James Ogden (Jade)
Final 2 (12 laps): 1 Letts; 2 Edwards; 3 Vercoe; 4 Taylor; 5 Ogden; 6 Moore
Provisional Championship Points Standings
1 Letts 196
2 Edwards 187
3 Vercoe 184
4 Taylor 176
5 Moore 171
6 Ogden 168
MSA X30 Junior National Championship
Jonny Wilkinson headed Timed Qualifying from Max Jeanne and Sean Butcher, with Louie Westover down in 11th. Wilkinson took two heat wins with the others going to Dragan Pinsent and Jeanne, but Jeanne had an exclusion in another heat so had to go through the Repechage where he didn't qualify. Wilkinson was on pole from Samuel White then Butcher, with Westover now up to 4th. White and Westover leapfrogged ahead of Wilkinson at the start of Final 1 then Westover took the lead on lap 3 and went on to win. Wilkinson lost 3rd to Butcher then got it back, but along with no less than 13 others received a bumper penalty which dropped him to 7th and gave Butcher 3rd. Westover also won Final 2, pulling further and further away from White initially 2nd and then Butcher who overtook him. But Butcher was demoted from 2nd with a bumper penalty and as Reggie Duhy and Morgan Porter had passed White they completed the podium.
Final 1 (12 laps): 1 Louie Westover (Kosmic; 2 Samuel White (Mach 1); 3 Sean Butcher (Tony); 4 Dragan Pinsent (Exprit); 5 Joe Fowler (Fullerton); 6 Brandon Abraham (Tony)
Final 2 (12 laps): 1 Westover; 2 Reggie Duhy (Compkart); 3 Morgan Porter (Tony); 4 White; 5 Jonny Wilkinson (Tony); 6 Henry Laws (Kosmic)
Provisional Championship Points Standings
1 Westover 193
2 White 186
3 Wilkinson 180
4 Butcher 177
5= Duhy 167
5= Fowler 167
MSA X30 Senior National Championship
Elliot Harvey was the fastest of the 61-kart field in Timed Qualifying followed by Josh Skelton, James Johnson and Danny Keirle who were within a tenth. Skelton (twice), Harvey and Keirle shared the heat wins with Skelton on pole, while Charlie Lamb won the Repechage which contained some highly reputed drivers. Skelton led Final 1 until half-distance when Keirle made his move with Harvey following him through. Oliver Hodgson hadn't finished the first Final due to mechanical woes but gained 18 places in the second Final to finish 14th.
Final 1 (12 laps): 1 Danny Keirle (Fullerton; 2 Elliot Harvey (Tony); 3 Josh Skelton (Tony); 4 James Johnson (Alonso); 5 Thomas Turner (Tony); 6 William Pettitt (Tony)
Final 2 (12 laps): 1 Keirle; 2 Skelton; 3 Turner; 4 Johnson; 5 Philip Rawson (Compkart); 6 Pettitt
Provisional Championship Points Standings
1 Keirle 195
2 Skelton 190
3 Johnson 181
4 Turner 179
5 Harvey 178
6 Pettitt 172
ABkC Mini Max National Championship
Newly-crowned O Plate winner Alex Lloyd took pole, going on to win both heats with Kai Hunter 2nd in both heats and Sam Heading 3rd. Lloyd won both Finals by several seconds, both followed by Hunter, with Heading 3rd in the first Final and Dominic Bush 3rd in the second Final but penalised for his bumper, giving the remaining podium place to Lewis Gilbert.
Final 1 (12 laps): 1 Alex Lloyd (Alonso); 2 Kai Hunter (Kosmic); 3 Sam Heading (Tony); 4 Dominic Bush (Tony); 5 Lewis Gilbert (Tony); 6 Owen Johnson (Tony)
Final 2 (12 laps): 1 Lloyd; 2 Hunter; 3 Gilbert; 4 Alex Eades (Tony); 5 Johnson; 6 Van Knapton (Alonso)
Provisional Championship Points Standings
1 Lloyd 196
2 Hunter 190
3 Heading 175
4= Eades 172
4= Johnson 172
6 Bush 169
ABkC Junior Max National Championship
Bradley Barrett took pole in Timed Qualifying followed by Tommy Foster 2nd and Jason Lockwood 3rd, with the times very close considering the conditions. Foster and Barrett took a heat each with Barrett taking pole for Final 1 due to his better qualifying performance. Barrett crossed the line first in the first Final by quite a distance but was demoted to 4th with a bumper penalty, giving the win to Tyler Chesterton from Clayton Ravenscroft and Rhys Hunter. In Final 2 Chesterton kept the lead at the start but Ravenscroft came off on the first lap and Barrett was soon up to 2nd although he didn't manage to close the gap to Chesterton. Hunter took 3rd but again couldn't close up to Barrett.
Final 1 (12 laps): 1 Tyler Chesterton (Tony); 2 Clayton Ravenscroft (Kosmic); 3 Rhys Hunter (Kosmic); 4 Bradley Barrett (Tony); 5 Finlay Bunce (Tony); 6 Lewis Gilbert (Tony)
Final 2 (12 laps): 1 Chesterton; 2 Barrett, 3 Hunter; 4 Bunce; 5 Oakley Pryor (Tony); 6 Jason Lockwood (Tony)
Provisional Championship Points Standings
1 Chesterton 192
2 Barrett 187
3 Hunter 182
4 Bunce 169
5 James Lowther (Tony) 164
6 Gilbert 163