eKartingNews.com Driver of the Month: February 2017 – Trey Brown
Broken bone doesn't stop Junior driver from earning victory at California ProKart Challenge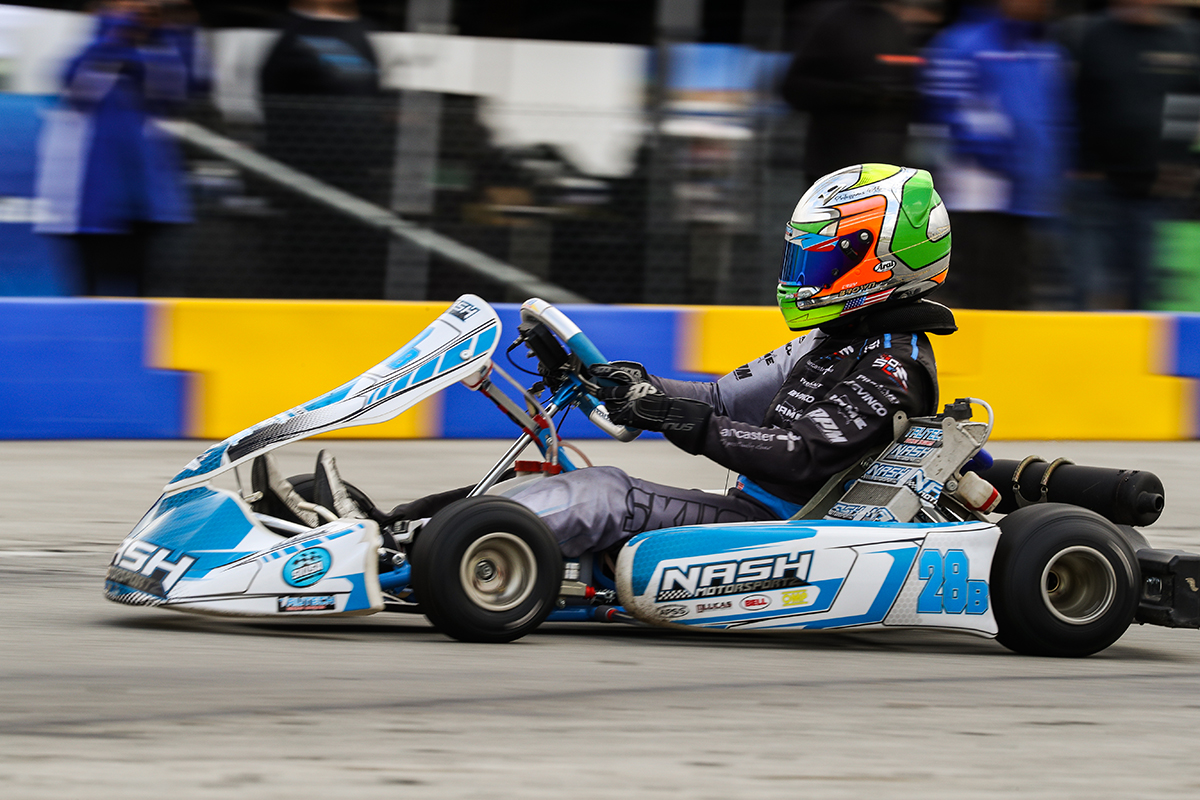 Trey Brown scored the opening victory at the California PKC in X30 Junior, still mending a broken collarbone (Photo: DromoPhotos.com)
In a continued effort to highlight the many outstanding performances by drivers around the country, eKartingNews.com is proud to introduce the 'Driver of the Month' program. Each month, the staff at EKN will determine the one driver who stood out above the rest and give the viewers a chance to know exactly what they accomplished and who they are.
The 2017 season is well underway with a plethora of events taking place throughout the warm areas of the United States. The first week of February signals the start of the Superkarts! USA season and the California ProKart Challenge. For the 13th season, the California PKC is the largest and most competitive state series, with six events from February to October. The annual first race takes competitors to the Buttonwillow Raceway Park in Buttonwillow, California. It was another strong opening event for the new season, and signified a remarkable performance by Junior driver Trey Brown.
2017 did not begin as Brown hoped, involved in a motocross incident that broke his collarbone. The average healing time is between four to eight weeks. The fifth week was the opening weekend for the California ProKart Challenge at Buttonwillow, with Brown jumping back in the saddle of kart. The focus was to maintain the pain tolerance, with Brown following all the recommendations of the doctor – both physically and mentally – during those five weeks to get back into a kart. With no prior laps, Brown traveled to Buttonwillow to take on the competitive X30 Junior field.
With 32 drivers entered for the event, the challenge was steep. Brown responded well, pacing practice among the quickest drivers and came out of qualifying in seventh. Racing began with the opening heat race, and Brown performed as if there was no broken bones at all. By lap eight, Trey was into the lead and drove to the checkered flag for the race win. Heat #2 was a wire-to-wire win with consistent lap times to pull away to a 1.7-second advantage, earning the pole position for the main event. Brown continued showing the way in the Final, unchallenged to lead from the green flag to the checkered flag with a 1.5-second advantage, scoring his first series victory since April 2015.
Brown is set to contest a full karting schedule in 2017 consisting of the California ProKart Challenge and Superkarts! USA Pro Tour. Trey enters the next round of the California PKC as the championship leader in the X30 Junior division, set to travel to the Streets of Willow circuit in Rosamond, California. In addition, Trey is venturing out to do some street stock races along with a few legend car races.
February 2017 EKN Driver of the Month – Trey Brown
Bio
Born: October 22, 2002
Hometown: San Diego, California
Parents: Amy and Kevin
Siblings: Jaxon and Adelaide
Height/Weight: 5' 5" / 117lbs.
Education: El Capitan High School (9th Grade)
Job: N/A
Racing Resume
Chassis: FA Kart
Engine/Engine Builder: TruTech Racing Engines
Sponsors: TruTech, Nash Motorsportz
Series You Compete In: California ProKart Challenge, Superkarts! USA Pro Tour, Challenge of the Americas
Years Karting: 10
How did you get started in karting? My whole family used to race karts since I was a little kid
What has been the high point in your racing career? When I qualified on the pole position at the SKUSA SuperNationals in 2014 / winning the Streets of Lancaster Grand Prix Scholarship award in 2016
What are your goals in racing? To race cars
In a few words, how would you describe your driving style? Aggressive, clean
Funniest moment at the race track? N/A
Likes
Favorite Track: Simraceway Performance Karting Center (Sonoma, California)
Favorite form of professional motorsports: Red Bull Global Rallycross
Favorite karting driver: Gary Carlton
Favorite professional driver: Sebastian Vettel
Favorite website: eKartingNews.com
Favorite movie: Talladega Nights
Favorite actor/actress: Will Ferrell
Favorite music/group: Country
Favorite vacation/activity spot: La Jolla Shores
Favorite food: Pasta
The Real Deal
What do you do when not at the track? Run Track & Field, ride mini bikes, surf
What are your goals outside of karting? Go to a four-year university
What app or game do you play a lot of right now? Dirt Trackin
What type of street car would you like to drive? Subaru
What are your pet peeves or things that irritate you? People who are really loud
What do you think could be done to improve the sport of karting? Drop down bumpers and video systems
What are your favorite aspects about the sport of karting? The family-like atmosphere
February 2017 Driver of the Month – Honorable Mention:
– Billy Cleavelin: Challenge of the Americas – Master Max Double Winner
– Jak Crawford: Challenge of the Americas – Junior Max Double Winner
– Nick de Graaf: California ProKart Challenge – X30 Master Winner
– Pauly Massimino: WKA Winter Cup – Pro IAME Junior Double Winner
– Christian Miles: WKA Winter Cup – Mini Swift Double Winner
– Kai Sorensen: California ProKart Challenge – Mini Swift Winner
– Ashton Torgerson: Challenge of the Americas – Mini Max Double Winner
– Derek Wang: Challenge of the Americas – Briggs 206 Winner