Tony Kart: Novalak Winner in La Conca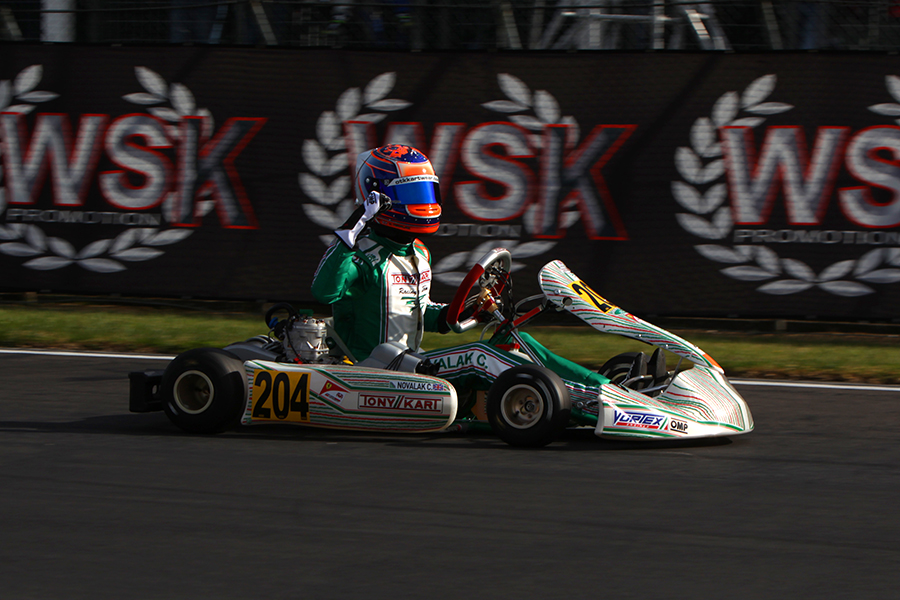 A victory with Novalak (OK), two third places with Ardigò (KZ2) and Vidales (OK): these are the brilliant results we have achieved in the third round of the WSK Super Master Series held in La Conca (Italy). Novalak is clearly the leader of the OK championship and Ardigò (KZ2) is fighting for the title of KZ2 category. We will live the last emotions on the International Circuit of Naples (6th-9th April).
OK
Clément Novalak double won, clearly winning in OK class, thus consolidating his position in the standings of the Super Master series. Clément's victory was sealed by a brilliant performance of the whole team, completed by the deserved podium gained by David Vidales, finished third. The Tony Kart-Vortex chassis confirmed once more to be perfect throughout the weekend on the demanding La Conca International Circuit, our drivers actually won three heats (2 Novalak and one Vidales), and led their respective pre-finals. A result that allowed us to gain the front row at the starting grid of the final, sealed with the first and third places under the chequered flag. The final ranking saw five Tony Kart-Vortex chassis in the top ten list, including Hiltbrand's (6th), which confirms the technical quality of the chassis produced in our factory. Also our young Brazilian Gianluca Petecof entered the top-ten, running in eighth position at the time of the withdrawal, which took place on ten lap, after a thrilling comeback. The victory allowed Novalak to consolidate his leadership in the ranking, at only one race at the end of the Super Master.
KZ2
A podium (3rd place) and the certainty of fighting for victory in the championship. This is the outcome of our Marco Ardigò after the race just ended. Also in the category with the gear we were the leaders, in the top positions, with Ardigò who won a heat and fought throughout the final race to the top, closing, as mentioned, third. Matteo Viganò was unable to express his full potential due to a collision that put him out of the race in the early stages of the final.
MINI
Our youngest driver, Andrea Antonelli, has once again run a great weekend with his Neos-Vortex. Andrea got his pole position with a time of 52,595 (best lap of the event) and won three heats and the pre-final (A). In the final, unfortunately, we were not able to double the success obtained at the 7 Laghi but he was still in the brilliant leading group (8th place). Andrea Kimi, with the scores collected in La Conca, remains among the favorites to the title, taking the third position in the championship standings, only 14 points far from the leader.
OK JUNIOR
Viktor Gustavsson ran a positive sequence of heats (12th place) and made a good performance in the final, making a recovery of ten places allowing him to finish eighth.