Muro Leccese Sets Up a Sprint Finish for the WSK Super Master Series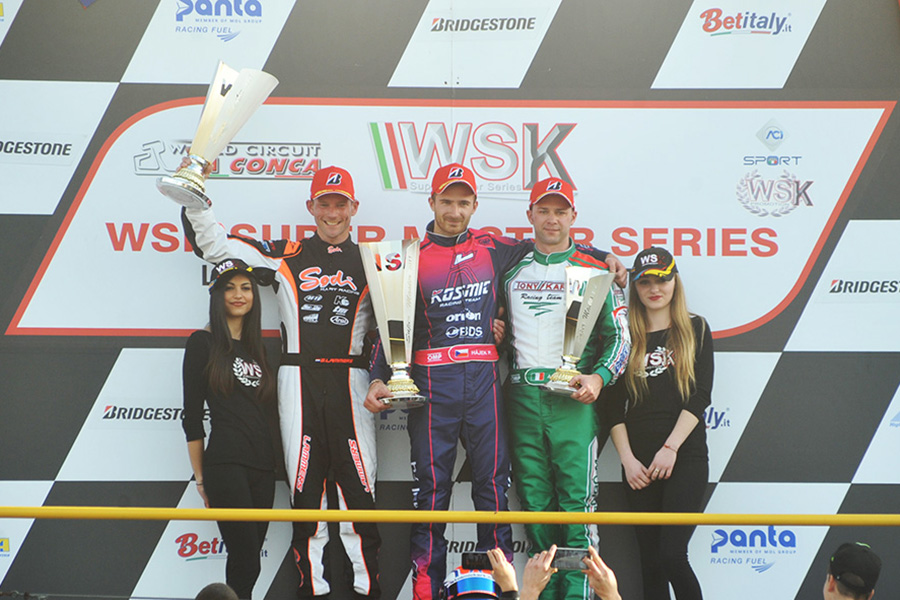 The weekend which has just finished in Muro Leccese is harbinger of an unpredictable finale for the WSK Super Master Series. Everything can still happen in the last round, scheduled on next 9 April in Sarno (Italy).
Hajek on target in KZ2
The Czech Patrik Hajek (Kosmic-Vortex-Bridgestone) confirmed to be a top achiever. He won his Pre-final then, in today's KZ2 final, he had to fight against his most dangerous rival, the French Jeremy Iglesias (Formula K-TM), the winner of the other Prefinal. Hajek managed to take control of the race when it was halfway through: he took leadership over from Iglesias, who had been leading the race up to that moment. The Dutch Bas Lammers (Sodi-TM) achieved a good recovery starting from the back positions: he scored the third place and maintains the leadership of the category.
Marseglia attacks in OKJ
The OKJ Final was characterised by the duel between the English Harry Thompson (FA-Vortex-Vega) and the Italian Leonardo Marseglia (Zanardi-Parilla), who controlled each other until the final showdown. Marseglia passed Thompson and the Brit counter-attacked with a manoeuvre that was punished by the stewards with a three-second penalty at the end of the race. The standings, which is still sub judice, sees Marseglia winner ahead of the Italian Mattia Michelotto (Zanardi-Parilla), second after a good performance, and Thompson, third.
Novalak still on top in OK
The British Clement Novalak (Tony Kart-Vortex-Vega) was simply unbeatable both in the Pre-final A and then in the Final, a result which allows him to keep leadership of the category. In the Final, Novalak gained an early lead ahead of the Polish Karol Basz (Kosmic-Vortex): the leading pair crossed the finishing line in this order, with David Vidales (Tony Kart-Vortex) third after a hard battle. Vidales was in the front row in the Final, but he had a bad start. Despite that, he kept pushing and scored the 3rd place after duelling against the reigning world champion, his fellow countryman and team-mate Pedro Hiltbrand.
Minì leads in 60Mini
To win the Final, the Italian Gabriele Minì (Parolin-TM-Vega) had to deal with a pack of six opponents, who kept on exchanging positions throughout the whole race. Excellent second position for the Norwegian Martinius Stenshorne (CRG-TM), who managed to finish ahead of the Russian Nikita Bedrin (Tony Kart-TM). Bad luck for the Italian Alfio Spina (CRG-TM), who lost the final first position for the misplacement of his front fairing.