Increasing Entries, Multiple Winners Highlight Successful WKA Roebling Road Weekend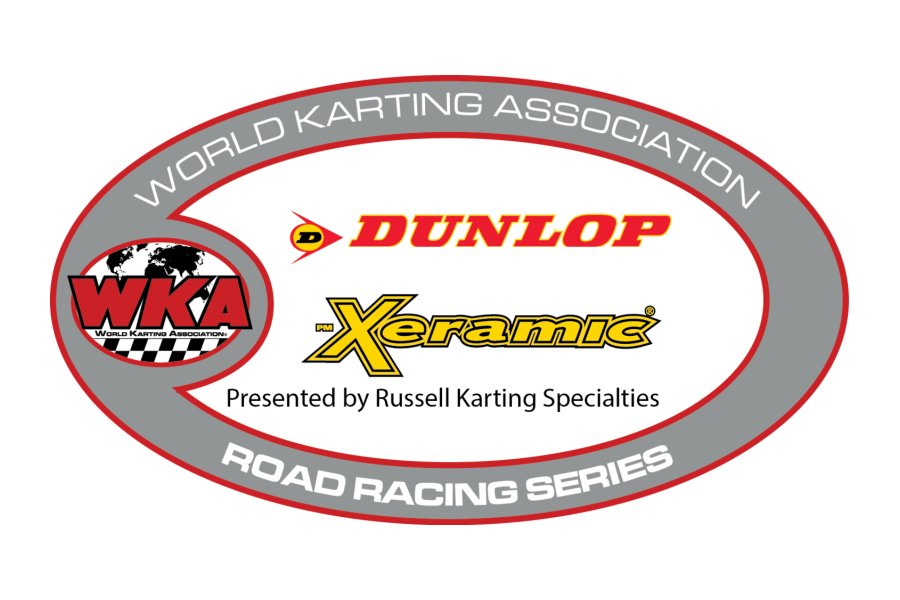 One of the many great gauges of a season from year to year is the entry count. And for the second consecutive season, the entry numbers for the Roebling Road Nationals, stop #2 for the Dunlop/ Xeramic National Road Race Series presented by Russell Karting are heading in a northerly direction.
On the heels of a great turnout from Daytona Kart Week, the Roebling Road Nationals, run by the fine folks of the Southern Kart Club, continued the momentum of a solid 2017 season for Sprint and Laydown competitors.
Headlining the win category was Jordan Johnson, taking down 4 wins over the weekend, including a sweep of the Junior Enduro and Junior Animal classes.
The next closest in line to Johnsons feat were Rob Hindery, Ben Thomason, and Tony Wimmer, all 3 time winners from the weekend. 2 time victors were Louie Magiera, Jason Lorang, Dan Febbroriello, Joe Cuslidge, Dingus Griffin, George Sunderland, Sean O'Shea, Randy Fulks, Charles Wilbur, and Mark Justice.
For Hindery, his success began on Saturday with a win in the all new CIK LO206 Senior Local Option class. Hindery topped past Gold Cup standout Eric Fagan, while Ross Ricart, Paul Green, and Quincy Smith rounded out the top 5. Hindery also found success Sunday in the Clone LO206 Lite class, besting Peter Mazzarella and Jody Powell, while polishing off his 3-win weekend by sweeping the CIK LO206 Senior class over Paul Greene.
Ben Thomason also found success in the 4 cycle ranks, taking the Animal Heavy main on Saturday over Robert Garland, Rob Garland, James Cartledge, and Tony Wimmer. Thomason also claimed the Hoosier Racing Tire Animal Lite victory on Saturday as well. Thomason returned on Sunday to sweep the Animal Lite class.
Not to be left out of the Animal equation, Tony Wimmer checked in for the first of this 3 wins on Saturday, taking the Animal Medium top honors over Quentin Hill. Wimmer upped his game Sunday, repeating his Animal Medium performance, as well as snaring the TaG Heavy final, topping Brad Adams, Jason Lorang, Gary Sircy, and Ashley Michel, making her return to racing after being off the circuit for a few years.
In addition to high numbers and multiple winners, the series continues to develop a good young drop of Cadet LO206 drivers. 8 competitors showed up Saturday with Jett Miller outdueling sibling Bree Miller for the top spot. Austin Harper came home 3rd, with Carter Hadden, Katie Greco, Desi Greco, Josiah Figueroa, and Amber Thomason completing the field.
Hadden improved from a 4th place finish Saturday to lay claim to the Sunday win, topping Figueroa, Katie Greco, Desi Greco, with Jett and Bree Miller rounding out the order.
Veteran Louie Magiera continued his winning ways on the series, sweeping WKA Sprint action both days. On day 1, Magiera topped Gerard Apuzzi, Eric Stockford, George Lincoln, and Jay Ellis, while Stockford, Apuzzi, Ellis, and Lincoln made up the top 5 on Sunday.
Jason Lorang enjoyed a solid weekend of racing, taking down two wins, the first in TaG Heavy over Brad Adams, Gary Sircy, Ashley Michel, and Emmitt Rodriguez. Lorang also notched the KALL Racing/Miller Dynotime Racing Formula 100 main on Sunday, turning back Michael Tracy.
Dan Febbroriello swept action in the Yamaha Sportsman Sprint category both days, topping Levi Newman on each occasion, while Joe Cuslidge took down the 2 event wins in the Clone LO206 Heavy class, besting Robert Garland, Darren Greene, James Cartledge, and Rob Garland on Day 1. Sundays action found Cartledge improving to second, with Robert Garland, Rob Garland, and Steve Johnson rounding out the top 5.
Another sweep occurred in the 125 Sprint Shifter class, where Dingus Griffin took down the field both days, besting Thomas Dupont, Ross Ricart, Donald Santini, and Steven Rougeou on Day 1, while Tracy Phillips rebounded from a 6th place finish Saturday to take second, followed by Santini, Rougeou, and Denver Liabenow.
George Sunderland doubled up on The Agile Group Unlimited class, topping Larry Stewart for the honors, while Sean O'Shea swept the 100cc Controlled class, besting Lance Yunck both days, with Adam Myers and Michael Tracy finishing in the exact same order both days as well.
Randy Fulks made the long tow from the Midwest to lay claim to a pair of weekend wins, taking the Yamaha Sportsman Heavy and CKI Yamaha Sportsman Medium mains, both on Saturday. In the Heavy action, Fulks bested Matt Michel, Brandon Schenkel, Lamar Hilliard, and Michael Marr, while Michel and Schenkel chased Fulks in the Medium main. Amanda Holewski rolled home 4th with Lyle Trudell rounding out the top 5.
Here's a look at the rest of the weekend winners:
Vintage Final 1: Robby Harper
Clone LO206 Lite Final 1: Jody Powell
Junior Sprint Final 1: Emma Bruinsma
Vintage Final 2: Bill Anderson
Animal Limited Modified Final 1: Charles Wilbur
X30 Laydown Final 1: Gary Schenkel
Yamaha Senior Final 1: Don Johnson
Formula 125: Kyle Stevens
Fisher Racing Engines Stock Honda Final 1: Steven Rougeou
IAME Sprint Final 1: Eric Fagan
Yamaha Sprint Final 1: Mark Justice
Formula 100 Final 1: Lance Yunck
100cc Piston Port Final 1: George Lincoln
Fisher Racing Engines Stock Honda Final 2: Michael Hines
IAME Sprint Final 2: Gary Sircy
Animal Limited Modified Final 2: Charles Wilbur
Yamaha Sprint Final 2: Mark Justice
Yamaha Sportsman Medium Final 2: Amanda Holewski
Yamaha Senior Final 2: Lamar Hilliard
Yamaha Sportsman Heavy Final 2: Brandon Schenkel
100cc Piston Port Final 2: George Lincoln
X30 Laydown Final 2: JC Sanders
Animal Heavy Final 2: Wesley Thomason
Vintage Final 2: Tony Ellison
WKA would like to extend a very special thanks to the staff of the Southern Kart Club, Jackie and Ryan Bottorff, Dave Williams, Steve Jeffers, Dominic Greco, along with the many other staff and family members who helped make the weekend a true success.
The next event for the series will be the annual Summit Point Nationals June 3 and 4 at Summit Point Motorsports Park in West Virginia, run by the fine staff of the Woodbridge Kart Club.
Entry info will be available shortly.