Le Circuit Quyon to Offer Ignite Spec Series Arrive & Drive Programs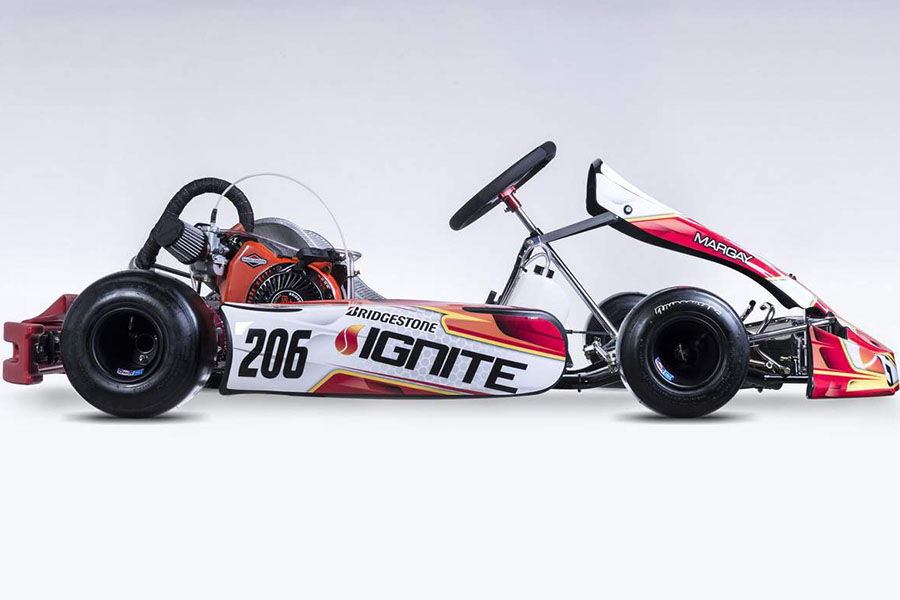 Margay Ignite K3 with Briggs LO206 engine
Le Circuit Quyon is excited to announce the next evolution of local, entry level karting to Canada – the Margay Ignite Spec Series. Already a huge success in the US, the Ignite spec platform offers kart racers an even playing field with a program that takes the focus off of the equipment and places the emphasis on driver development. Drivers will pilot a spec Ignite K3 chassis, sealed Briggs LO206 engine, and Vega tires to ensure that the racing is fair, fast, and fun!
For 2017, Le Circuit Quyon will host three Ottawa-Gatineau Karting Championship (OGKC) three-race series – the Spring Sprint Series, Summer Superpole Saturdays, and the Fall Endurofest Series – that will have individual champions, with all races counting towards the overall year end championship. Arrive & drive packages will be available from $189 per race (base package is self-tuning), making this program one of the most affordable ways to get into karting. For the enthusiast that wants to maintain their equipment themselves, race-ready Ignite packages will be available for purchase for $4,995.00
"Le Circuit Quyon is very pleased to be introducing the Margay Ignite Spec Series to Canada through the OGKC", said LCQ owner Paul Lalonde. "We've been partnering with Margay Racing since 2013, and are really excited to introduce this new and affordable karting alternative to those race enthusiasts looking to graduate into competitive karting at the club level without necessarily having to purchase a kart."
Manufactured by Margay Racing in St. Louis, Missouri, each Ignite chassis is built to a certain specification to ensure that all racers are competing with the same equipment. Margay's long-standing position as a leader in the karting industry is evidence of the commitment and dedication of Margay ownership and employees to building the highest quality and most competitive racing karts available. Through this dedication, Margay has remained at the forefront of the karting industry for over 42 years.
For more information about Le Circuit Quyon, the OGKC, and the Margay Ignite Spec Series, please contact Paul Lalonde at (613) 223-2541 or visit the track's racing club site at circuitquyonblog.wordpress.com. We will also be at the 2017 Ottawa Gatineau International Auto Show from March 16-19. For show information, please visit www.autoshowottawa.com.
Based in Saint Louis, MO, Margay Racing is the most successful sprint kart manufacturer in the United States, supporting drivers in all divisions of karting and producing winning karts for countless local, regional, and national champions. Now in its 51st year, Margay is owned by third-generation family member, Keith Freber. For more information about Margay, please see www.margay.com