PROgression: Brooks Ready for Red Bull GRC Lites Season with Dreyer & Reinbold Racing
16-year-old karting champion set to contend for championship in sophomore season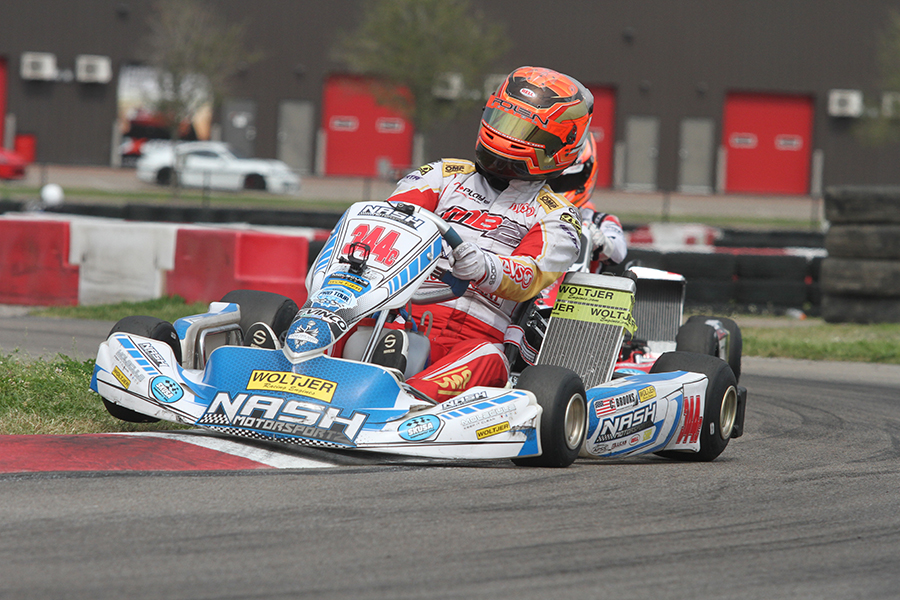 Brooks continues to develop as a driver with a couple strong winter months behind the wheel of his Nash Motorsportz kart (Photo: eKartingNews.com)
With his 2017 racing program confirmed via official media press release in early February, young American racing driver Christian Brooks is set to contest his second GRC Lites season in the Red Bull Global Rallycross program, joining the championship-winning team of Dreyer & Reinbold Racing. The 16-year-old finished fifth in the championship chase during his rookie season, earning the honor of 'fan favorite livery' for 2016.
"Driving for Dreyer & Reinbold is truly an honor, and to be among the historic list of drivers to compete with the team will be something that pushes me to the limit to achieve the best results possible," Brooks enthused. "With one season under my belt, and a great championship team behind me, I am entering the season with high confidence and I'm excited about the 2017 season!"
"We were able to watch what Christian could do behind the wheel of a GRC Lites car last year, and saw that he had a lot of talent," added Dennis Reinbold of Dreyer & Reinbold Racing. "At our test, I and the rest of the team were impressed with his ability. Christian has a lot of upside, and the talent is all there. All three of our drivers and crew hit it off. We are very excited to have him part of the team."
Christian has over a decade of racing under his belt since he began karting at the age of six. The Santa Clarita, California native has earned both national and international wins and championships and is rated as one of the top kart racers in the United States. Brooks is a three-time Team USA member at the Rotax Grand Finals world championship event and posted the highest finishing position for a United States driver at the 2016 edition of the race. Signing with Dreyer & Reinbold Racing will reunite Christian with his former karting mentor Buddy Rice.
"It is great to be back working with Christian again," added Rice, the Dreyer & Reinbold Racing GRC Lites Director. "I worked with him as a very young driver, helping to develop his skills as a driver through my karting operation. I was there with him for his first major karting victories, and have seen first hand the talent he possesses. It has been great to watch him mature as a driver and a person, and I hope we can continue that development as he joins our GRC Lites program. Our driver lineup is stout, poised for a great year to repeat as series champions."
Karting has been the development stage for Christian's talents behind the wheel. Brooks is the defending Rotax Challenge of the Americas (COTA) champion, and uses the off weekends from the seat of his Dreyer & Reinbold Racing GRC Lites machine to jump aboard a kart. This winter, Brooks is attempting to earn a second straight COTA championship in hopes to earn a ticket to compete at the 2017 Rotax Grand Finals in Portimao, Portugal for a chance at racing for a world championship. Just recently, Christian finished runner-up in two rounds of competition at the Superkarts! USA (SKUSA) Pro Tour, leaving the WinterNationals event in New Orleans as the championship leader in the IAME X30 Senior division.
"Karting helps to keep me in racing shape," added Brooks. "It is where my love for motorsports began and provides me the ability to push myself each and every time in the seat. The first few months of the season have been great at COTA and SKUSA, and I have put myself in position to earn two major championships. As we get closer to the month of April, I am very energized to start the GRC Lites season in Memphis with the Dreyer & Reinbold Racing operation."
The 2017 Red Bull Global Rallycross for Brooks is supported by MB2 Raceway Indoor Karting Centers, Bell Helmets USA, APSS, Sparco, Lucas Insurance, Mechanix Wear, 111 Ink Graphics, From the Ashes Embroidery, Global Electronic Technology and Nash Motorsportz
Facebook: @ChristianBrooksRacing
Twitter: @cbrooksracing
Instagram: @ChristianBrooksRacing