WKA Road Race Competitors Gear Up for Roebling Road Nationals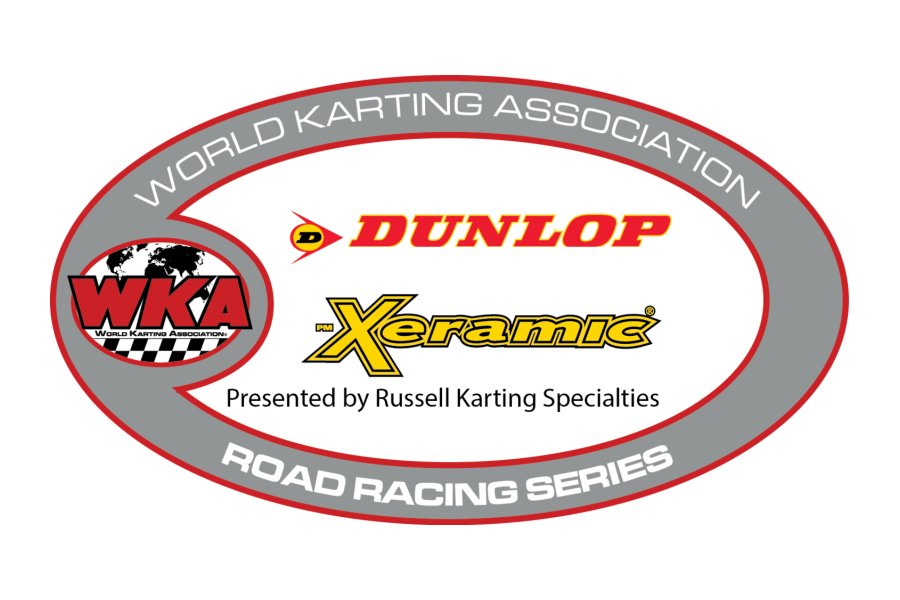 The long gap between December and March has finally concluded for competitors on the Dunlop/Xeramic National Road Race Series presented by Russell Karting, as Roebling Road Raceway in Savannah, Georgia allows drivers a chance to return to the track for stop #2 on the WKA Road Race circuit this weekend.
Leading the way is Four-time Daytona winner Andrew Boyer, leading both the Animal Heavy and Clone LO206 Heavy classes, following his stellar performance during Daytona Kart Week. Some of the challengers for Boyer in the Animal class will be Rob Garland, Wesley Thompson, Robert Garland Sr, and Toni Alexander, while the Garland duo, as well as Joe Cuslidge and James Cartledge will be some of the competition for Boyer in the Clone LO206 Heavy class.
The female contingent will be well represented, with both Amanda Holewski and Dawn Magiera coming to town as leaders in their respective classes. For Holewski, the season has started off with the lead in the CKI sponsored Yamaha Sportsman Medium class, with past champion Matt Michel, David Lee, Brandon Schenkel, and Lyle Trudell just some of the stiff competition she will face. Magiera leaves Daytona, leading the Yamaha Sprint class over Al Gierz, Louie Magiera, Tory Kamerling, and Mark Justice.
Another multiple winner in the form of Midwest ace Patrick Olsen leads the KALL Racing/Millers Dynotime Racing Formula 100 class over 2016 champion Lance Yunck, with Scott Stauffer, Brian Morse, and Jason Lorang expected to mount a serious challenge.
Lorang comes to Roebling leading a class as well. Following success in the West Texas Outlaws TaG Heavy class at Daytona, Lorang will be challenged by Jim Snyder, Brian Cherry, Jeff Salak, and John Brown, to name a few.
Stephen Wheatley comes to Savannah leading the Hoosier Racing Tires Animal Lite class over Ben Thomason, while Brian Wilhelm is looking to defend 2 classes, as the leader in the Formula 125 class over Mitch White, Allen Hollinger, Anthony Turco, and Darrin Cuthbertson, while also leading The Agile Group Unlimited class over Cuthbertson, Turco, Hollinger, and Scott Hodges.
Margay Racings Keith Freber again enjoyed Daytona, leaving the World Center of Racing as the leader in the Yamaha Senior class over John Brown, Adam Trumbley, Chad Dokken, and Bill Trumbley, while Tim Linthicum brings the lead in the Yamaha Sportsman Heavy standings to town with him, leading Austin Henry, Amanda Holewski, David Lee, and John LaRue.
Road Racing would not be complete if a Fulks wasn't leading the standings in SOME category. For both Randy and Rick Fulks, they have again found that early season success, with Randy leading the B Stock class over Scott Goodman, Robby Harper III, Dusty Dean, and Robby Harper, while brother Rick holds the lead in the 100cc Controlled class over Gary Mikusch, Lance Yunck, Michael Tracy, and Scott Stauffer.
In the 125 Sprint Shifter class, Tracy Phillips comes to town as the leader over Donald Santini, Jim Russell Jr, Denver Liabenow, and April Danals, while steady veteran Louie Magiera holds court in the WKA Sprint class over Al Gierz, David Bruinsma, Otto Vollmerhausen, and Adam Trumbley.
Nicholas Martin will look to maintain his lead in the WT Racing IAME Sprint class, leading Donald Nelson, Walter Troup, Stephen Bassham, and Jeff Salak, while Brian Fisher leads the ultra-competitive Fisher Racing Engines Stock Honda class over Benjamin Eberhart, Steven Rougeou, Stephen Flatt, and Jason Park.
Jordan Johnson currently leads 2-time 2016 champion Cole Peschang in the Junior Animal category, with Dan Febbroriello leading the Yamaha Sportsman Sprint class this weekend over Mandy Doles, Levi Newman, Ashley Crawford, and Tommy Young.
Rob Hindery is the early leader in the Clone LO206 Lite class over Ricky Taylor and Peter Mazzarella, while Gary Schenkel leads JC Sanders in the all new X30 Laydown Class.
In addition to the many national classes on hand this weekend, the Roebling Road Nationals will also offer a plethora of Local Option classes, including:
Cadet LO206
Junior LO206
CIK LO206
Animal Limited Modified
TaG Junior
Vintage
Open Sprint
Activities for the Roebling Road Nationals get underway Friday March 10 with a full day of practice beginning at 8am, with 2 full days of racing to follow Saturday and Sunday.
WKA will also be honoring their 2016 national champions, as well as other special award recipients Friday evening March 10 at The Art Gallery of The Mighty Eighth Air Force Museum.
To view the weekend activities for the Roebling Road Nationals, CLICK HERE.
To view the Banquet form for the Road Race Awards Presentation, CLICK HERE.