The Birel ART Racing Team on Track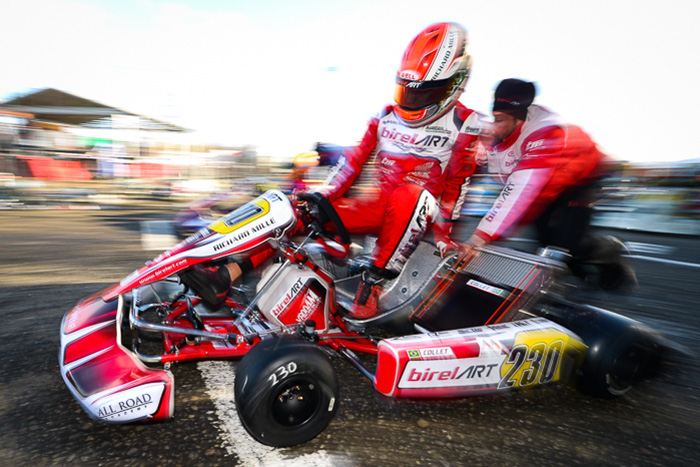 The second round of the WSK Super Master Series, which took place at Castelletto, once again presented complex weather conditions. But the experience of Birel ART Racing allowed its drivers  and technicians to face the situation by achieving performances in line with the positive evolution in progress. The raw results are not yet up to the ambitions of the prestigious brand from Lissone, but many indicators show that the work is going in the right direction.
The weather turned out to be very changeable on the 7 Laghi track at Castelletto. After testing in good weather, rain and coolness came with the start of the weekend before the sun returned for the final stages. The grip of the track didn't stop changing, and even when the rain finally disappeared, the grip was never significant.
"We all hoped for a more relaxed weekend of racing with regard to weather, giving a situation more in line with what we can expect for the major events of the season," said Rickard Kaell Franchini, the team manager. "In spite of everything, we took full advantage of these conditions to refine the development of the equipment which has been going on since the beginning of the year. We cannot really be satisfied with our results, but the current level of performance gives us confidence in the direction of work put in place. I would like to pay tribute to the very good performances of the TM Racing engines and our various tuners who are very seriously involved and contributing to our progress."
In OK-Junior, although the young drivers sometimes lack experience or consistency, they are also able to achieve great things. 4th position for a rookie like Dexter Patterson in the classification of the qualifying heats and his 8th place in the championship show the potential of our equipment well. At Castelletto, Alessandro and Anthony Famularo performed very well during a tough competition, as did Pietro Delli Guanti, also a beginner in the category.
In OK, the speed of the equipment was confirmed with a fastest lap for Caio Collet in the Prefinal and his 7th position in the Final. Also on the pace, Rasmus Lindh (Ricciardo Kart) had returned to the top 10 before a demotion due to a penalty for a moved spoiler. Michael D'Orlando showed good fighting spirit during the qualifying stages, while Simon Ohlin (Ricciardo Kart) finished the weekend on a positive note.
Marijn Kremers fought in the lead group of KZ2 with great perseverance before finishing 11th in the Final. Rick Dreezen (KSW Birel ART Austria) was in the top spot in the race and was in the top spot in the heat, before giving up after a contact in the Final. Convincingly, Andrea Dahlberg almost missed qualification because of a moved spoiler and Felice Tiene concluded with a strong recovery in the Final.