Michael d'Orlando Kicks Off Senior Rookie Season in Adria, Italy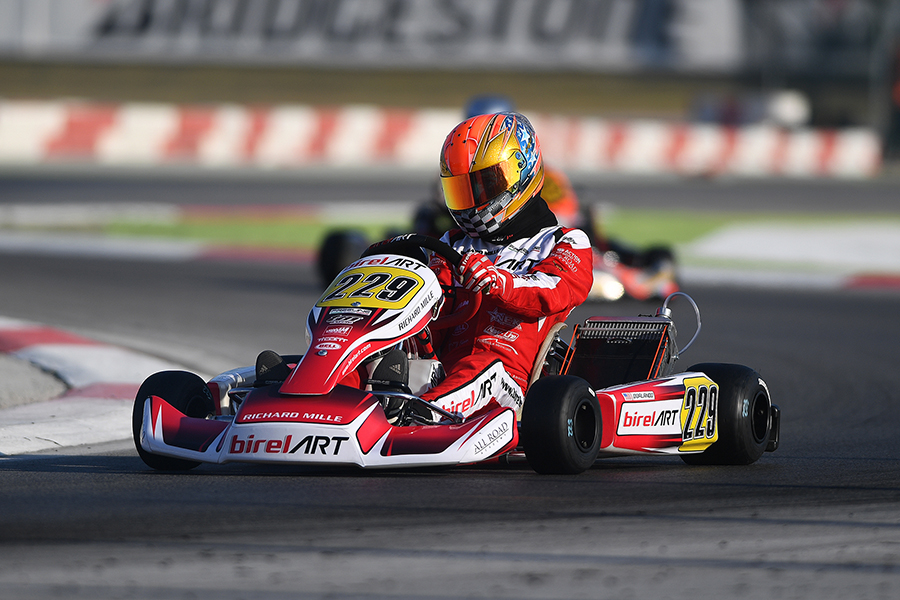 Michael d'Orlando and his Birel ART factory team kicked off their 2017 season abroad with back-to-back race weekends in January at the Adria International Raceway in Adria, Italy. d'Orlando's rookie season in the OK Senior category began with the WSK Champions Cup, and followed that directly up the next week with the WSK Super Master Series.
d'Orlando had a set of challenges ahead of him in experience and weather in the WSK Champions Cup. The OK (senior) class provided to be a very tough & experienced field that included multiple professional drivers and World Champions.  With temperatures just shy of freezing, d'Orlando's No. 229 Birel ART kart was fast all race week, and his results of Heat 1 in 22nd, Heat 2 in 9th, and Heat 3 in 7th were enough to put him the 12th starting spot for pre- final.  An impressive run in the pre-final to bring home his No. 229 Birel ART kart to a 10th place finish was just what he was aiming for, earning his spot in the main event.  Luck would run out early in the main event when mechanical issues on lap 4 would force d'Orlando to have to park his kart in the infield and ultimately finishing up in 32nd.  Despite the disappointment, it was still a great start to his first OK (senior) race.
"I had a fast kart all week long and I was excited to get my feet wet in this OK class.", said Michael d'Orlando. "The field is full of world class talent and to compete against professional drivers and former world champions such as Karol Basz and Pedro Hildbrandt is what I've been waiting for.  Our main goal was to make it into the final and we met that goal.  We just had some bad luck.  I felt though that we had a good weekend overall for my first experience in the OK package but we will be looking to improve at the next round."
The second week of racing proved even more of a challenge when the temperatures failed to improve when torrential rains moved in for the entire duration of the first round of the WSK Super Masters Series.  D'Orlando would battle, yet again, the elements and another very competitive OK (senior) class. He would finish Heat 1 in 24th, Heat 2 in 10th, and Heat 3 in 20th when the elements played into on-tracks incidents for the unfortunate results and putting him in the challenging 19th starting spot for the pre-final.   And it would continue to be another tough day in the pre-final as contact late in the race would send him off the track in the flooded conditions and ultimately out of the race.  He would finish up 21st, missing the cut to go onto to the final.
"It was a tough race weekend.", explains Michael d'Orlando. "We just weren't as consistent as we were the week before and the conditions were not helping. It just turned out to be one of those weekends where we just couldn't get a break.  But I feel I have learned so much more than I expected as I start in senior (OK) and I look forward to our next race in Casteletto, Italy in March."
After a very short time back at home for school, d'Orlando returned to Italy again last week for three days of physical driver training, joined by his younger brother Nicholas, at the world-renowned Formula Medicine facility in Le Boccchette, Italy.  He followed it up by three days of on track testing at International Circuit 7 Laghi in Casteletto, Italy. D'Orlando and his Birel ART factory team are getting ready for the WSK Super Masters Series race this weekend, March 3rd-5th. For more information on the race, you can go to www.wskarting.it.
We would like to thank Ronni Sala, Rickard Kaell and all my tuners at Birel ART (www.birelart.com), DB Collaborative (www.db-collaborative.com) and owner John Macones, Danilo Oliveira and Nathalia Iervolino at Fyshe USA/Adidas Motorsport (www.adidasmotorsport.com), all the staff at Iona Preparatory School (wwww.ionaprep.org) and Focused Project Management (www.focusedpm.net).
A sincere Thank You to all our family, friends & fans for your ongoing support as our team continues to work toward our dream in 2017.
Stay tuned for continued updates and more information on Michael d'Orlando at www.dorlandoracing.com. Be sure to follow him on Facebook (Michael d'Orlando Racing), Twitter (@dorlandoracing) and Instagram (@dorlandoracing).