EKN Trackside: 2017 SKUSA Pro Tour WinterNationals – Preview Part 2
Three Master categories set to begin journey toward championship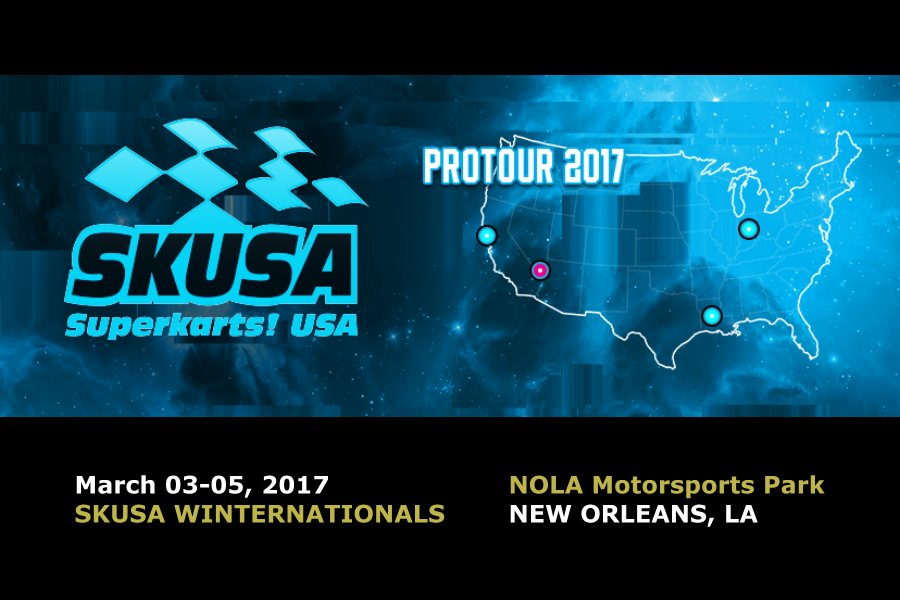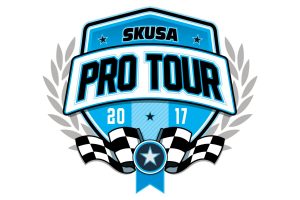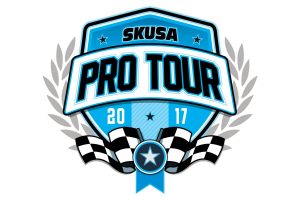 Just 100 days since the checkered flags waved to close out the 20th edition of the Superkarts! USA SuperNationals in Las Vegas, drivers, teams and families are all preparing for the start of the 2017 season and the SKUSA Pro Tour. It is a new era for the organization with the introduction of the WinterNationals, set to make its debut at the NOLA Motorsports Park facility in New Orleans on March 3-5.
NOLA Motorsports Park was opened in 2012 as a full motorsports facility, including the 1.5-mile long kart track. The New Orleans circuit began hosting major karting events in 2012, moving onto the world stage as the site for the 2013 Rotax Grand Finals – the first time the event was held on United States soil. SKUSA regional action has visited the course in previous years, including last weekend with the Texas ProKart Challenge. This is the first ever visit by the SKUSA Pro Tour.
eKartingNews is bringing all the action live to anyone and everyone with a laptop or mobile device. Bookmark www.ekartingnews.com/live and listen in to the live play-by-play provided by the official voice of SKUSA – EKN's own Rob Howden. Updates, photos and videos will be available throughout the weekend on the EKN social media outlets – Facebook, Twitter and Instagram.
---
X30 Master
It was a championship season for Derek Wang in 2016, becoming the sixth different title winner in the X30 Master category. Four podium finishes, including one at the SuperNationals, gave the entertaining driver his first SKUSA title after earning a US Rotax Grand Nationals victory earlier in the year. Now carrying the SKUSA #1 plate, Wang (BBR / FA Kart) has the target on his back.
A total of 20 drivers are hitting the NOLA circuit as the Master divisions continue to collect new racers year after year. The SKUSA Pro Tour in 2016 saw five different main event winners. One of them – Mario Barrios – is set to add to his win total in 2017. Barrios (BBR / PDB) scored the Round Four victory at New Castle, which has very similar characteristics to the NOLA course. Former California ProKart Challenge winner Carlos Calderon is making his Pro Tour debut in the category. The Aluminos driver is making the long trek to New Orleans, entering as a possible contender.
Other new names to the class that may surface include BBR Karting's own Blake Choquer (PDB). The driver from British Columbia, Canada has a ton of knowledge both on and off the track, and could be among those in contention throughout the weekend. Sticking with team owners, Shawn Bayliff of Trinity Karting Group is strapping on the helmet. The owner for the karting operation in the Cincinnati area is taking the team to the national level in 2017, including the SKUSA Pro Tour and many other major events along the east coast. Others to watch include former SKUSA #3 plate holder Vatche Tatikian (PGR / Ricciardo) along with locals John Robicheaux (Exprit) and Luis Zervigon (Birel ART).
Provisional X30 Master Entry List

| No. | Driver | Team | Chassis | Hometown |
| --- | --- | --- | --- | --- |
| 011f | Mario Barrios | BBR Karting | PDB | Miami Beach FL |
| 81j | Shawn Bayliff | Trinity Karting Group | Tony Kart | Batavia OH |
| 8y | Carlos Calderon | Aluminos | Aluminos | San Jose CA |
| 5n | Kim Carapellatti | Carapellatti Racing | PCR | Cuba NY |
| 43n | Scot Carapellatti | Carapellatti Racing | FK Kart | Olean NY |
| 144r | Blake Choquer | BBR Karting | PDB | Langley BC |
| 52c | Travis Irving | Formula Works | CompKart | Norco CA |
| 82j | Laurentiu Mardan | KartCraft / Pole Position Inc | Kosmic | Arlington Heights IL |
| 497j | Paul Meise | Trinity Karting Group | Tony Kart | Cincinnati OH |
| 377t | Miguel Mier | Dallas Karting Complex (DKC) / SodiKart USA | Sodi Kart | Frisco TX |
| 517t | DJ Ortiz | KRS | Tony Kart | Plano TX |
| 6j | Roman Padans | Franklin Motorsports | Merlin | Madison WI |
| 613g | John Robicheaux | | Exprit | Gulfport MS |
| 15t | Jesus Robles-Torrado | Orsolon Racing | Benik | San Antonio TX |
| 55k | Jonathan Silva | Formula Works / Extreme Karting | CompKart | Corona CA |
| 77x | Vatche Tatikian | Phil Giebler Racing (PGR) | Ricciardo | Altadena CA |
| 576y | Jason Vince | TJV Racing | Arrow | Henderson NV |
| 28j | Cristian Vomir | | Kosmic | Hoffman Estates IL |
| N1 | Derek Wang | BBR Karting | FA Kart | Kirkland WA |
| 800g | Luis Zervigon | PSL Karting | Birel ART | New Orleans LA |
---
S4 Master Stock Honda
Ryan Kinnear is looking to make history in 2017, by becoming the first driver to defend the crown in the S4 Master division. The 2016 champion will carry the SKUSA #1 plate this season aboard his Champion Racing / Intrepid machine, vying to repeat as the title winner. Jimmy McNeil is the only two-time champ in the category, winning in 2011 and 2015. Kinnear beat him and a host of others for the championship, and looking to add to his growing Master resume.
Beginning his Master career is longtime Colorado driver Ben Schermerhorn. The Birel ART driver is making the transition from S2 to S4, primed to give Kinnear a run for his money. 2016 X30 Master SuperNationals winner Renato David was the quickest driver in the SuperSunday main event in S4, and the native Brazilian is set to contest for the victories in NOLA. Justin Bennett (MRC / Aluminos) is another contender along with Victor Jimenez (RPG / Tony Kart).
Provisional S4 Entry List

| No. | Driver | Team | Chassis | Hometown |
| --- | --- | --- | --- | --- |
| 5y | Justin Bennett | Musgrave Racing Company (MRC) | Aluminos | San Ramon CA |
| 521n | Patrick Cecilian | | Formula K | Flemington NJ |
| 250a | Renato David | | Birel ART | Orlando FL |
| 823m | Victor Jimenez | Rolison Performance Group | Tony Kart | Miami FL |
| N1 | Ryan Kinnear | Champion Racing | Intrepid | Richmond TX |
| 05t | Alvaro Pelaez Diaz | Core Karting | CRG | Coppell TX |
| 255d | Ben Schermerhorn | | Birel ART | Highlands Ranch CO |
| 021t | Nathan Stewart | | CRG | Flower Mound TX |
---
S4 Super Master Stock Honda
The inaugural season for the S4 Super Master division was a success with nearly just as many drivers in the Super Master category as there was in the regular S4. Heading into NOLA, there will be more over 45-year-old drivers competing, with 15 slated to start at the inaugural WinterNationals. All three SKUSA plate holders are going to be in attendance in New Orleans to open up the second championship season for the class.
2016 champion Robert Marks is proudly carrying the SKUSA #1 plate for the 2017 season, earning the title along with a SuperNationals victory. Nick Firestone and Rod Clinard gave Marks a great challenge throughout the season and in Las Vegas. Both are looking to do better as the new season begins. Marks is always fast at tracks require that extra little bit of power, and his CRG will be one to watch. Firestone has shown the DR Kart to be a strong package as well, and Clinard is set to begin his second Pro Tour season under the CRG Nordam banner.
A number of new names are jumping into Super Master class. John Crow made the move at the SuperNationals, standing on the podium following SuperSunday. Now the MRC / Aluminos driver is making the full move over from X30 Master to the six-speed class for 2017. Mike Jones is a former SuperNationals frontrunner in S4 and multiple champion in Rotax Masters competition. Now, the Dallas Karting Complex / SodiKart USA co-owner is jumping into the elder division. Also watch for TB Kart USA's own Farshad Bagheri along with east coast driver Byron Rothenhoefer (Formula K) to challenge for podium positions.
Provisional S4 Super Master Entry List

| No. | Driver | Team | Chassis | Hometown |
| --- | --- | --- | --- | --- |
| 155f | Farshad Bagheri | TB Kart USA | TB Kart | St. Petersburg FL |
| 104x | Levi Bennett | PKS Kart Supplies / Team Visalia | CRG | Visalia CA |
| N3 | Rod Clinard | CRG Nordam | CRG | Hewitt TX |
| 31c | John Crow | Musgrave Racing Company (MRC) | Aluminos | Anaheim CA |
| N2 | Nick Firestone | DRT Racing | DR Kart | Paradise Valley AZ |
| 100t | Mike Jones | Dallas Karting Complex (DKC) / SodiKart USA | Sodi Kart | Union Valley TX |
| 36c | Warren Kindberg | Musgrave Racing Company (MRC) | Praga | Villa Park CA |
| 124k | Jeff Krogstad | | CRG | Lancaster CA |
| N1 | Robert Marks | PKS Kart Supplies / Team Visalia | CRG | Visalia CA |
| 68t | Venkat Reddy | Core Karting | CRG | Flower Mound TX |
| 122q | Michael Rivera | CKR | CKR | North Haven CT |
| 13s | Byron Rothenhoefer | | Formula K | Leesburg VA |
| 21x | Ken Schilling | Aluminos | Aluminos | Stanton CA |
| 102x | Darrell Tunnell | PKS Kart Supplies / Team Visalia | CRG | Visalia CA |
| 994y | Kevin Woods | Ron White Racing | CRG | Newark CA |