EKN One-on-One: Tom Kutscher – Superkarts! USA
SKUSA CEO talks about Pro Tour evolution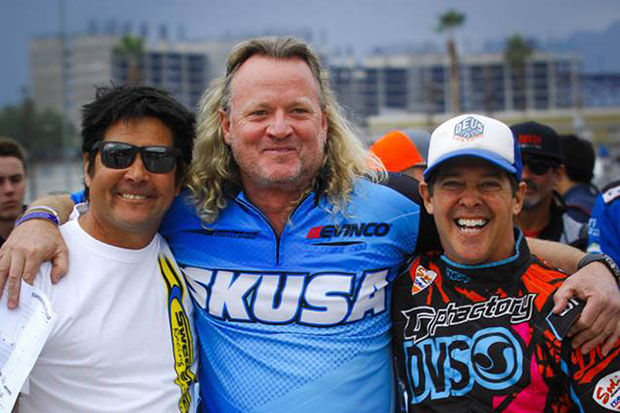 SKUSA CEO Tom Kutscher (c) with Bonnier Moulton and Howie Idelson (Photo: On Track Promotions - otp.ca)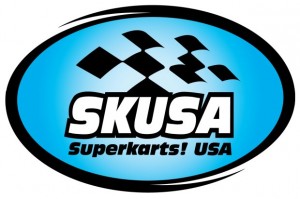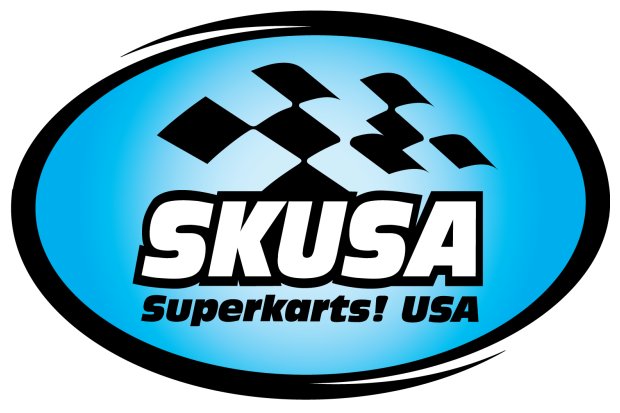 The 2016 season was a big one for Superkarts! USA, the promoter of the sport's largest national karting series. The SKUSA Pro Tour drew tremendous numbers and did its part to grow awareness for karting as the company invested in television coverage of all three rounds of its national program on the CBS Sports Network.  The organization also celebrated a milestone at its crown jewel event – the SuperNationals – pulling out all the stops for the 20th edition of the race that has become the single biggest sprint karting event in the world. The 2017 season is primed to follow-up with another massive year, signalled by another large attendance mark for the opening round of the California ProKart Challenge in February.
We tracked down SKUSA owner Tom Kutscher as he was preparing to drive the rig to New Orleans for the upcoming WinterNationals, the new kick-off event for the Pro Tour.
eKartingNews.com: Tom, thank you for taking time to chat with us as part of this ongoing series of interviews with the promoters of the sport's leading programs. I know that you've already kicked off your season with the first event on the California ProKart Challenge, but let's start by taking a quick look back at 2016, beginning with the 20th running of the SuperNationals.  We're three months out from SuperNats, so what are your thoughts now that the race is done and in the history books?
Tom Kutscher: I thought it was a great event. I'm thrilled with how everything came together and I'm really proud of my crew. We always try to improve each year, fixing little thing here and there, and I thought we did that during our second year at the Las Vegas Convention Center.  A new venue is always tough and new hurdles always pop up, and we were able to make some adjustments for the second race.  Looking back, I really liked the track and the racing was good. All in all, I liked it better than the year before. As I said, we learn every year, and it always gets better with a new facility.
I really enjoyed working with Howie (Idelson) and Bonnier (Moulton) on the track design. For the first time, someone from outside the inner circle got to see what we do, and how much it takes to make it happen. It was cool to seeing them stressing balls and then be proud of the results. I loved watching them work the process, laying out all the potential designs and then discussing what would work on the actual lot that is available.  We made some final changes for safety, but the track they eventually settled on was challenging and unique.  I think everyone involved was happy with how the layout raced.  At the very least, they eliminated the opening corner wrecks, which was a huge positive, but the whole track provided a great challenge.
EKN: It was certainly an awesome event, and I think that everyone is already excited for this year's race. Is there any news on the 2017 SuperNationals that you can provide to our readership?
TK: I was there a month ago, and I can confirm that we'll be back at the Convention Center, but we have some exciting news coming and that's all I can say right now.
EKN: Fair enough. Simply knowing that the venue is secured is good enough for me right now. Fast forward to 2017 and we're going to see an adjustment in the Pro Tour with the addition of the WinterNationals, which will also allow the SuperNats to go back to a stand-alone program.  What was the motivation to change it up and start the season much earlier with the WinterNationals?
TK: There are a couple of components that played a role in the newest evolution of our national series. First and foremost, we've been told for the last couple of years by the different teams that they needed and wanted another Pro Tour race. We obviously want to keep growing and evolving, but I needed to wait until we got the entry numbers up to the 240-250 so that I knew we'd have the support for the new race.  The WinterNationals fills a gap in SKUSA national racing in the first quarter of the year, and now we have a major event in all four quarters of the year, which I think is exciting and is good for SKUSA.  We want to offer a SKUSA event every month from February to November, whether it's a Pro Tour race or a ProKart Challenge event.  The early March weekend for the WinterNationals fit perfectly and I know that I'm personally excited to get to New Orleans.  The track is awesome and I'm pretty pumped to hit some local restaurants as well.  The city is vibrant and a destination spot, and that was one of our goals. We wanted to make the event fun for everyone in the family.
As for the SuperNationals going to a stand-alone event, one of the great parts of this move, in my opinion, is that the regulars who spend their money with us all year will now be free to race hard and not worry about risking a Pro Tour championship in a tussle with one of our visiting drivers who may run just the SuperNationals.  I've always hated seeing someone's hard work and success get negated because of a wreck at the SuperNats, so this is good.
I also want to remind people that the big money at the SuperNats will only be available to those who have run the full Pro Tour, and I expect that the Priority Pre-Entry Program will be even more important this year. We filled many classes last year and there were a lot of people on the outside looking in. If you run the Pro Tour, you'll get that first shot at entering.
EKN: You just kicked off the California PKC with almost 190 drivers at Buttonwillow, which is pretty impressive considering the fact that the state had been pummelled by rain during week heading to the event. The rain could have kept people home, and likely did to a certain extent, so you must be pleased.
TK: We have the greatest paddock of passionate drivers who just want to race.  I was happy to see us return the weekend total consistent with our 2016 number, as we were up almost 30% from 2015. Even with similar entry total to last year, we saw a lot of new faces, which makes me happy, and lots of faces from NorCal, which is important to me.  I received a great deal of positive input on our schedule for this year.  I had a couple of people tell me that it was 'the best schedule they have ever seen from PKC".  That's a great thing.  The NorCal guys were happy with Buttonwillow, Monterey and Santa Maria, which are closer to NorCal, and they have the Pro Tour SpringNationals race at Sonoma as well. The guys who have been with me for a long time are super-pumped about us going back to Streets of Willow, and all the SoCal shops and drivers are digging that we're running at Fontana again, for the first time in many years.
EKN:  With the California ProKart Challenge off to a massive start, what are your thoughts on the Texas ProKart Challenge going all-SKUSA in 2017 and launching the week before the WinterNationals at NOLA?
TK: The bottom line is that the series was working hard to support both SKUSA and Rotax classes, but to really move forward and succeed, they needed to focus their efforts on one single program.  I think they have the momentum and I'm pleased that they elected to go all-in with Superkarts! USA.  I think that they're going to have a great year, and it's exciting to see the industry in Texas getting behind them. They have a great staff and lots of shops that want to see the series explode in size.  Based on the amount of Evinco and IAME product that is being shipped into Texas, I think that they're primed for a big year.  Having their opener at NOLA the weekend before the WinterNationals will kick things off nicely, and it's pretty cool that they're going take their drivers to a couple new tracks this year.  Running at Alan Rudolph's new track in Houston will surely draw big numbers and finding the track in Amarillo has made for an intriguing schedule.
EKN: OK, the WinterNationals is just two weeks away.  How has the event changed your winter months and how are things looking for the race?
TK:  The addition the WinterNationals this early in the year has quadrupled our workload heading into the spring, as we normally get started a little easier with a couple PKCs.  Everyone is flat-out at the office, and the entries are still pouring in.  It's a busy time of year, we know, and we're all pumped to run at one of the nicest tracks in the country.  I had only a brief chance to look at the entries before I hit the road, and it looks like Mini Swift and X30 Senior will be the first classes to sell out, so if you're dragging your heels, you better not wait too long.
I'm really happy with the program that we've settled in on.  The combination of the IAME and Stock Honda classes offer unique experiences and we have a focused class structure that provides our own ladder system.  The IAME Swift and X30 engines are providing a stable component to our customers' racing program, and I'm confident in what we've put together in terms of our staff. We're hoping for a great year and I'm excited to get the Pro Tour kicked off a the WinterNationals.
Personally, I'm also excited to check out New Orleans, eat some seafood and Cajun cuisine, and see this incredible race track host our national series. And, truly, that's part of the reason that I decided to put the WinterNats at NOLA. I like having our races in destination cities so that the families and spouses can have some fun.  We do this because we want to enjoy ourselves, right?
EKN: Yesterday, SKUSA released news that Joe Janowski will be taking over as the Director of Competition for the WinterNationals, and he will be supported by a new video marshalling program. This is a major move for the series. Can you give us some insight into the motivation behind this and how do you and Joe connect?
TK: I think that most people know that our sport is dealing with a drastic decrease in quality racecraft and that on-track contact and disrespect is a problem. We had a major issue at the SuperNationals last year and I knew that we just had to pull the trigger on an aggressive solution.  I looked at the push-back bumper option, but I'm not convinced that it will solve the problem the right way. I decided to make the big investment in the video marshalling system so that we'd have video evidence to catch the troublemakers and back-up the calls of our officials.
Before I talk about Joe, I must thank Terry Bybee for what he brought to Superkarts! USA for so many years, Terry's dedication to our program and his passion for the sport and the drivers was unrivalled. We've made moves for this year based on the battles that Terry had to endure, and I know that Joe will be better supported thanks to the video marshalling system.  After Terry announced his retirement last year at the SuperNationals, I had many discussions to find out who might be both available and interested in the position. Everyone knows that it's a thankless job, but an incredibly important one.  I had no idea that Joe was interested in the position, but he brought it up when we were discussing our insurance program, which he provides to SKUSA. He asked if he could throw his name in the hat, and it progressed from there.  Ex-racers make excellent officials because they've seen it from both angles, so I think Joe has a chance to be a very good for us.  He'll be with us for the WinterNationals and if the team melds well, he'll handle the duties for the entire year. I've told him to drop the hammer to set the tone immediately.  We all want to clean up the racing and it's a priority for all of us this year.
EKN: Tom, thanks again for taking the time to chat with us and we'll see you in New Orleans in March.
TK: Thanks, Rob. I'm looking forward to seeing all our 2016 Pro Tour champions running their national #1 plates.  Should be a hardcore weekend.