CRG Introduces New Official Factory Magazine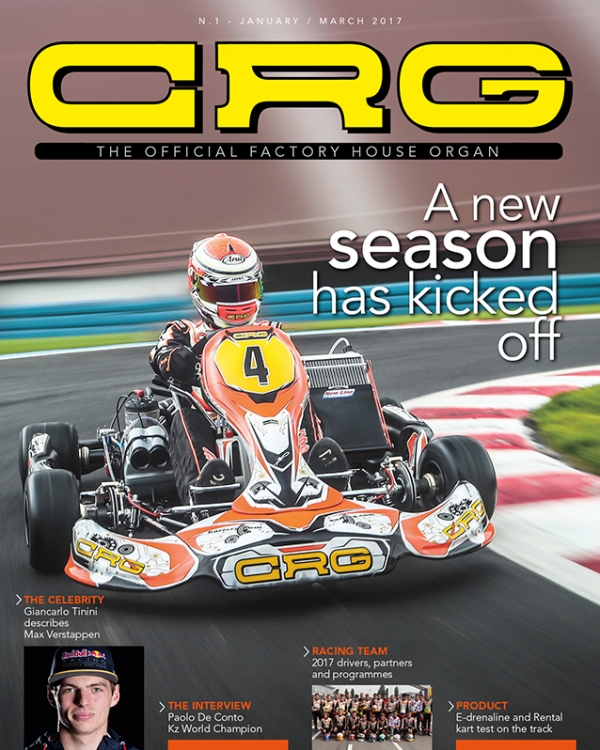 CRG Magazine is the new digital quarterly publication available through CRG's official webpage. It features exclusive content on races, company, products and, in general, on the world of karting.
CRG Magazine is a new communication initiative of the Italian factory dedicated to all the karting enthusiasts and, particularly, to CRG fans. CRG Magazine is a free quarterly publication available through CRG's official webpage (www.kartcrg.com) that will report on the activity of the Italian company, including racing and products, with in-depth specials.
The most beautiful pictures taken at the races all around the world, classifications and reports, but also interviews with drivers and staff, opinions and technical analysis will find their special place in this new magazine. Products, on track tests and technical tutorials will also be discussed. The magazine will include a regular column in which CRG's President Giancarlo Tinini will talk about the champions that started their career in karting with CRG: Max Verstappen is the celebrity on the first number.
The 1st number (January – March) reviews the incredible 2016 season and previews the just started 2017, introducing technical partners, strategies and works drivers. Balance and future commercial objectives are part of this number too, while the on track special is dedicated to the electric kart E-drenaline, tested for us by CRG works driver Simo Puhakka at the indoor track of Franciacorta.
Paolo De Conto is the protagonist of an interview in which he disclosed some aspects of his private life as well as the special relationship he has with the company and team that allowed him to become karting world champion.
The excellent graphic project, the special content devised by CRG press office and the important collaborations regarding images and technical analysis make CRG Magazine a high-end product. The new magazine will lead into the Official CRG Yearbook at the end of the season. This publication will feature more than 140 pages in the 28 x 24 format reviewing all racing, technical and commercial content of the season.
IN THE 1st NUMBER (JANUARY-MARCH) OF CRG MAGAZINE
Giancarlo Tinini's editorial
Photoshoot: the nicest pictures of 2016
2016 Season review
2017 Season preview: CRG Racing team's drivers line up
The interview: Paolo De Conto
Balance 2016 and company objectives for 2017
Product: top selling CRG karts
Product: lifestyle by CRG
On track testing: E-drenaline, the electric Kart by CRG
Stories: Giancarlo Tinini talks about Max Verstappen