PROgression: Lemke Set for Leicht Motorsports Driver Development Debut This Saturday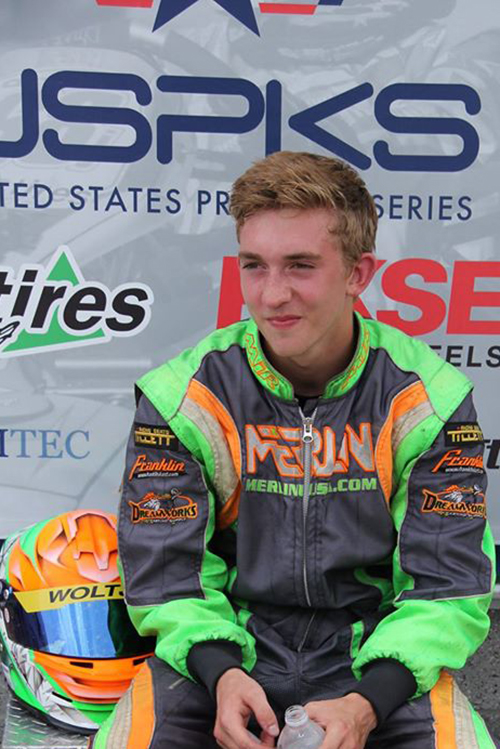 (Photo: uspks.com)
McCallister Precision Marketing is pleased to announce karting phenom Brandon Lemke has signed on to drive for Leicht Motorsports Driver Development in the Southeast Limited Late Model Series.
"Brandon fits in perfectly in what we are working to do in racing and that's develop and give exposure to incredible young talent," Eugene Leicht of Leicht Motorsports Driver Development said.
Lemke and the Leicht Motorsports team will debut this Saturday at the Greenville Pickens Meltdown hosted by Greenville Pickens Speedway in Easley, S.C.
"To be given this opportunity is an incredible honor and I can't wait to reward everyone who has put their trust in me," Lemke said. "I can't thank Tonya at McCallister Precision Marketing enough for all she has done to help my career."
Lemke, a 17-year-old from Eagle, Wis., has built quite the resume in kart racing, racking up numerous wins and championships.
Lemke began racing in 2009 at the age of 9 at the Badger Kart Club in Dousman, WI. In his first year of racing, Lemke won the Championship for Yamaha Junior Sportsman Rookie Novice, and set the track record for fastest time in his class. He was also named the Badger Kart Club Junior Summer Series Champion, and Rookie of the Year.
Two years ago Lemke won 66 percent of the national races he entered and finished in the top five an unbelievable 90 percent of the time. He also participated in the reality television show Kart Life on TruTV.
Last year Lemke registered 10 wins in the senior class, 12 runner-up finishes, 10 third-place runs, three fourths and a pair of fifths. He finished in the top five 88 percent of the time with 74 percent podium finishes.
Leicht Motorsports has a history of winning. Eugene Leicht, who has been involved in building race cars most of his life, has built cars that have won all over the East, including at famed tracks such as Martinsville, Hickory, South Boston and Myrtle Beach Speedways. Leicht also fielded cars for both his sons, which resulted in numerous races won in the Late Model Series.