EKN One-on-One: Gina French – Texas ProKart Challenge
Lone Star State program goes pure SKUSA for 2017 season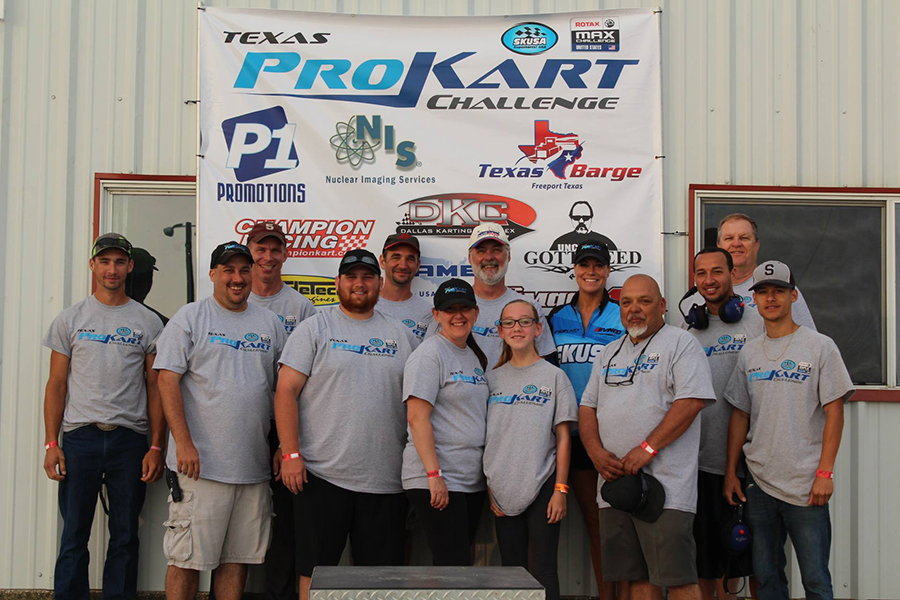 The Texas ProKart Challenge team with Gina French (SKUSA shirt) (Photo: TPKC)
The State of Texas has always been a hotbed of American karting, developing extremely talented drivers who have gone on to achieve considerable success in WKA, IKF and SKUSA competition.  With a foundation built around tracks like Denton and Katy, and now expanded with the popular Dallas Karting Complex and the construction of the new Speedsportz Racing Park in Houston, Texas karting has a bright future.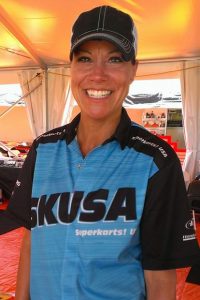 The Texas ProKart Challenge is the largest regional program in the state and it will make the move to a pure Superkarts! USA program in 2017, running the same Stock Honda and IAME classes as SKUSA's flagship PKC series in California.  Gina French took over the TPKC reigns in 2016 and she's been hard at work growing the program and providing her racers with an exciting schedule.
Ahead of their opening round at NOLA Motorsports Park on February 25-26, we reached out to Gina to talk about 2017 and her future plans for the series.
eKartingNews.com: Thank you so much for taking the time to chat with us, Gina. The opening round of the Texas ProKart Challenge is just a few weeks away, so we know how busy you are.  You and your team have been working hard in the off-season to provide your racers with an exciting series for 2017.  Can you give us an overview of some of the highlights?
Gina French: It is an awesome opportunity for our series, and most importantly, our racers, to start the season preceding our national counterpart, the SKUSA Pro Tour.  The Texas ProKart Challenge is loaded with high-caliber kart racers and with our opening weekend directly in front of SKUSA's inaugural WinterNationals, our racers will benefit from the additional competition.  From NOLA, we come back to Texas at the end of March for Round 2 at Dallas Karting Complex, a track that everybody loves.  The fantastic facility and party atmosphere are always a hit.  The month of June takes us south to Gulf Coast Kartway in Katy, Texas, where the majority of our competitors call home.
From there, we move west to Amarillo for the first time.  Amarillo Kart Circuit is a private facility that sits on the south side of I-40.  Unknowingly, many karters on their way to Vegas have passed right by it.  Racers love new tracks and this one will not disappoint.  North Texas Karters in Denton, Texas is our home for Round 5 in September and always delivers a fun, family atmosphere.  We'll finish out the season in October with Round 6 at the new Speedsportz facility in New Caney, Texas, which is very exciting.  Included in the event will be our 2017 Year End Awards Ceremony, which will be a great way to wrap up our season.
EKN: Tell us more about the new track in Amarillo and how it came to be added to the TPKC schedule for this year.
GF: The track is actually in Panhandle, Texas, and is privately owned. The Amarillo Kart Circuit sits right on the side of the highway.  It's a mirror image of the F1 track in Istanbul, Turkey and it is sure to be a great change of pace for our customers.  We learned first about AKC from the all-too-familiar "karting rumor mill" and after months of searching Google Maps for its location, it took all but 15 minutes for Mark French to locate it, find the owner's name and get him on the phone.  The following weekend, we were headed to AKC to check it out and we gave it our stamp of approval that day.  The owner is excited about hosting our July event and we continue to work diligently to get the track insurance compliant. The Amarillo Kart Circuit will provide a fresh track experience for drivers to improve their racecraft.
EKN: You've made a significant evolution for the Texas PKC by focusing solely on the SKUSA class structure for 2017 and beyond.  What was the motivation for this evolution?
GF: Our motivation for the changes we've made have been the voice of our customers.  Without them, we would not exist, so we do our very best to be good listeners.  Along with the fact that SKUSA's regional California ProKart Challenge program is booming on the west coast, it just made since to move in that direction.  In addition to the SKUSA-only classes, we've also changed the schedule layout. Instead of running four two-race weekend events, we have opted for six one-race events, similar to what the PKC runs in California.  This change has cut costs for our customers and better suits the regional program.  Texas has some the best drivers in the country and we are VERY PROUD of each and every one of them.  Here in the Lone Star State, the SKUSA ladder system is alive and well.
EKN: Is there a particular category where you expect to see significant growth this year?
GF: With help from IAME, we were able to offer a lower-priced X30 engine package to our customers in conjunction with our Series Loyalty Package for the purpose of growing the X30 classes at the TPKC. The program was a success, benefitting the customer and the dealer.  We have sold twice as many as predicted and our entries have grown as a result.
EKN: The X30 category is strengthening in several regions of the country, and it's good to see growth and stability in Texas as well.  With growing number, your crew will busy this year. Can you give us a line-up overview of the staff you'll have on-site for this year's TPKC?
GF: When I sent out staff proposals, each one contains the same final paragraph; "My expectations are that you will be well versed in the SKUSA rulebook and approach your position as a non-bias official of TPKC.  Great customer service and encouraging a sense of community among our racers is of great importance as well as our highest priority, safety."
I can confidently say that each one of our 2017 staff members will fulfill my expectation.  Neal Strickland did a fantastic job in 2016 as our Race Director.  He has the gift of communication and the ability to remain level-headed and calm in tense situations.  Steve Moore will be joining us this year as Assistant Race Director.  Steve raced IKF and SKUSA 80cc and 125cc back 10 years ago, and his experience will be an asset to the TPKC team.  Carrie Burke has returned for her third year as our Chief of Timing and Scoring and she always does a top-notch job.  Haliey Burke joins Carrie in the tower for her second year as our 'runner-who-does-whatever-we-need' and that she does.
New on the grid for 2017 is Katie Cluck, a savvy young lady who won't let racers get away with anything and always has a smile on her face.  Jerry Stafford will be greeting our racers at the grid entrance this year to better enforce compliance and assist Katie with the overall grid.  Our Technical Director is the well-liked George Shear and assisting him will be Kevin Hodge out of South Carolina.  These two make the perfect Tech Team!  In registration, it's my right hand, Brittany Lobaugh, who seems to always have the answer and solution to any problem, invaluable!  Stacey Stafford joins Brittany this year to provide more efficiency to the registration process.  TPKC is blessed to have these staff members and I look forward to working with each of them.  Teamwork makes the dream work!
EKN: That's an impressive staff with years of experience. So, let's wrap up this interview with the race that is just over a week away. How excited are you to fire up the 2017 season at NOLA, the week before the WinterNationals.  How are the entry numbers heading into the event?
GF: Beyond excited! I personally love change, so I can't wait to see what happens as we launch the 2017 season.  So far, I have received lots of positive feedback concerning the changes to TPKC and anticipate a great first event. Our entries are higher at this time of registration than ever before, which totally gets me fired up!
EKN: Thank you so much for taking the time to chat with us, Gina!  We wish you the best of luck at NOLA and through the entire 2017 season.
GF: Thank you, EKN, for giving TPKC the opportunity to tell your readers about regional racing in the Lone Star State.  I'll close this interview the same way I end every conversation at the track….To all you racers coming to NOLA next week, don't forget to HAVE FUN!