12 Podiums at Challenge of the Americas for Team BBR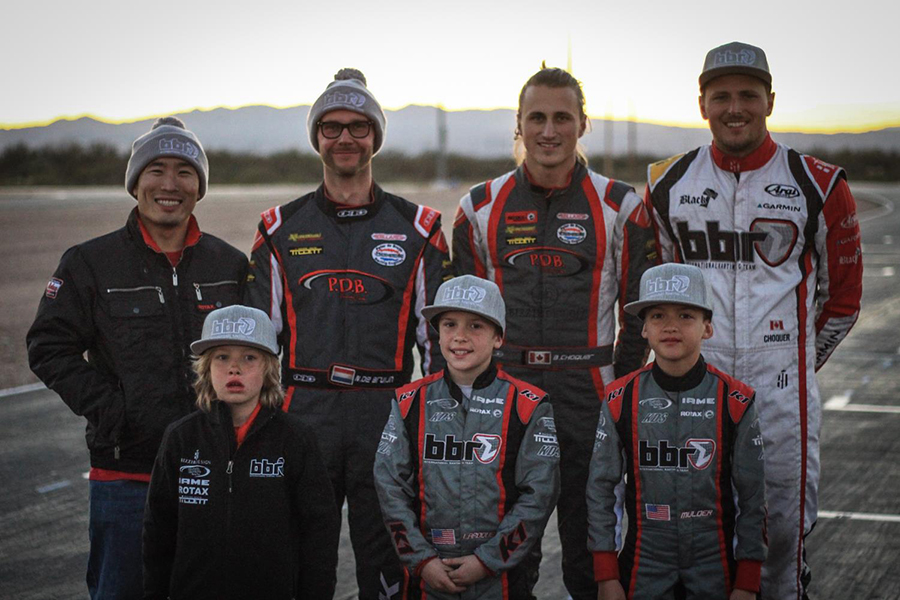 2017 Season opened at the first round of Challenge Of The Americas in Tucson, Arizona. Team BBR did not disappoint and it was a very impressive weekend. Everyone showed great speed and in the end we walked away with Five wins, 6 pole positions and 12 podiums in total. In Micro Max Sebastiaan Mulder and Parker DeLong made it a 1,2 finish all weekend. The current Micro Max World Champion showed his speed in Mini Max taking pole both days and both final wins. In Senior Bryce Choquer who put on a show in a stacked senior field qualified pole on Sunday and finished 2nd both days. In Masters Blake Choquer and Chad Wallace split two 3rd place finishes. Finally in L0206 Nick De Bruijn and Bryce Choquer dominated the class in another 1,2 finish on board the PDB chassis.
Friday night the BBR Team of 9 drivers, mechanics, family and friends had a team dinner at a Hot Rod Shop where you can watch fabricators build cars while eating dinner.  The bbr crew did an amazing job with their drivers getting them up to speed and making sure the karts were at their best which included Nick De Bruijn, Chris Black,  Brent Bolster, Don Choquer, Blake Choquer, Joey Wimsett, Aaron Laroque, Stepanova Nakeel, Oscar Mulder, JP Plante and Craig Labocca and Tyler Deneen. Your efforts and passion is what makes our team one of the best in the World.
SEBASTIAAN MULDER
This was Sebastiaan first race with BBR and after a weekend of driver training before the event Sebastiaan showed great speed. He continued to improve every session. It was great to see his confidence grow throughout the weekend and come race day his raw speed brought him 2 poles, and 2 final wins.
PARKER DELONG
This was also Parker's first race with BBR and he had a solid weekend with two second place finishes. Parker has a huge passion for karting and he worked hard on improving throughout the weekend and showcased his awesome race craft.
DIEGO LAROQUE
The 2016 Rotax Grand Finals World Champion.  Diego picked up right where he left off taking the opening round of COA in style. On board his new PDB cadet kart Diego pulled off to pole positions and two final wins, walking away as the points leader heading into Phoenix.
BRYCE CHOQUER
Bryce starts the year as the points leader after two solid 2nd place positions. Bryce lead most of the finals but just fell short after some epic battles . Bryce driving his PDB Kart took the pole on Sunday and a new track record.
NICK DE BRUIJN
The 2004 European FA Champion came to support the team and to showcase the PDB Kart in Briggs L0206. Nick and Bryce battled to the end but it was the legend who took the win and which is now considered the #1 Lo206 driver.
CHAD WALLACE
Chad had his first weekend with BBR and it was a pleasure to have him racing with us. It was a slow start and Chad worked hard working on the "S" section of the track. On Sunday he delivered and almost brought home 2nd place. Was an awesome way to start the season.
BLAKE CHOQUER
It has been Blake's desire to get back in the seat and enjoy the sport he fell in love with as a kid. Blake showed some decent speed and was able to finish on the podium on Saturday in 3rd place. Was a great weekend to see the success of the team and get to race with my teammates and talk about the action and feelings.
The next round of Challenge Of The Americas is Feb 25 and 26. We will be practcing the weekend before in Phoenix getting ready for the evnt. Following Challenge Of The Americas the BBR Team heads straight to New Orleans for the first round of the SKUSA Pro Tour March 3.4.5.