Ricciardo Kart Paints Newcastle Blue and White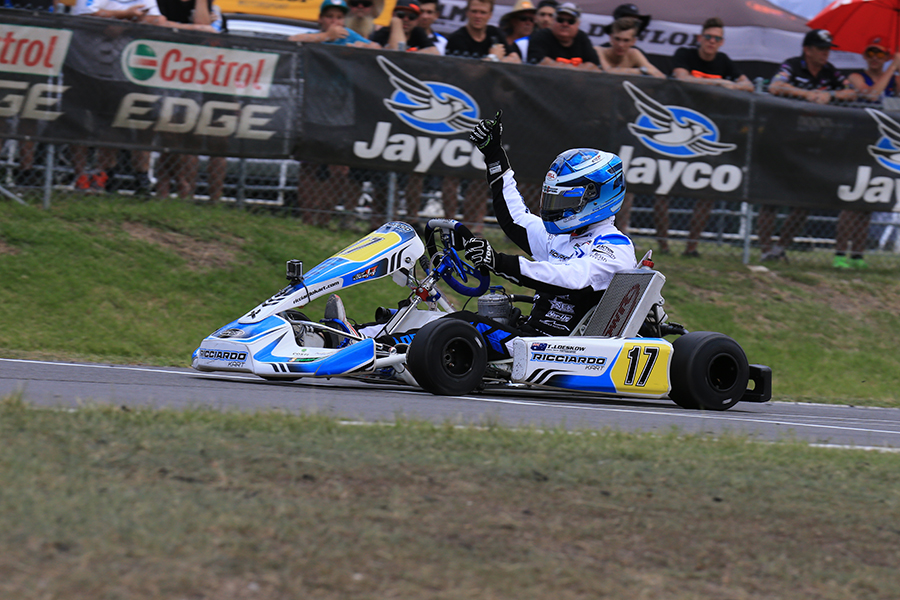 Bundaberg driver Troy Loeskow celebrating his KA2 win at Round One of the Australian Kart Championship in Newcastle (Photo: Cooper's Photography)
The Ricciardo Kart factory team achieved a haul of four class victories at the Australian Kart Championship presented by Jayco and Castrol EDGE in Newcastle on Sunday afternoon, the most successful haul by the brand.
Ricciardo Kart pilots took victories, Troy Loeskow (Bundaberg, QLD) scored a decisive victory in KZ2 gearbox, Lachlan Hughes (Gold Coast, QLD)  in the elite Junior KA2 category, Jace Matthews (Gold Coast, QLD)  in his senior karting debut in KA1 and Marc Tulloch (Gold Coast, QLD) secured his first round win in X30. Defending Australian Champions, Ryan Tomsett and Brendan Nelson took victory in Cadet 9 and TaG 125 respectively, while Kody Garland (KA3 Senior), Zac Crichton (KA4 Junior) and Rhys Smith (Cadet 12) took breakthrough wins in their respective categories.
It was the most successful weekend for the Patrizicorse-operated Ricciardo Kart team since the brand entered the sport three seasons ago. Loeskow pushed hard throughout the weekend and was able to get the best of the start from the outside front row in the final. He jumped weekend long combatant, Joshua Fife (Energy Corse) and that was the move which proved decisive. Fife was valiant throughout the race, pushing hard to close the gap to Loeskow, however the early race laps by the Bundaberg-based leader was too much for the youngster to close down. Finishing third was new CRG Australia recruit, Daniel Price, the South Australian celebrating his birthday on the podium.
In KA2, a turn one pile-up accounted for eight competitors, forcing officials to trigger a full course caution to clear the carnage. On the restart, Hughes got the best of it and pushed away. Qualifying pole-sitter, Reece Cohen went with the Gold Coaster and the duo began to pull away. They staged a terrific battle for the lead which lasted the majority of the 18 lap distance. Entering the final lap, a broken bearing carrier bolt on Cohen's Top Gun Racing JC Kart stopped cruelly robbing the debutant of a maiden KA2 podium. This elevated another first time KA2 campaigner in Cody Burcher to second and Taylor Hazard to position three – the first time he has stood on an Australian Kart Championship dais.
KA1 all weekend long was about Jace Matthews. The Queenslander was supreme in his CXR Racing Engines Ricciardo Kart throughout all four heat races and in the final staged a clinic to take victory by 9.8 seconds in his first KA1 Championship race. Sydney-sider, Kyle Henry-Smith steered his Scuderia PCR entry to second place and his second AKC podium, whilst Kosmic pilot, Daniel Edmonds was awarded his first ever Australian Kart Championship trophy in third.
Much like Matthews, Marc Tulloch was without peer in X30. Tulloch, he had a field that included drivers like 18-Australian Champion David Sera and defending Australian Champion, Adam Mercer. Tulloch led the entire 18-lap distance in the final to take his first ever Australian Kart Championship round win, winning by 0.581 over Joshua Car (CompKart) and Leigh Nicolaou. Victorian, Dylan Hollis ended a troubled weekend strongly – finishing the final in 10th position after starting 35th. He scythed his way past the strong field, leaving the majority of it in his wake.
Another dominant first time winner was New South Welshman Kody Garland in KA3 Senior, Garland, in a field of 37 competitors jumped away to a 3.3 second win over veteran multi-Australian Champion, James Sera and Dean O'Brien who had been solid throughout the course of the weekend's competition.
Defending TaG Champion, Brendan Nelson picked up where he left off last year in taking a 0.850 second win in TaG 125. The Queenslander didn't have the dominance of last year in making it to victory lane, pushed all the way by Mitchell Hewitt, who pulled out a big final performance. Finishing third in the final was heat winner from Saturday, Zac van Leeuwestyn, who got the best of Joshua Davey – the duo being in the middle of a race long battle.
One of the more entertaining finals of the day was in KA4 Junior. Zac Crichton pushed his way to the lead in his JC Kart but had a busy pack following him. Kai Allen got his CRG into second position after battles that involved defending Australian Champion Cooper Webster and Jay Hanson. Once in second, he set sail for Crichton and ended up closing right up to him. It went down to a last lap finish, with Crichton narrowly getting the win over the fast charging Allen and South Aussie Blake Purdie in his Zanardi Kart.
In Cadet 12, Rhys Smith won the final heat race of the weekend, but by virtue of a low result in heat one on Saturday had to start the final from position seven. It didn't take him long to pick off those in front of him and get his PCR to the lead. It was behind that the battle was interesting. James Wharton, Ethan Feather, Adrian Haak and Tex Starr-McCoy were in the thick of it. In the end, Shamick Racing pilot Wharton came home second with Haak in third after leading the race early.
The closest finish of the day came in Cadet 9 when defending Australian Champion, Ryan Tomsett left it to the last lap to edge past Victorian Harry Arnett for the win. The margin of victory was just 0.074 seconds as the pair were side-by-side at the line. Marshall Crofts elevated his CRG to third after a strong battle with Maddison Feather and Macka Hazard.
In all, competitors did a phenomenal job throughout the course of the weekend of trying conditions sustained by the heatwave that afflicted the Eastern Seaboard of Australia, officials adjusting the race program to ensure the safety of all concerned.
Next stop is to Geelong over the weekend of March 31-April 2 for the second round of the Australian Kart Championship, presented by Jayco and Castrol EDGE and delivered by Mercedes-Benz Vans.
On demand video of Sunday's action can be viewed at www.karting.net.au.
AUSTRALIAN KART CHAMPIONSHIP presented by Jayco and Castrol EDGE
Round 1 of 5 – Newcastle
KZ2
1. Troy Loeskow (Ricciardo Kart)
2. Joshua Fife (Energy Corse)
3. Daniel Price (CRG)
KA1
1. Jace Matthews (Ricciardo Kart)
2. Kyle Henry-Smith (PCR)
3. Daniel Edmonds (Kosmic)
KA2
1. Lachlan Hughes (Ricciardo Kart)
2. Cody Burcher (Kosmic)
3. Taylor Hazard (Redspeed)
X30
1. Marc Tulloch (Ricciardo Kart)
2. Joshua Car (CompKart)
3. Leigh Nicolaou (Arrow)
TaG 125
1. Brendan Nelson (FA Kart)
2. Mitchell Hewitt (OTK)
3. Zac van Leeuwestyn (Intrepid)
KA3
1. Kody Garland (Tony Kart)
2. James Sera (FA Kart)
3. Dean O'Brien (Arrow)
KA 4 Junior
1. Zac Crichton (JC Kart)
2. Kai Allen (Haase)
3. Blake Purdie (Zanardi)
Cadet 12
1. Rhys Smith (PCR)
2. James Wharton (FA Kart)
3. Adrian Haak (EVOKart)
Cadet 9
1. Ryan Tomsett (Exprit)
2. Harry Arnett (FA Kart)
3. Marshall Crofts (CRG)
For the full results please click here.
CHAMPIONSHIP STANDINGS – Top Five
After Round 1 of 5
Cadet 9
1 Ryan Tomsett 63
2 Harry Arnett 57
3 Maddison Feather 45
4 Brock Barber 41
5 Marshall Crofts 38
Cadet 12
1 James Wharton 55
2 Tex Starr-McKoy 51
2 Adrian Haak 51
4 Rhys Smith 49
5 Ethan Feather 44
KA4 Junior
1 Zac Crichton 58
2 Cooper Webster 54
3 Jay Hanson 45
3 Kai Allen 45
5 Blake Purdie 37
KA3 Senior
1 Kody Garland 75
2 Dean O'Brien 54
3 Oscar Priest 48
4 James Sera 44
5 Matthew McLean 28
TaG 125
1 Brendan Nelson 69
2 Joshua Davey 54
3 Mitchell Hewitt 44
3 Zac Van Leeuwestyn 44
5 Tyler Di Legge 42
X30
1 Marc Tulloch 75
2 Joshua Car 56
3 Justin Francis 47
4 Leigh Nicolaou 45
5 Adam Lindstrom 34
KA2
1 Lachlan Hughes 65
2 Cody Burcher 44
3 Benito Montalbano 43
4 Reece Cohen 37
5 Harrison Hoey 31
KA1
1 Jace Matthews 75
2 Kyle Henry-Smith 56
3 Thomas Steele 39
4 Daniel Edmonds 38
5 Mathew Stenner 33
KZ2
1 Troy Loeskow 65
2 Joshua Fife 64
3 Christopher Hays 46
4 Daniel Price 39
5 Pierce Lehane 34
For the Full Championship Standings click here.