Alpha Karting: More International than Ever for Its 40 Years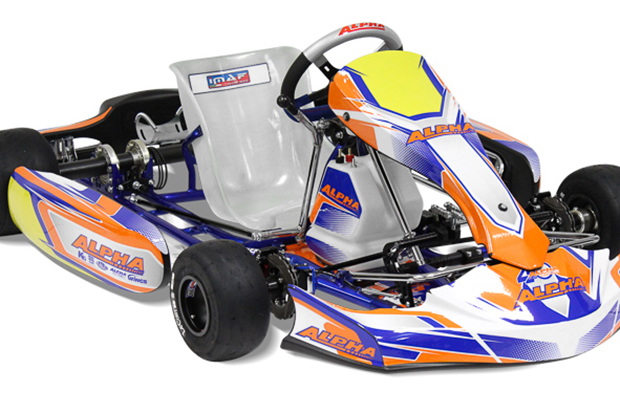 The French brand Alpha Karting this year celebrates 40 years of experience at all levels of the sport. A pioneer at its creation in 1977, Alpha Karting has constantly evolved to serve all enthusiasts. In both competition and leisure karting, but also very well placed in distribution and online sales, Alpha exhibited its first CIK-FIA homologated model under number 01 in 1982 at Offenbach.
During the recent Offenbach Show in Germany, visitors flocked to the stand of the oldest French brand in operation. Presented in its original fully restored version, the Alpha 01 chassis of 1982 attracted a lot of interest from a wide audience and not only from fans of vintage karts. The link between the origins and the current production materialised with the presentation of the new competition chassis, Tiger Black. With a new livery and new accessories, the Alpha Karting spearhead has strong arguments for continuing to offer its drivers the best chance of victory. The leisure range was represented by the famous Carbon.K, an original product with many followers.
In order to represent its activity in distribution of parts and accessories from the biggest brands, Alpha Karting also exhibited a selection at Offenbach of products representative of the stock available in large quantity on the site www.akparts.fr, to satisfy the customers looking for quality at the best price.
Benoit Bremond, President of Alpha Karting, returns to the major aspects of an important year for the French company: "The 40 year anniversary of Alpha Karting is a major event for us. This exceptional longevity among renowned professionals reflects our strength and our adaptation to the evolutions of the kart market. It is certain that our experience is as irreplaceable in racing as it is in leisure. Alpha has always managed to renew itself. Today we have a very popular online sales site that we renamed Alpha Karts & Parts last year to make our activities easier to understand.
"Our international sales breakthrough continues in 2017. At Offenbach, we had the opportunity to measure the excellent work of our importer Kart Service Walter on the ground. This fruitful collaboration has encouraged us to intensify our presence in other countries. The competition brought us great satisfaction last year and we look forward to celebrating our 40th anniversary with more successes."