61 Kartway Adds Ignite Junior and Senior
"Igniting" Delmar, Iowa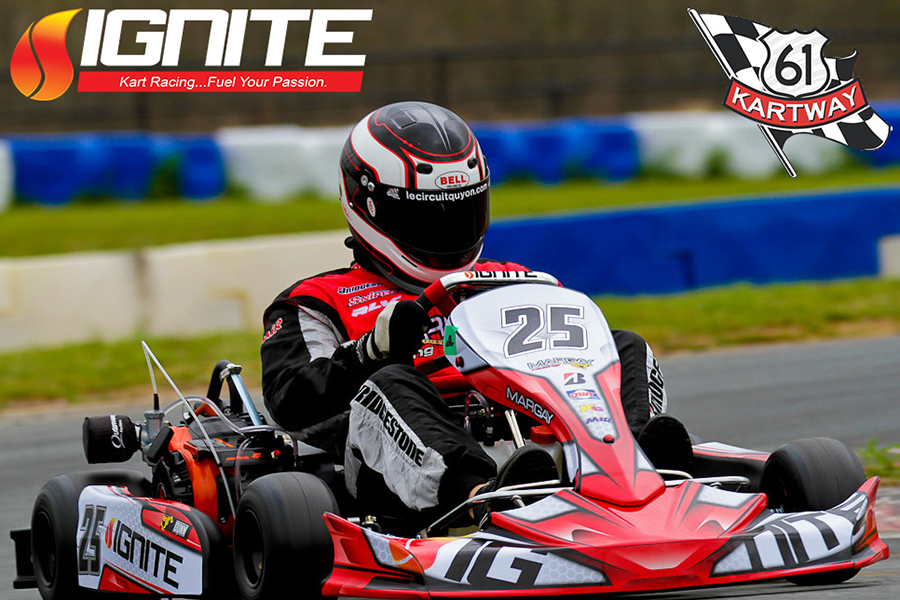 61 Kartway and Margay Racing LLC has announced that the Ignite Junior and Senior classes will be added to 61 Kartway's class structure for 2017. Over the past three seasons, the Ignite spec program at the Gateway Kartplex has brought over 70 new karters to the St. Louis area. In 2015, the Ignite Senior class made its debut at the Rock Island Grand Prix with 16 entries growing to 20 Ignite Seniors and 6 Ignite Juniors in 2016. 61 Kartway will be the summer-long training ground for anyone interested in competing at the Rock Island Grand Prix's Ignite Shootout for years to come. 61 Kartway joins Mid-State Kart Club, TNT Kartways, Gateway Kartplex and the Rock Island Grand Prix to feature Ignite classes in 2017.
Creating the perfect entryway into the sport, Margay Racing has provided a proven spec chassis equipped with the popular Briggs and Stratton LO206 engine, creating an extremely competitive, affordable and reliable racing kart. Targeting new karters, Margay has worked to remove or minimize entry barriers to the sport and has created a platform where drivers can focus on developing their on-track skills while keeping costs and maintenance to a minimum.
61 Kartway track owner and 14-time Rock Island Grand Prix Champion, Tony Neilson will serve as the Quad-City area Ignite dealership. Neilson stated, "We're glad to get back to basics with the Margay Ignite Classes, keeping it simple and fun!". Margay owner Keith Freber added, "It's great to have such an accomplished driver and dedicated promoter of karting behind this effort. Tony has been a backer of Margay product for so many years and it's an honor to partner with him in bringing new karters into the sport. On top if it all, 61 Kartway is a first-class facility that features a demanding track".
61 Kartway in Delmar, IA will have Ignite karts for sale starting in late February. 61 Kartway will also have a demo Ignite K3 available for anyone willing to try their hand at the sport before making a purchasing decision. To contact 61 Kartway Owner, Tony Neilson, call (563) 659-8900. For more information on 61 Kartways, visit 61kartway.com.
For Margay Racing updates, follow us on Facebook at facebook.com/MargayRacing and Instagram at instagram.com/margayracing.