22nd Winter Cup: 290 Drivers On Track, 90 in KZ2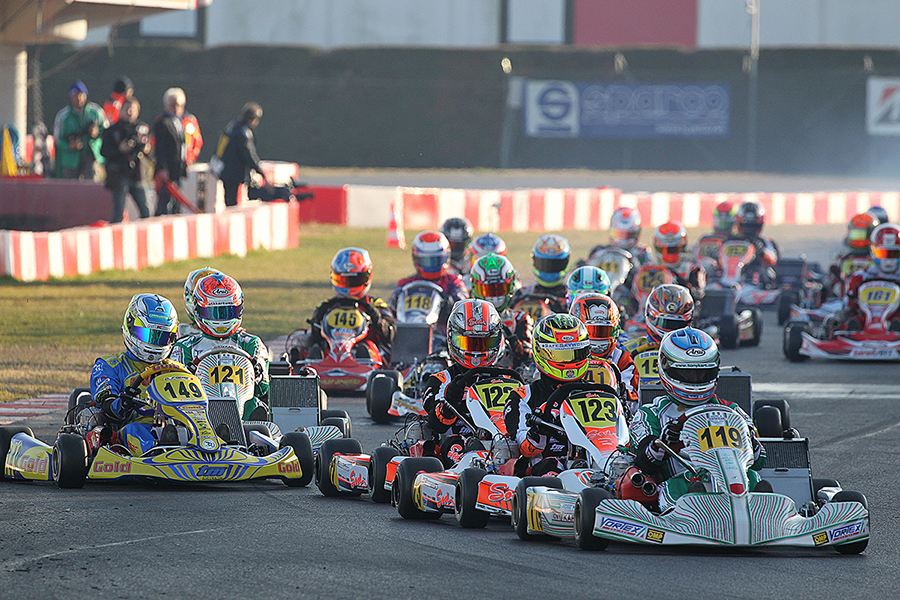 The Winter Cup of Lonato features a good number of entered drivers again: 290 racers will in fact make it to the track, 90 of which in KZ2! Edition 22nd of the Winter Cup, race to be held at the South Garda Karting circuit, introduces also the novelty of Super Heats to decide the starting grid of Finals.
The 22nd edition of the Winter Cup, race scheduled from 16-19 February 2017, will have 290 drivers on track, figures that show a 10% increase compared to 2016 and +20% compared to 2015.
The Winter Cup is going forward full speed, after its first edition back in 1996 when Angelo Corberi, the creator and founder of the circuit of Lonato, devised this event as the official opening to the international karting season.
The forthcoming event will be characterized by the full grid of KZ2, that reached its 90 drivers cap, figures that have never been recorded before, not only in the history of Winter Cup. The shifter category, that is undoubtedly the most spectacular and exciting, features therefore numbers that match up those of international events like the European and World Championships!
RECORD FIGURES IN KZ2: 90 DRIVERS
A total of highly talented 90 drivers is a huge tally for KZ2. Among these, some emerging names of motorsport like Antonio Fuoco, who is a member of the Ferrari Driver Academy, and Alessio Lorandi who is competing in GP3, decided to take part to the Winter Cup before contesting their season in motorsport. Both drivers will wear Tony Kart's colors, Fuoco has been fielded by the works team Tony Kart Racing Team, while Lorandi with the family owned team Baby Race.
In KZ2, several names are already in the hall of fame of the Winter Cup, such as Marco Ardigò (Tony Kart-Vortex), who won the past edition in KZ2, that of 1999 in 100 Ica and that of 1998 in 100 Junior. Reigning World Champion Paolo De Conto (CRG-Tm) won the KZ2 Winter Cup back in 2014, Flavio Camponeschi (CRG-Tm) that of 2015, the Czech driver Patrik Hajek (Kosmic-Vortex) secured the victory in 2011, the British Ben Hanley (Crg-Tm) that of 2001, 2004 and 2005, Davide Forè (Gold-Tm) claimed the victory in 2000 and 2003, while Rick Dreezen (BirelArt-Vortex) was victorious in 2012. KZ2 European Champion 2016 Fabian Federer (CRG-Tm) will also take part in the race.
A CHAMPIONS PARADE IN OK
Category OK will have 58 drivers at the start. Among these, 2016 World Champion from Spain Pedro Hiltbrand (Tony Kart-Vortex), the Polish 2015 World Champion Karol Basz (Kosmic-Vortex), 2016 winner of the CIK-FIA Academy Trophy Callum Bradshaw (CRG-Parilla), while European 2016 Champion of OK-Junior Finlay Kenneally (Energy-Vortex) will also take part in the Winter Cup, race that he won last year.
A LOT OF YOUNG PROTAGONISTS IN OK-JUNIOR
OK-Junior has 57 drivers at the start, a lot of which coming from 60 Mini, as in the case of last year's winner of Rok Mini Francesco Pizzi (Luxor Lke), the young French Evann Mallet (CRGParilla) and the Czech Roman Stanek (Kosmic-Vortex) that completed 2016 podium. Luigi Coluccio won the Winter Cup in Mini Rok back in 2015 leading Leonardo Marseglia, both drivers will be at the start of this year's race in OK-Junior.
MINI ROK PACKED WITH 85 DRIVERS
The entry list of Mini Rok features 85 very young drivers, which envisages an interesting fight for top positions.
THE NOVELTY OF "SUPER HEATS"
The 22nd Winter Cup will feature a novelty in the race format. Qualifying will be held on Friday February 17th and qualifying heats on Friday, Saturday and Sunday morning. Super Heats have been introduced this year ahead of Sunday's final stages. Two heats for each category (featuring a maximum of 34 drivers on track) will award some further points useful for defining the list of the 34 finalists and the starting grid of each Final.
All categories will use Bridgestone tyres, which will be checked by using the the new barcode scanning device, and IES 98% octanes Fuel.
THE PROGRAMME (local time)
Wednesday 15 February: Free practice from 8:30.
Thursday 16 February: Free practice from 8:30, Technical Scrutineering from 15:30, Briefing from 16:45.
Friday 17 February: Warm-up from 8:30; Qualifying (from 11:50), Heats from 14:30.
Saturday 18 February: Warm-up from 8:30; Heats from 10:45.
Sunday 19 February: Warm-up from 8:30; Heats from 11:00; Super Heats from 11:30; Finals from 14:30.