Huge Numbers for Australian Kart Championship Opener in Newcastle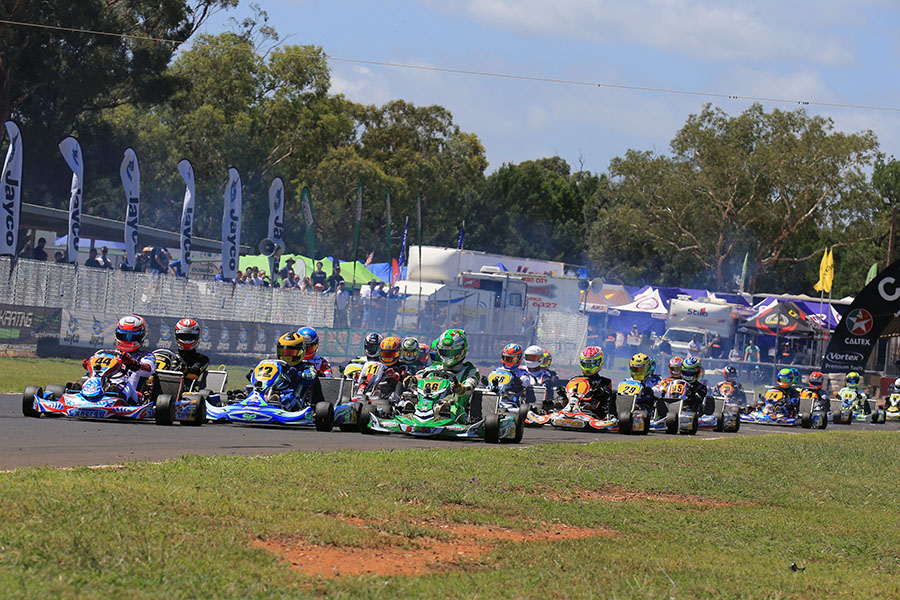 Newcastle's Mount Sugarloaf Raceway will come alive to the sound of high revving kart engines this weekend with the opening round of the 2017 Australian Kart Championship presented by Jayco and Castrol EDGE taking place.
A total of 275 entries have been received across nine classes for the opening event in the five-round schedule.  Included on the entry list are drivers from all across Australian, New Zealand, England and Singapore.
18-time Australian Champion David Sera has enjoyed enormous success at the Cameron Park venue throughout his career.  This weekend he will line-up in the X30 class where close to 40 competitors will be in action.
With 2016 Champion Jack Doohan focusing on his racing commitments in Europe throughout the year, the door is open for a new Champion in the elite junior class – KA2.
Queenslander Harrison Hoey finished runner-up last year and will be aiming to start his year off in a winning fashion this weekend.  He will face tough opposition from the likes of fellow Queenslanders Broc Feeney and Lochie Hughes, New Zealander William Exton and Sydney-sider Reece Cohen, among others, in the battle for the podium.
The last time a Championship round was held in Newcastle (2015) it was Kyle Ensbey and James Sera who were victorious in the KZ2 and KA3 Senior classes respectively.  The pair will once again start among the favourites in their respective classes this weekend.
In the KA4 Junior ranks, where a capacity 40-driver field will face the starter, last year's Champion Cooper Webster from Melbourne will is expected to be one of the pacesetters alongside his closest rival from 2016, Jay Hanson.
The Cadet 12 class, for drivers between 9 and 12 years of age, will also be at capacity with drivers coming from all across Australia and New Zealand to compete.   Also in the field will be Brisbane youngster Marcos Flack who will jet back into Australia today after spending the last two weekends competing in Italy.
The KA1 class will see Harrington Doyle Racing's Scott Sorensen debut the #1 green plate that he secured in 2016 while Gold Coaster Brendan Nelson and Sydney's RyanTomsett will do the same in TaG 125 and Cadet 9 respectively.
Practice will be held on Friday ahead of qualifying and heat races from 8am on Saturday.  The final round of heats and finals will be contested on Sunday.
The Mount Sugarloaf Raceway is located on Cameron Park Drive, Cameron Park.  Entry is free for spectators.
STORY STARTERS
LOCAL RACERS
The Newcastle Kart Racing Club will have 19 members in action at the event including Aaren Russell, who last year competed in the Supercars Championship, Nathan Taylor, Michael Dorman and Nathan Sinclair.
GIRL POWER
While motorsport is predominantly a male sport, there are an increasing number of female drivers competing in karting.  There will be a number of female drivers competing in Newcastle this weekend, including Melbourne mother of two Barbara Anagnostiadis, Canberra's Beck Connell and Queenslanders Brieann Moyse, Taylah Aguis and Nariko McDonnell.
SUPERCARS DRIVER MACAULEY JONES
Brad Jones Racing Supercars driver Macauley Jones will be competing in the KZ2 class.  Jones uses karting as a way of remaining fit and keeping his reflexes sharp in between races in the Dunlop Supercars Series.