Bertagnoli Set to Compete with Team FMS / Merlin Nation for 2017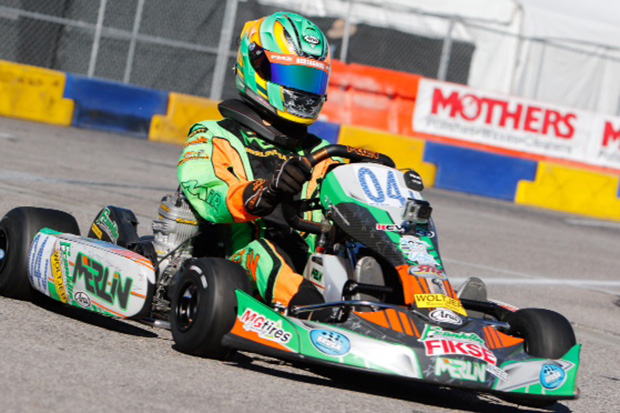 2016 was a fantastic year for Merlin driver Alex Bertagnoli as he captured both Junior championships (X30 and Yamaha) in the United States Pro Karting Series as well as the X30 Junior title in the Superkarts! USA Pro-Tour.  Bertagnoli's success in 2016 gave Merlin chassis and Franklin Motorsports their second straight championships in both series X30 Junior category.
2017 brings a new challenge for the Illinois native as he makes the jump to the Senior categories.  Returning to the SKUSA Pro Tour, Alex will compete in the X30 Senior category at the WinterNationals in New Orleans, LA.  Following the SKUSA opener will be the drop of the green at the USPKS. Bertagnoli will contest the X30 Pro category as well as the new KA100 division.
"USPKS has been such a great, competitive series to run.  They have a great program with stellar tech and an overall positive environment.  I really enjoy the MG tire and consistency it provides race to race.  SKUSA also has a great program and the level of competition is spectacular with drivers from East and West competing," commented the 2016 title holder.
Bertagnoli will once again return with Team FMS and the familiar Merlin Chassis brand for his rookie year in senior competition.  Competing on the Merlin MR29 chassis in 2016 Bertagnoli will get experience with the LM30 chassis as well for 2017.
"We are extremely excited to have Alex back for 2017 in the Team FMS program.  He was a huge contributor last season and I am excited to see what he can do in the senior ranks," added Jamie Sieracki of Franklin Motorsports & Merlin USA.
Team FMS is the official race team of Franklin Motorsports www.franklinkart.com and Merlin Racing Chassis in the USA.  Competing at national and international events Team FMS has exploited the capability of the boutique brand of Merlin Racing Chassis.  For more information on the Merlin product line as well as Arrive & Drive Programs for the upcoming 2017 USPKS and SKUSA Pro-Tour Series please contact Franklin Motorsports at 262-814-5400 or e-mail info@franklinkart.com.