Former Starter Mastroianni is New Merrittville Kart Race Director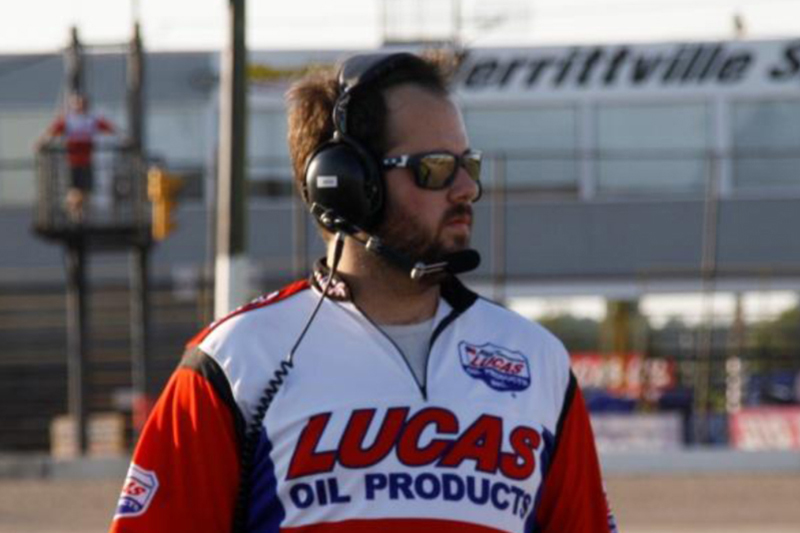 Growing up watching the races Saturday Nights, it didn't take long before Joey Mastroianni was a racer himself after joining Merrittville's Tuesday Night Lucas Oil Weekly Karting Series as a 13 year old.
The Welland resident now 28 – a Service Advisor at the Performance Auto Group will move from being Starter to Race Director in 2017.
"I was Starter for three years," said Mastroianni, "I look forward to Tuesday Nights … seeing smiles on the faces of young karters after their race and maybe a win are great memories for them and me too!"
Mastroianni is set to take over from Jeff Riley who has held the Race Director position for the past three seasons. Riley came into the role gaining his experience through his son Alex' kart racing before moving up to Saturday Nights and the Central Fabricating 4 Cylinder Division.
"I'm looking to keep Jeff's success going," added Mastroianni, "I'm sure I will be relying on him for advice at times throughout the season – I'll also rely on our other officials too. We've been working together as quite a team in recent years … the transition should go pretty smooth."
Taking over as Starter is another former karter Chris Watson who is a veteran in the Wood Motor Company Modified Lite Division.
For many former karters making the move to Saturday Night action – the Modified Lite Division and that was the case for Mastroianni who in recent years was part of the S&W Service Centre Sportsman Division.
Mastroianni who earned his first career Sportsman Feature Win July 3rd at the Humberstone Speedway was the 2015 recipient of the Ed MacPherson Construction Kelly-Winger Sportsmanship Award.
"It was a natural step with the Mod Lites … I knew RCM Racing's Chris Long whose company serves both the Kart and Mod Lite communities and Paul Klager. I made the move to Sportsman so I could race more with less travel. I couldn't have done it without the help and guidance from Ken and (former Karter) Adam Leslie the first couple seasons."
Mastroianni missed a Tuesday Night last season as he had made plans to propose to Kristen Leslie, herself a Saturday Night Official.
One of Riley's last duties was in presenting his Kart Race Director's Award at the 2016 Banquet to his entire Team of Officials – Mastroianni, Chris and Bob Watson, Jeff Hughes, Terry Beckett and Alex Riley.
While Mastroianni will run the Tuesday Night Program, New and returning karters with questions and concerns regarding the Tuesday Night Kart Club in 2017 can be directed to Erica Bicknell-Jones who can be reached via e mail at  racemerrittville@gmail.com or 905-687-2595.
"I've got to thank Jeff for all he's done for our Kart Program," said (former Merrittville GM) Erica Bicknell-Jones, "we wish him all the best as he turns his focus to his growing Vansickle Pet Valu and Groomingdales and with his son Alex who is set to return to our 4 Cylinder Division with the former Tyler Lafantaisie Championship Car."
Returning and new karters should stay tuned for details on a planned Kart Registration Session. Driver Memberships are now available for $60.00.
Merrittville Speedway's Lucas Oil Weekly Karting Series Teams are encouraged to participate in the upcoming Pen Centre and Seaway Mall Shows  in addition to the annual Kart Club Demonstration Night that will help showcase Tuesday Night racing during the Saturday Night Stock Car program.
Also a must for new karters or those wishing to get a head start on the upcoming season is the annual RCM Racing Equipment Kart School with the date to be announced in the near future.
MERRITTVILLE SPEEDWAY SPONSORS
The 2017 Lucas Oil Kart Weekly Racing Series for Merrittville Speedway's 7 Divisions is brought to racers by partners including Performance Manufacturing, Designed Wright Signs and Promotional Products, the Southern Ontario Modified Lite Association, Quick Ink Custom Screen Printing, RCM Racing Equipment, Superior PetroFuels, Briggs & Stratton, St. Catharines Discount Auto Parts, Wilder Racing Engines and Burris Tire.
Lucas Oil Products is one of the fastest growing additive lines in the consumer automotive industry featuring a premium line of oils, greases and problem-solving additives. Through innovative product research and development, along with aggressive marketing programs, Lucas Oil Products has established itself as the top selling additive in the industry.
Look for Lucas Oil Products at their favorite automotive retailer or repair centre including St. Catharines Discount Auto Parts and through RCM Racing Equipment.