Henry Morse Set for Challenge of the Americas Opener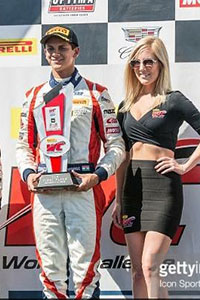 Henry Morse, Pirelli World Challenge Rookie of the Year and 10x Karting Champion will be contending and coaching at the Rotax Challenge of the Americas for Mack Motorsports in the LO206 Sr class this weekend at the Musselman Honda Circuit in Tucson, AZ.
After winning the Senior Max Rotax Challenge in 2015, Morse is excited to try out the new Briggs & Stratton-powered karts:
"I love the concept and the platform of LO206. The close racing and the price of entry mark a huge and positive change in karting that I want to support and be a part of. The LO206 is a total blast to drive, runs on pump gas and the tires are harder to match the power and the chassis, so they also last several times longer than they do on other karts." said Morse.
While Henry plans to race Pirelli World Challenge again this season in Touring Car, he hopes to make as many Rotax COTA, Tri-C, CalSpeed Super Series, and CalSpeed Ironman races as possible this season, already winning the first Ironman of the year.
"I love karting. The people, the competition, the tracks. Regardless of what car I am racing, I will always love karting. As long as LO206 is maintained to assure the integrity of the equality of the platform, a new level of smoother drivers will be generated who didn't have access financially to high level karting. If you have been waiting for the right time to get into karting, this is it. If you left, come back. Ask me how."
Follow/contact Henry via Instagram or Facebook at Henry Morse Racing:
http://instagram.com/henrymorseracing
and/or
https://m.facebook.com/HenryMorseRacing/